"A Manifestation of the Will"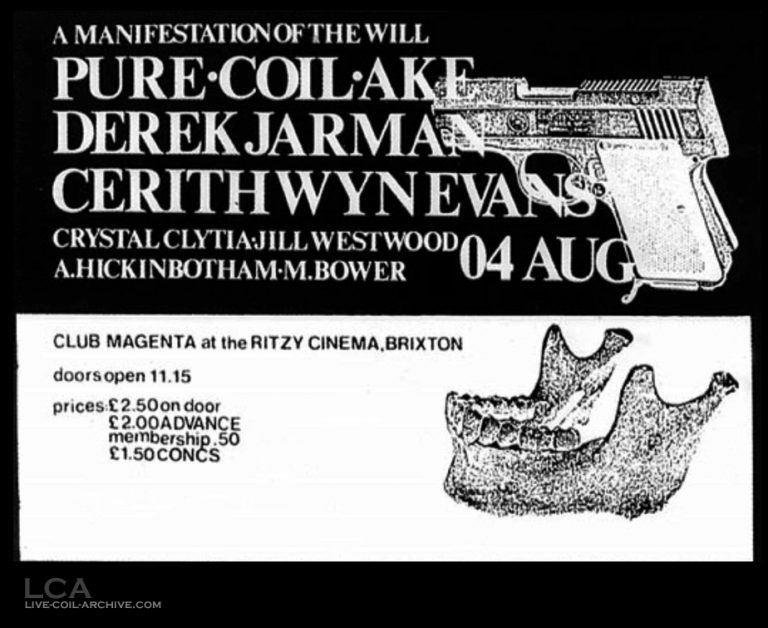 04th August 1983 – "A Manifestation of the Will" – "Club Magenta" – Ritzy Cinema, London, England
Set List
Silence and Secrecy
Untitled
Untitled
Untitled
It's debatable whether Coil performed four distinct songs, as opposed to just "Silence and Secrecy." Some sources differ in how they index the music.
1st Coil Performance: 1983-06-21 Equinox Event – Camden, London, UK
Technically, "A Manifestation of the Will" was not Coil's first "official" live performance. Phil Barrington explains in his essay On Balance: Tracing the History of the First Ever COIL Recordings:
"…COIL's very first planned live performance was cancelled by the organisers, the event itself becoming an important milestone gig for Current 93 instead. COIL were due to perform their debut set at the 21st June 1983 Equinox Event in Camden London (the very first mention of COIL on any publicity material being on this event poster). The organiser's removal of COIL from the evening's programme in the days leading up to the show provoked Geoff's anger for many months to come afterwards – indeed, five months after the band was booted off the event, Geoff remarked to Grok magazine: Coil were due to play at the summer 'Equinox Event', at the London Musicians Collective [aka the Kensington Market Musicians Co-op] but [co-organiser and performer with Operation Muzak] Mary 7 Dowd fucked us around and blatantly lied and misled us over several things. This was due to be Jim Thirlwell and I doing something together.
Obviously livid at the rejection, Geoff still adamantly turned up at the Camden venue on the night and, according to Sean Dower (from Death Magazine 52 – the last band of the evening), did a nonmusical performance "on the steel staircase outside the venue". I caught up with Sean recently and he kindly expanded upon his memories of Geoff's performance outside the venue for this essay: There was a lot of activity and intrigue going on just outside the venue on these stairs, not least because things were quite fractious and chaotic inside. I have a picture in my mind of Jhonn crouching down doing something with a box/case on these stairs, though that could be a constructed memory! I had a conversation with Jhonn on the matter in question (around 2002) when we met at a friend's wedding. This meeting was remarkable in many respects, but the short of it was that we discussed the Equinox Event that we were both involved with and he said that this was the first official performance/manifestation of COIL. That was how Jhonn described it, though I'm not sure if the performance was concrete or more symbolic."
After some deliberation, LCA has opted not to give this "performance" its own listing on our website, but we document it here for historical purposes.
Historical Background
Peter "Sleazy" Christopherson formed Throbbing Gristle with fellow industrial music pioneers Genesis P-Orridge, Cosey Fanni Tutti, and Chris Carter in 1976. At the Heathen Earth live album recording session (1980-02-16), they handpicked a small audience. A burgeoning young artist, hardcore TG fan, and mail correspondent named Geoff Rushton was one of them. Genesis and Cosey introduced him to Peter, and over the ensuing months, the two fell in love. Geoff previously dated a girl, but he came out as gay when he began his relationship with Peter.
TG dissolved in May 1981, due to personal and emotional conflicts among the band members. Peter and Genesis formed multi-media collective Psychic TV and founded Thee Temple ov Psychick Youth, which Geoff joined soon after. By the end of 1982, he and Peter left, as they became increasingly disenfranchised with what they perceived as Genesis trying to become a cult leader.
Since 1979, Geoff had been recording his own home demos under a few different names, including The Merderwreckers and Stabmental, which he would send off to various underground cassette compilations. Around 1982, Geoff settled on the name "Coil," inspired by both a Clock DVA song (he wrote a personal letter to Adi Newton expressing his adoration for it) and the fact that the coil shape appears variously in nature, such as in DNA strands. He took on a new artist name, John Balance, which he would be best known by for the rest of his life. Once they left PTV, John formally invited Peter to join Coil, which he was initially reluctant to do but quickly came to view it as another avenue for creative work.
Concert Background
Feeling: Messy
Only performance of "Silence and Secrecy."
This was Coil's first public live concert. In an interview conducted by Peter transcribed in the CD booklet to the Zos Kia / Coil split release Transparent, John Balance remembers: "The whole point wasn't really to do a gig at all, but just to present atmospheric tension. Before that I burnt frank-incense, so there was a strong smell of that in the air, and we had two strobes going out of phase with each other, which made it really difficult to walk up onto the stage to play anything, because the whole room seemed to be tilting backwards and forwards…Through some strange quirk, Nick Cave was there again. I think Jim Thirlwell had brought him along, because Jim was involved with Coil at that point, recording and stuff. Derek Jarman was there, too, showing some Super 8 films. I remember he loved the frankincense." According to official Coil documents, Coil did not collaborate with Zos Kia (John Gosling and Min) for this gig, unlike the next three.
From Phil Barrington's essay On Balance: Tracing the History of the First Ever COIL Recordings: "The gig was an extended live art-music concept of "an exercise in extended tension" at a themed art event night called "Club Magenta" within the versatile Ritzy Cinema venue in Brixton London. Derek Jarman and most of the Camden Equinox Event performers also supplied films or gave performances for this event's programme. Given the fact that Sleazy was fresh from his holophonic experiments at the time (which shaped the overall sound production of PTV's 'Dreams Less Sweet' album by Spring 1983) the combination of the constant and increasingly oppressive amplified sounds of cicadas from 'Silence and Secrecy' filling and flowing around the large red room, the erratic strobe lighting, the screeching violin and the heady fog of Frankincense all promised both a troubling and memorable evening for the assembled audience – an evening that carried on, and on, late into the night (indeed, COIL's master tape of the concert has handwriting on it stating "Actually 1am 5th"). Well, it may have been planned by Geoff and Peter to have been a troubling and memorable evening for the audience but, truth be told, the audience gave no reaction at all on the night. The band were basically looking out towards line upon line of blank, all-knowing art crowd faces in that cinema hall during their performance and, indeed, post-performance. Geoff despaired (again to Grok) at this lack of reaction and total absence of feedback at the important debut gig for his band: When we played at Brixton and the Air Gallery there was no challenge and I ended up very depressed as, for the most part we seemed to be doing it for a jaded, apathetic crowd of art groupies. That's how it seemed. The whole thing was so incestuous and every move you made, everything you did or said was noted and compared to something previous. I feel Coil can move out of that area and I want it to."
According to Jon Whitney, there is merely one full recording of the show, yet five distinct versions exist. Based on them, the entire gig seems to be one long continuous take of music, with no introductions, closing words, or applause in between different sections. Given what John said, it's been theorized Jim Thirlwell made the recording, but according to him in August 2020: "I vaguely remember this show going to this show and I probably brought Nick but I doubt that I taped it! This also reminded me that Geff and I were going to do something together live and it didn't happen. Wow." AUD #1a is one track, AUD #1b is four tracks indexed, AUD #1c and AUD #1d are officially released snippets presumably clipped from the master tape and remastered, and AUD #1e is a relatively high quality, albeit incomplete transfer, perhaps 1st-generation. AUD #1b claims the track known as "Silence and Secrecy" ends after 13 minutes and leads into "Baptism of Fire," while the other two tracks are untitled. Listening to the recording and comparing it to later performances of the latter song, this doesn't appear to be the case, so this page will list four songs in its tracklist: "Silence and Secrecy," and three untitled tracks.
Line-up
John Balance – violin
Peter Christopherson – tapes, sound mixing
Advertisements and Related Promo Material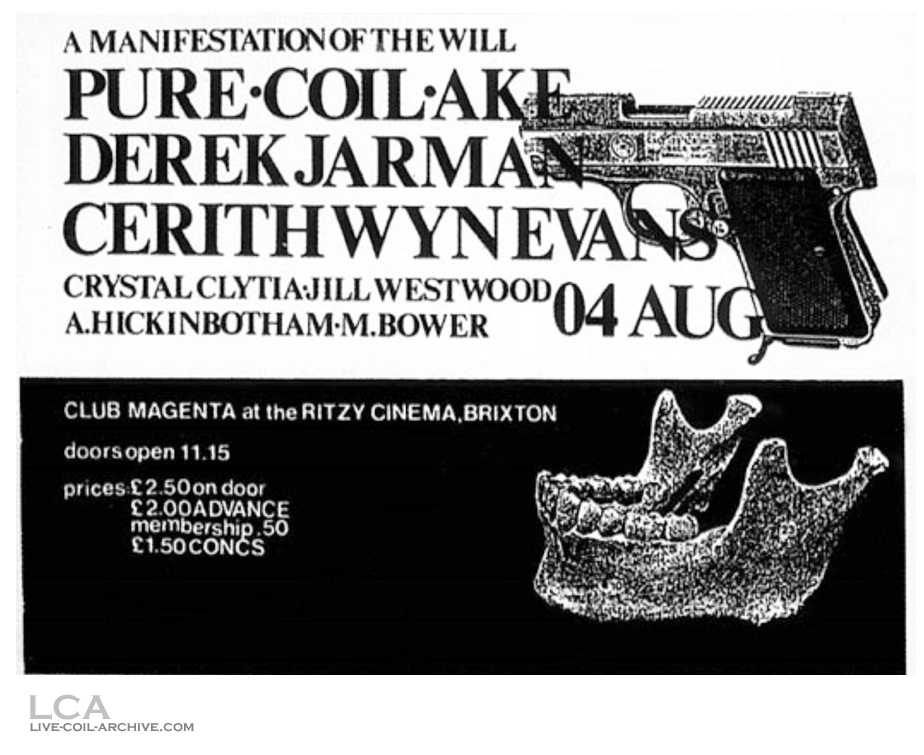 Venue
"Club Magenta"
Ritzy Cinema
Brixton Oval,
Coldharbour Lane,
Brixton SW2 1JG
UK
Known Recordings
Tapes owners/taper:
AUD #1e – transferred by Aaron Oppenheim
| | | | | | |
| --- | --- | --- | --- | --- | --- |
| Source | Quality | Complete | Length | Lowest Gen | Comments |
| AUD #1a | 5+/10 | No (?) | 44 min | M?, 192 kbps MP3 | Lower quality than AUD #1b. One track, no indices. |
| AUD #1b | 6+/10 | No (?) | 43 min | M?, 224-320 kbps MP3 | Surfaced in 2014. Higher quality than AUD #1a. Indexed in four files. |
| AUD #1c | 6+/10 | No | 2 min | M1, FLAC | A segment of "Silence and Secrecy" only. Released on the 1984 Zos Kia/Coil joint release Transparent. Presumably sourced from the master tape. |
| AUD #1d | 6-/10 | No | 5 min | M1, FLAC | A segment of "Silence and Secrecy" only. Released on the 2016 remaster of the Zos Kia/Coil joint release Transparent. Remastered and longer than AUD #1c, but highly compressed. |
| AUD #1e | 6+/10 | No | 25 min | M1 (?), FLAC | Surfaced August 21, 2020, courtesy of Aaron Oppenheim. Transferred from a tape obtained in a trade in the 1990s. Higher quality than other versions, but incomplete. Assuming AUD #1c is sourced from the master, then this version might be a 1st-generation copy. One track, no indices. |
Concert Recording Downloads