At Recession Studios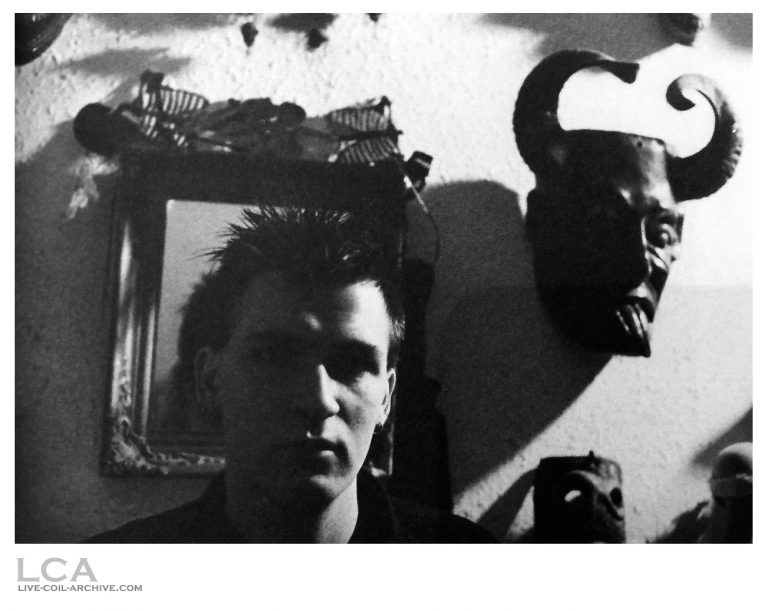 12th October 1983 – Recession Studios, London, England
Possible Set List
Sicktone
Baptism of Fire
Rape
Poisons
Truth
Background
With Zos Kia. Other acts: Peter North, Atrittion.
Supposed debut performances of all songs.
According to official Coil documents outlining the band's history, the setlist was the same as the following gig at 1983-12-03 Atonal Festival II – Berlin, Germany.
In the CD booklet to the Zos Kia / Coil split release Transparent (1984), Peter interviewed John and he remembers: "I remember playing a gig in Hackney with John [Gosling] and Min as Zos Kia / Coil, I think it was with The Apostles – It was a Cause for Concert evening. Dave 'Nanavesh' Farmer was there and that's all I remember – John [Gosling] had taken some MDA and it was the same set as Berlin, around the same time. The lost gig. I remember we decided we wanted to go psychedelic (Monochrome Psychedelia – a phrase we borrowed from ClockDVA's Adi Newton) from now on, attempting to re-invent the original Exploding Plastic Inevitable experience. Ideas Psychic TV later picked up on."
Coil and Zos Kia made no official recording of the show, and for decades, it was considered lost. Then in May 2017, Javier Hernando released his recordings of the show. He remembers: "Coil apenas se acaban de formar y este casi fue su primer concierto, pues su actuación pocos meses antes en la Air Gallery fue más bien una impactante performance sado-surrealista, heredera de alguna forma de los activistas vieneses, un terreno ya explorado previamente por Peter "Sleazy" Christopherson en Coum Transmissions como lo fue también los poderes mágicos de la música que en esos primeros ochenta se exponía en Psychic TV donde también militaba John Balance; de el conocía su fanzine Stabmental, aparte de varias fotos del dúo en la misma época de la actuación (compartida con Atrittion) que grabé con un cassette portátil." Rough Translation: "Coil was just formed and this was almost his first concert, because his performance a few months earlier at the Air Gallery was more of a stunning Sado-surreal performance, inherited in some way from the Viennese activists, a field previously explored by Peter "Sleazy" Christopherson in Coum Transmissions – and he also exposed his musical magic power in the early 1980s in Psychic TV, with whom John Balance also performed; Of him I only knew his fanzine 'Stabmental', apart from seeing several photos of the duo around the same time as this performance (shared with Atrittion) that I recorded with a portable cassette recorder… I've listened to the tape again and now have doubts if the track really is Coil. The first track of the tape I recognize because it is the same as that other recording, live with Zos Kia, but the other part could be Peter North (the modificated sax or wind instrument is strange), the other usual participant in the Recession Studios and that, on this day, shared the show with Coil and Atrittion."
Javier recorded all of Peter North and Attrition's sets, but only one song from Coil/Zos Kia, "Baptism of Fire." It seems like the final track of their performance, as lengthy silence and a tape cut follow the song's end, so John's recollection of the set may be wrong and the exact setlist may never truly be known. Coldspring later included "Baptism of Fire" on How To Destroy Angels (CSR263CD​/​LP), a compilation album also containing remastered camera audio of the 1983-08-24 Air Gallery show under the name "Coil + Zos Kia + Marc Almond."
A photographer took photos of the show, but they have never publicly surfaced.
Line-up
John Balance – stick bass
John Gosling – violin, bass, vocals
Min – drums, vocals
Peter "Sleazy" Christopherson – live sound mix (?)
Advertisements and Related Promo Material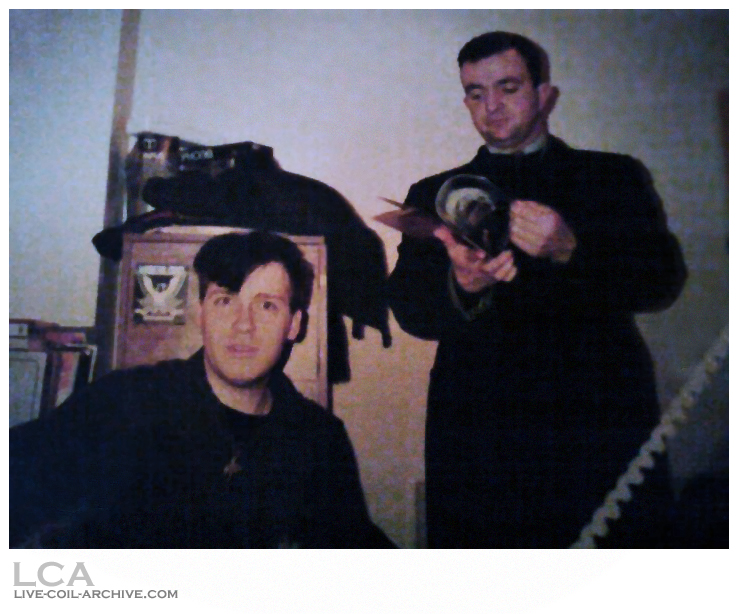 Venue
Recession Studios,
Hackney,
London E8
UK
Audio
Known Recordings
Tapes owners/taper:
AUD #1 – Javier Hernando
| | | | | | |
| --- | --- | --- | --- | --- | --- |
| Source | Quality | Complete | Length | Lowest Gen | Comments |
| AUD #1a | 7/10 | No | 5 min | M0, AIFF | Surfaced May 29, 2017. "Baptism of Fire" only, cuts in. Tape also includes Peter North and Atrittion's sets. |
| AUD #1b | 7/10 | No | 4 min | M1, FLAC | Has 6 extra seconds at the beginning compared to AUD #1a, but edits out the applause after the song. Released on Coil + Zos Kia + Marc Almond ‎– How To Destroy Angels. |
Concert Recording Downloads