At Dour Festival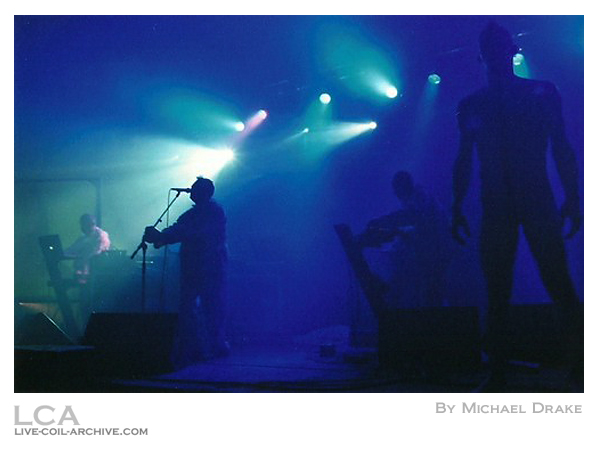 13th July 2002 – Dour Festival – "La Plaine de La Machine à Feu," Dour, Belgium
Set List

Anarcadia: All Horned Animals (Extended Version)
Amethyst Deceivers (Version 2)
A.Y.O.R.
Backwards
Background
Feeling: Reflective
"Backwards / The Remote Viewer" phase.  Final live performance of "Anarcadia: All Horned Animals."
Other act(s): Gonzalez, Peaches, etc.
2002-04-02 Vooruit, Ghent, Belgium AUD #2 is mislabeled as a recording of this show on archive.org. Until October 8, 2016, no audio or video of Dour was publicly available, when finally, Pierce Wyss and Massimo Villani, in conjunction with Claus Laufenburg, posted a video to YouTube.
Danny McKernan bought psychedelic mushrooms for the whole band before the gig and all of them were tripping by the time they stepped onstage. He recorded AMT #1 using Massimo's camera and remembers: "i was on stage at the DOUR, Belgium, show as well but only to film it… not part of the performance i had shot it on BSP's camera and they kept the tape :(…i met BSP at coil's house in weston supermare when i was there being photographed by sleazy for thighpaulsandra's double vulgar album artwork and then later visited them in zurich and they asked me to edit the photos that sleazy had taken of the PST performance with jhonn and to do some videos for them (Das Gegenteil and Veneration X)."
As of May 2022, AMT#1 remains the only publicly available recording. Based on what we can see in it, apparently Coil only brought one video projector with them to this show, as they do not project any video onto the band members. Instead, there's one projection screen stage left behind Peter and Massimo. The backing projection during "Anarcadia: All Horned Animals" resembles oscillating waves, like a mix between the projections for "What Kind of Animal Are You?" and "I Am Angie Bowie (Sine Waves)" which I do not recognize. The "Amethyst Deceivers" video projection briefly plays at the beginning of the song, then it stops and there is no more video for the show. There are also no distorted mirrors onstage, just fog machines. Consequently, the stage has a dark, dismal look for much of the performance until the lighting person turns on red and white overhead lights during "A.Y.O.R." and "Backwards."
In terms of group behavior while onstage, the shrooms made John quite aggressive, as he screamed a lot, improvised new lyrics for every song, and bandied about the stage with reckless abandon. Peter kept periodically glancing back at Danny as he filmed the show and smiled at him. Pierce and Massimo's choreography unfortunately backpedaled from the Den Haag performance, becoming much more statuesque and boring.
It is unclear if Coil broke most of their usual conventions due to technical difficulties, or if they were all just too high to care, but the result is a rather unique performance.
Anarcadia: All Horned Animals
This version is significantly extended from the original, just like it was at the Den Haag show. While John compensated for the lack of Mike's bombarde by yelping into the microphone at that gig, here, he starts singing even before discarding his shawl.
For this and the next song, Massimo and Pierce stand motionless, stoically gazing out into the crowd.
He's in the trees, he's coming [repeated]
The woods are alive with the smell of his coming 
A vision of a burning bush
Bush [repeated]
Quiet, now [repeated] 
It's the same, it's the same
It's the same old, it's the same old
Release your pain
And the stones sink under the water
Still the waters
Your sons and daughters are underwater
If you're under the rain
The "vision of a burning bush" line would soon be used prominently in some performances of "An Unearthly Red." The "underwater" imagery is a possible reference to "Summer Substructures," off of Summer Solstice (1998). Because of the lack of "Sometimes, I hate myself" line, I will not tag "The Gimp/Sometimes" to the song in this listing.
John (after the song): "It's all a very strange blur, it's all a very strange blur, a slur, a blur, a slur, a blur, a slur. We can't hear you, we can't see you, we can't hear you, we can't see you."
Audience member: "I can't see you."
John: "Good, good, good, good, good."
Audience member: "I can."
Audience member: "I can see you."
John: "Don't watch too much television – you'll blind your mind's eye."
Audience member: "Thank you."
Audience member: "In the eye, and!"
John: "In the eye, and, in the sky, and. We're not doing that one tonight. Sorry."
This exchange refers to the classic Coil song "Windowpane" from Love's Secret Domain (1991). Eventually, the band would play three loose versions of it, starting at the Lódz 2002.
Amethyst Deceivers
My mother said to me [repeated]
She said, "Pay your respects to the vultures…"
Then my father said to me
Then my grandfather said to me
He said
Hands on the clock, on the clock
Take mushrooms, take mushrooms; they take you when you take mushrooms (repeated)
You must take mushrooms, make room for the mushrooms
Make rooms for the mushrooms
Rush, rush, rush, rush, rush
They live in palaces, they live in palaces
They live in palaces inside my soul
They live in palaces inside my mind
Everything you've waited for is coming soon
Everything we've waited for is coming soon
Just trust the moon
The band jams for a few minutes even after Peter brings the backing audio tracks to a close.
John (after the song): "Thank you. I had to shit in the woods earlier, and I wiped my bum on a stinging nettle."
A.Y.O.R.
The intro to the song is truncated. Pierce and Massimo finally start to moving, acting sick and shaking their heads wildly.
Sometimes, I hate myself
Sometimes, I help myself
It's in my bloodstream
I went to the doctor
I saw a blood specialist
He said, "It's unknowable, John"
They took some more tests
And said it's in my blood to stay
But the blood line ends here; this blood line is queer [repeated]
The first line mentioned of course refers back to "The Gimp/Sometimes."
John (after the song): "That's a safe sex song, by the way. Sort of."
Backwards
John: "Oh, my, my, my. The hairy mother of God has appeared again, with a wide, black crack, which I saw at the back, which I saw from the back. The hairy mother of God. We worship at the church of the hairy mother of God. With Carmelite rifles, nuns with guns. What are they guarding, what have they got, what are they guarding, what have they got, what are they guarding, they've got the lot. When cherubim and seraphim are walking up the stairs, when cherubim and seraphim are, are walking up the stairs, it's the angels of Monagan. The angels of Monagan, gone again, gone again, the angels of Monagan are gone again. Well, what do we do with the dear mushrooms, say? What do we do, we keep them for later."
It's possible Peter was having sound problems with his laptop, explaining the fact John is clearly trying to think of more to say to fill the musical pause. Finally, Peter fades the backing track in.
John: "This song is inspired by watching Playboy channel in America, having to masturbate on Trent Reznor's black leather sofa in his front room. I've decided then that everything was backwards."
Massimo and Pierce slowly kneel down and present their asses to the audience. For most of the song, Massimo sways slowly back and forth with his eyes closed. John occasionally interacts with them, even bumping into Massimo at one point, almost knocking him over. He then runs over to Pierce and starts slapping his ass. In contrast, Peter passes Massimo at another point and lightly touches his back. Later, John comes back to Massimo, throws himself onto him, and starts humping him in a rather hilarious and sexual display.
The YouTube upload of AMT #1 cuts out during the climax to "Backwards," but the unsurfaced master tape is more complete. Still frames originally uploaded to the Black Sun Productions website and rescued from the Wayback Machine reveal that by the end of the song, John, Pierce, and Massimo and jumped offstage to sing and dance right in front of the barrier separating them from the audience.
Fucking listen to me, all you fuckers!
Fucking listen to me and everyone else [?]
Everything – fucking listen to me!
Just sitting, just sitting here, reciprocating [?]
Everything fornicated everything
Everything fornicated everything all of the time [repeated]
Destroy the new normal! [repeated]
"Everything fornicates everything" was one of Coil's many slogans, this one garnering an official t-shirt.
Line-up
John Balance – vocals, sleigh bells on "Anarcadia: All Horned Animals"
Peter "Sleazy" Christopherson – Ableton sequence, video projections, Clavia Nord Modular Synthesizer
Thighpaulsandra – Fenix Synthesizer, Clavia Nord Modular Synthesizer, Electro-Harmonix on John's vocals (with 16-second delay, modified by Kanwal Dulay)
Simon Norris (Ossian Brown) – Clavia Nord Modular Lead Synthesizer, sleigh bells on "Anarcadia: All Horned Animals"
Cliff Stapleton – hurdy-gurdy
Massimo Villani – Black Sun Productions' "Ghost Boy" performance art
Pierce Wyss – Black Sun Productions' "Ghost Boy" performance art
Advertisements, Backstage or Related Promo Material
Venue
Dour Festival
C/O Dour Music Festival SA
Rue des Canadiens, 100
7370 DOUR, Belgium
Gallery
Please note that some of these AMT #1 snapshots are from portions of "Backwards" not currently available for public viewing, i.e. when John and Massimo walk over to the audience. These snapshots were saved from archived sections of Black Sun Productions' website. The master tape might be lost, so it's unknown if the rest of the tape will ever be made available…
AMT #1
Known Recordings
Tapes owners/taper:
AMT #1 – Danny McKernan.
| | | | | | |
| --- | --- | --- | --- | --- | --- |
| Source | Quality | Complete | Length | Lowest Gen | Comments |
| AMT #1 | 7/10 | No | 51 min | M2, Youtube | Lineage: Mini DV Tape (M0) > Tape Copy from BSP to Coil (M1) > Tape Copy from Coil to C.L. (M2) > Youtube. "Anarcadia: All Horned Animals" cuts in slightly, "Backwards" has an internal cut and cuts out. |
| AMT #2 | ? | ? | ? | ? | Someone in the front of the audience has a camcorder; you can see them prominently during "Anarcadia" and "Backwards". Remains unsurfaced. |
Concert Recording Downloads