At Mutek Festival '03 – Montreal, Canada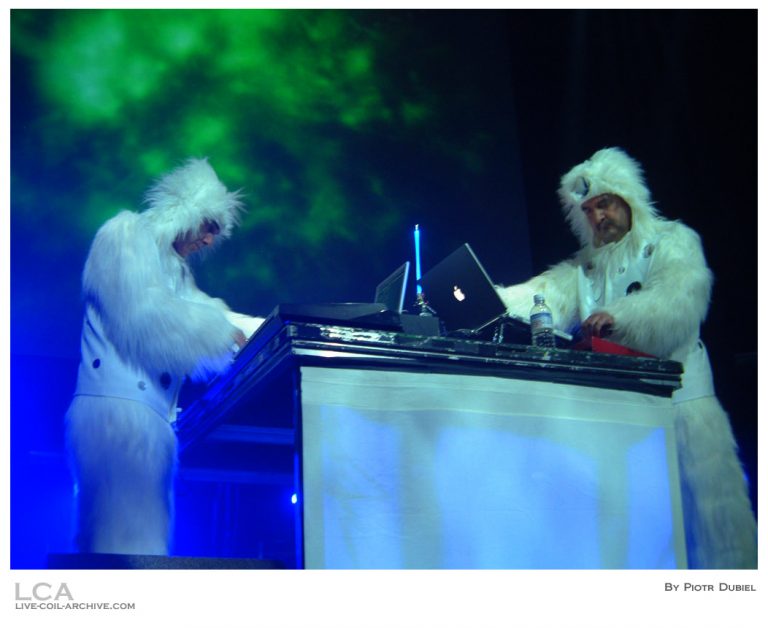 29th May 2003 – Mutek Festival '03 – Metropolis, Montreal, Canada
Set List
Blue Rats
Drip Drop (ANS)
Triple Sons and the One You Bury (Instrumental)
Radio Weston
The First Five Minutes After Death
Bootlegs often misspell the track "Radio Weston" as "Radio Westin."
Notice
There is some contention among Coil fans as to whether or not these gigs can/should be considered Coil gigs proper, but it's obvious to us at LCA that they count.
Background
Feeling: Fluffy!
Instrumental phase.
As has been stated previously, John ostensibly bailed on this show, much to the consternation of Peter and Thighpaulsandra. Peter and Thighpaulsandra donned the fluffy suits once again for every show during this particular phase. Thighpaulsandra spoke for the band the few times when he'd open/close the gigs and introduce certain songs.
Debut performances of all songs except "Triple Sons and the One You Bury (Instrumental)." "Blue Rats" and "The First Five Minutes After Death" come from Black Light District (1996) and Horse Rotorvator (1987) respectively. It's difficult to name the second track. You can hear for a fact it incorporates sound effects from the "ANS" sessions Coil did earlier in 2003, and there may be looped snippets of "The Restitution of Decayed Intelligence II" in there too, but what with the raindrop sound effects, it most closely resembles "Drip Drop" from the "Live Four" phase. As far as I can tell, the next two versions of the track performed live do not incorporate any raindrops, so "ANS" is a better name for them, but for the sake of consistency, we'll just refer to the song as presented at this show and the next two as "Drip Drop (ANS)."
—
Thighpaulsandra: "Good evening. We, we are Coil. Thank you for coming to the second night of Mutek."
Blue Rats/Drip Drop (ANS)/Triple Sons and the One You Bury (Instrumental)
All three of these tracks segway into each other – almost 45 minutes of continuous music.
Radio Weston
Thighpaulsandra: "This is 'Radio Weston.'"
This version would later be released on the 1st edition of 2004's Black Antlers as "Wraiths and Strays (from Montreal)."
The First Five Minutes After Death
This iteration of the song features a lot of processing and effects not present on other versions.
Thighpaulsandra's closing words: "Thank you very much. That's it for tonight. Thank you very much. We've been Coil."
Peter's closing words: "Thank you very much. Thanks for coming!"
Line-up
Peter "Sleazy" Christopherson – Ableton sequence, video projections, Clavia Nord Modular Synthesizer
Thighpaulsandra – Fenix Synthesizer, Kurzweil Synthesizer
Advertisements, Backstage or Related Promo Material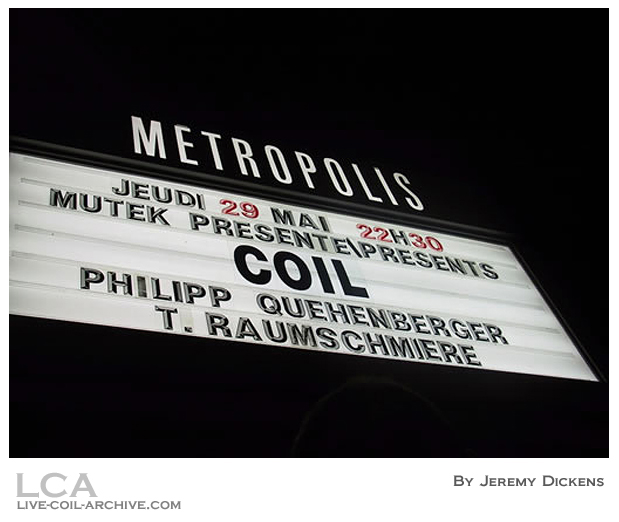 Ticket Stubs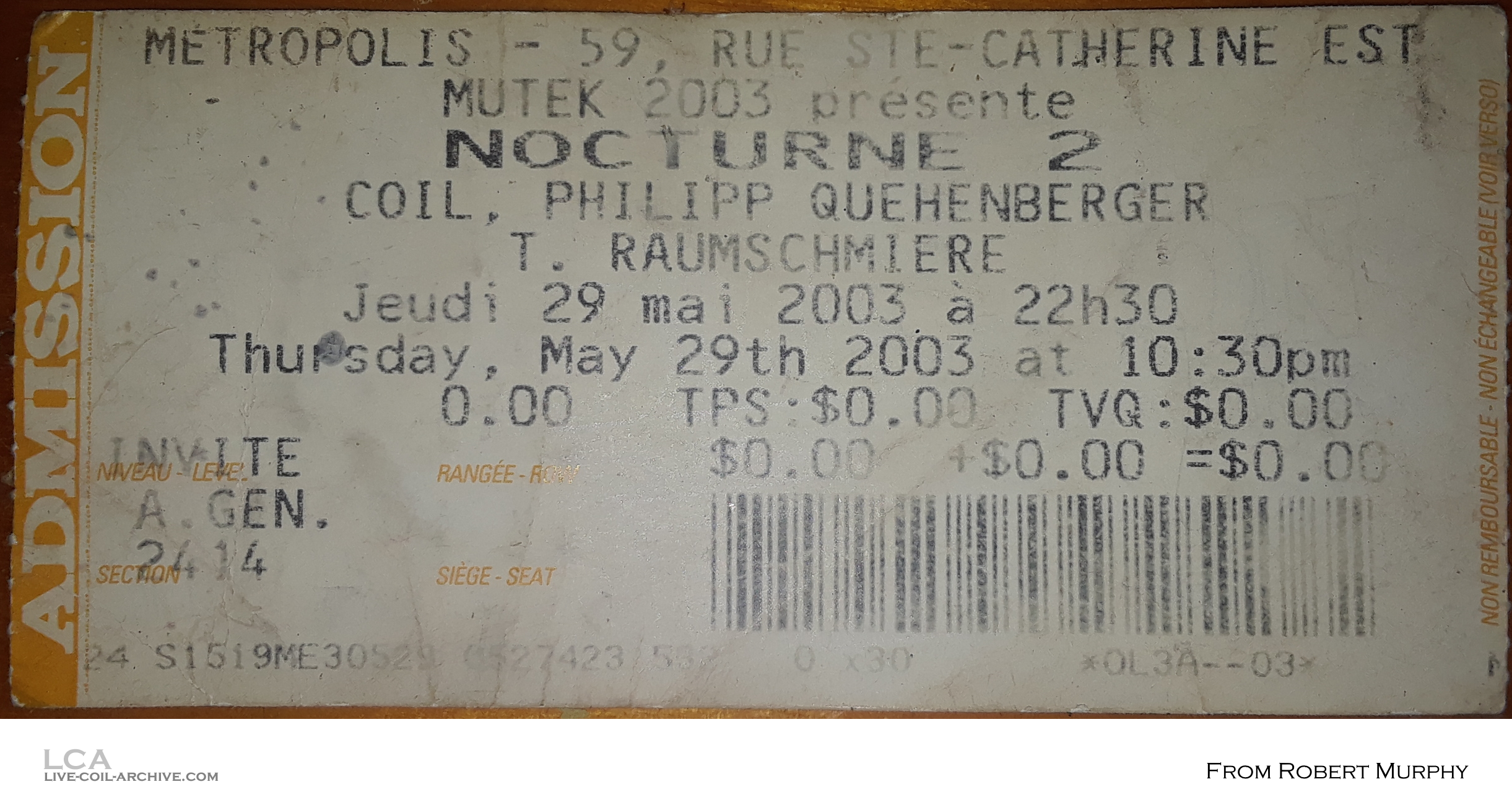 Venue
MUTEK Festival site
Society for Arts and Technology [SAT]
1201 Saint-Laurent Blvd
Montreal
QC H2X 2S6
Canada
Gallery
AMT #1
AMT #2
EDIT #1
Peter "Sleazy" Christopherson – 'Brave New Waves,' CBC Radio, Patti Schmidt (2003-05-16)
Jon Whitney Interviews Peter and Thighpaulsandra (2003-05-30)
Contemporaneous Interview(s)
The day after this show, Jon Whitney interviewed Peter "Sleazy" Christopherson and Thighpaulsandra. The following is a text transcription of a portion of the interview relating directly to Coil and Coil live:
Jon Whitney: Did you design the visuals for last night too, and like the strobes and everything like that, or…?
P.C.: Pretty much, yeah. I mean, I wasn't running it on the day, but, you know, we try and get the local crews to follow a kind of basic structure of how that works. The people…at Montreal seemed like they were already good and together. Godo crews, and everything.
J.W.: Thighpauls, tell me about you…Tell me your introductions to music, and I know it goes back a long time, but tell me about your…
T.P.S: Well, I had a very musical family…Both my grandfathers and my mother were all musicians, so I was kind of force-fed music from a very early age, and, uh, lived in a house where pop music wasn't allowed and we just used to listen to classical music 24 hours a day. (laughs)
P.C.: You didn't have a television until you were 15.
T.P.S.: No, didn't have a television 'til I was 15, so we were, we used to listen to "the classics" all the time, and I suppose growing up in that atmosphere, I suppose it was inevitable I was going to be a musician eventually, so…
P.C.: Or a psychopath.
T.P.S.: Yeah (laughs). So, uh, yeah, that's where it's all come from, but I think because I was force-fed a lot of, you know, the modern classics – er, sorry, classical music – the standard repertoire, you know, Mozart and Beethoven and Bach, I really, by the time I was a teenager, I was looking at other things, you know, and we used to go to a lot of Chamber Music concerts with, uh, where a lot of works received were first performances, so I got to see a lot of modern music inadvertently, I suppose, you know, [György] Ligeti and Stockhausen and all that sort of stuff. A lot of those things, I got introduced to at an early age, so I kind of got hooked, and, uh, it's been a slippery slope ever since. (laughs)
J.W.: How did you…Tell me some of the groups you were working with and how did you meet up with Coil and get involved with this.
T.P.S.: Ah, I met Coil – well, I was working at the time with Julian Cope, and I'd made a few records with him, and I eventually became the keyboard player in his touring group, and John came to see a show at the Shepherd's Bush Empire [a music venue in London]. Did you come as well? (P.C. shakes his head) No, no. Just John came, and, uh, he wanted to meet me, so he got in touch with my manager and set up a meeting, and we kind of hit it off from the first day (T.P.S. smiles), I think, and, uh, after we became friends, uh, I was eventually asked to join Coil, which was great (laughs).
P.C.: Actually, you're responsible for Coil playing live, basically.
T.P.S.: I am responsible for Coil playing live. So I said, "You've got to be able to. It's so easy, you've got to do it," and many tears have been shed since then (he and P.C. laugh). But, you know, here we are, still doing it, so…Took a lot of arm twisting, though, to make them do it.
J.W.: What do you see Coil becoming? What do you see Coil now versus how Coil was 10, 20 years ago? How do you see it now and then where do you see it going from here?
P.C.: Well, it was, Coil always was a vehicle. I mean, initially, it was, you know, John Balance's band, and I, he just asked me to help him do some, some stuff, and uh, the main difference right now is I'm not sure how much he wants to do it, or, you know, how much he wants to, to make music, and he tells me that he does, but, um, he's kinda going through some weird things in his life at the moment. I don't know if he will continue to do that, or not. I don't really know if the reason he's doing it is just to make money, or if he does feel kinda musically motivated. Um, but assuming that, assuming that he does, you know, I'm sure we will continue to work with each other. But because we've sort of split up personally (T.P.S. looks down at the table), um, obviously the sort-of dynamic is slightly different. Um, but, you know, the basic motivation for me has always just been whimsical, you know. If…there's, there's always kind of new, new stuff coming along that's interesting, and, and, uh, yeah, I do like making music, I'm sure that I'll, we'll continue to do that, you know, whether it's Coil or whether it's something else, I don't know, but, um, I think, you know, one of the things that's not good for a relationship and just as much as it's not good for a band is for people to take, you know, take things for granted, take the future for granted, or take, you know any kind of continuity, really, for granted, you know, you, in order to have a stable and fulfilling – not stable – but an interesting relationship, you know, that lasts, you've got to, you know, you've gotta keep things the way they were when you first met, you know, when you actually can't put anything else out of your mind except getting into somebody's pants, and it's sort of the same with the band, you know, you've got to approach your music as though you want to get into its pants, and if you just assume that next year, there'll be another tour and another album, then it's fucked up. You can't really do it, you know, so, right now, I'm not assuming anything about next year, apart from some shows that I've got in May, um…but, uh, you know, if you have the attitude that, like, just met some young German and you really want to do something with them, it's, or if you just met some piece of German software and you really wanna do something with it, it's fundamentally the same, so on that basis, we will continue to do things, but I don't know what they're gonna be.
T.P.S.: Absolutely.
Attendee Recollections
Paul Traczanti attended this gig and remembers: "I w[a]s there…while I was still very sick…and it was great…No Balance but sonically mesmerizing…I didn't recognize Blue Rats until my friend at the time alerted me to it. First 5 Minutes was very intense."
Robert Murphy attended this gig and remembers: "Was there, I swear they altered time."
Robert Teixeira attended this gig and remembers: "Fond memories of this show in Montreal! When I got home to TO after this Montreal show I learned that my landlady had locked me out of my apartment! haha"
Gregg Smith attended this gig and remembers: "I was there too. had just gotten back off a flight from Portland Oregon after meeting Steven Stapleton and hanging out with Mr. BlrrRecords himself, Chris McBeth—a trip of several days on the west coast, flew back…got 4 hours sleep and drove up to Montreal for the show. it was just before I left the house that I read on the Threshold Site that Jhonn wouldn't be in attendance, something about lying in black pools…how sad I was….still, it was a fun trip…they had posted on the web "FURTHER INTO ANARCADIA May finds us treading over difficult ground to new and exciting lands, on bare and rather tender feet…"…I had arrived in Montreal earlier in the day and took to a walking tour by myself down through the old section of the city and down by the port, by the time I got back to the venue I had blisters on my feet! oh, how the prophecy came true! how did they know! that's what I want to know!! and it Counts as a Coil date~ they were billed as Coil, they played Coil, it's just that Jhonn wasn't there. bitter-sweet times…"
Douglas Roark attended this gig and remembers: "Saw Coil in Montreal in 2003. I drove 1000 miles in one day 'cause I didn't want to spend extra money on hotels. I'd never been outside the U.S., I'd just graduated from college, and I wanted to treat myself to the MUTEK festival. It was a bummer that John wasn't there, but all things considered, it was a great show. The interesting thing is that Coil was the opener. Philipp Quehenberger was next, then T. Raumschmiere. (Backwards, indeed.) Needless to say, most people left when Coil was done. Who knows, maybe Sleazy was up past his bedtime and needed his 40 winks, explaining why they played first. 😉 I did see Sleazy in the crowd not long after Coil finished. He talked with a few fans and then split, as I recall. I started to approach him but got nervous and backed off before getting there.
Anyway, the CSO DVD is, to me, a reasonably accurate memento from that night. Obviously the sound and the vibe in person was much more powerful. I think somebody once talked about surround sound in the venue? I don't recall that but maybe it was rigged up? Whatever. It was a lovely night, with a lot of excitement in the crowd.
Oh, and I theoretically could've gone to the New York show. I happened to be in upstate NY at the time, visiting a friend. Alas, she hated Coil, and she was scared to death of driving into NY anyway. Why I didn't think to just take a train and spend the night at a cheap hostel in St. Marks is beyond me. Oh well. Maybe it's for the best. The thought of Coil list members seeing my awkward teenage ass is painful. :)"
Colin Arason in response to the above recollection: "Metropolis (the venue for Coil's MUTEK performance) has a pretty serious sound system – and there are some weird spots in the room where bass frequencies seem to gather. I remember thinking beforehand that maybe they'd do Who By Fire, as they were in Leonard Cohen's hometown, and then being astonished when they closed out the show with a version of The First Five Minutes After Death. A few days later I crossed paths with Sleazy when Señor Coconut was playing. I relayed my thanks at having heard a Horse Rotorvator track that I'd never dreamed of hearing live, and he responded by saying he'd never imagined they'd ever perform it… which made me question my own memory until video footage came out that confirmed it had actually happened."
Nathan Ketcham attended this gig and remembers: "I also saw them in Montreal and my whole experience was as equally absurd, in many ways, as my NYC trip (see above)…but I won't go on about it here.
It was a great show and Sleazy and Thighpaulsandra really seemed to be having fun: smiling at each other every once in a while as if they'd surprised each other or made a sound which the other had particularly liked. I imagine, perhaps wrongly, that it may have been a bit of a relief for them to do a Coil show without worrying about Geoff…maybe that's an unfair assessment…
I was ill at the time and decided I would do some automatic drawing during the show rather than partake in substances like the folk who accompanied me. Later, sick in my hotel room, I translated some of the automatic drawings into a more refined ink drawing, liked how it turned out, and left it for Sleazy at the front desk of our shared hotel. Have no idea if they ever received it and never asked them. Probably should have kept it…would love to have it now as a keepsake and they probably received twenty examples of "fan art" a month…
Picked up a free copy of the A.N.S. cd and it somehow disappeared in my hotel room…apparently lost to a housekeeper with good taste…"
Known Recordings
Tapes owners/taper:
SBD – Mutek Festival '03 ("All at the Canadian Broadcasting")
EDIT #1 – two of the camera angles used on the EDIT – Jon Whitney and Don Poe
| | | | | | |
| --- | --- | --- | --- | --- | --- |
| Source | Quality | Complete | Length | Lowest Gen | Comments |
| SBD #1a | 10/10 | Yes | 62 min | M0 (?), FLAC | Recorded on 24k. digital multi-track. Many versions and remasters are circulating with various alternate indices. |
| SBD #1b | 10/10 | No | 8 min | M1, FLAC | "Radio Weston" only. Officially released on the 2004 original release of Black Antlers under the title "Wraiths and Strays (from Montreal)"; this release appears to have remixed/remastered the song. |
| AMT #1 | 3/10 | No | 30 sec | M?, 320 x 240 AVI | One 30-second clip of "Blue Rats," shot from the front of the audience. |
| AMT #2 | 5/10 | No | 1 min | M?, 320 x 240 MOV | Two 30-second sections of "Triple Sons..." and "Radio Weston," shot from the front of the audience. |
| AMT #3 | 9/10 | Yes | 27 min | M1, MKV | Interview footage, recorded the next day. Released on Colour Sound Oblivion DVD #7. |
| EDIT #1 | 10/10 | Yes | 62 min | M1, MKV | 5-camera angles (professional). Uses SBD audio. Officially released as Colour Sound Oblivion DVD #10. Surfaced in lower quality sometime pre-CSO. |
Concert Recording Downloads