At Convergence 7, Irving Plaza, New York, USA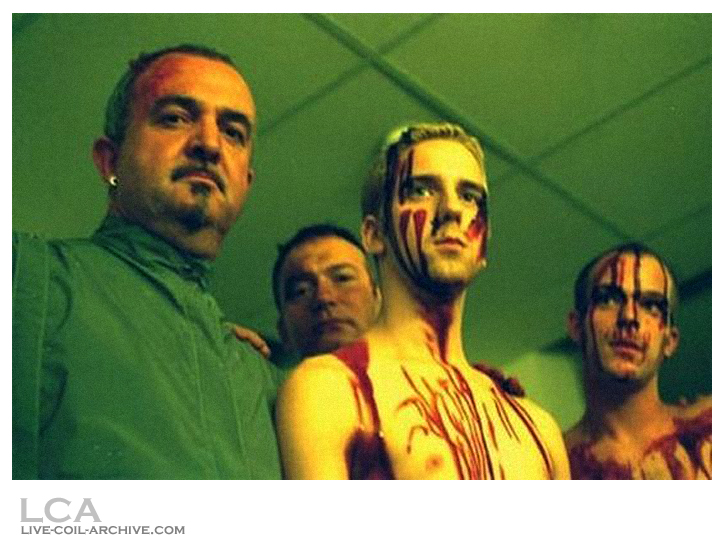 18th August 2001 – Convergence 7 – Irving Plaza, New York City, USA
Set List

Something
Higher Beings Command
Amethyst Deceivers (Version 1)
What Kind of Animal Are You?
I Am the Green Child (False Start)
Blood from the Air
I Am the Green Child
Constant Shallowness Leads to Evil
Soundcheck:
Blood from the Air (Vocals)
Amethyst Deceivers (Backing Track)
Amethyst Deceivers
Blood from the Air (Backing Track)
What Kind of Animal Are You? (Backing Track)
Blood from the Air (Backing Track)
Touring Background
This was the only time Coil played in the United States. An extensive North American tour was planned but never came to be, due to concerns over John's health.
Peter said of this show on August 3, 2001: "This will be absolutely your last opportunity to witness COIL in its present form performing the songs that have been so successful in Europe in the last few months. After this Thighpaulsandra will be leaving the band to start a 'sabbatical' with Spiritualized that may apparently last up to two years, and COIL will mutate into something different. So we suggest you DO NOT MISS THIS OPPORTUNITY TO WITNESS THE COIL LIVE EXPERIENCE!!!!"
On August 6, John reported: "Moscow will be the last concert in which we will perform the Constant Shallowness Leads To Evil set. We want to tour the US in the Summer or Fall next year. We have established that we are definately still Nothing artists and they are expecting us to deliver an album to them in the Spring for early Summer release. Thighpaulsandra is touring with Spiritualized for a long time now and we don't want to just do one-offs anymore, we want to tour. So we may be adapting and changing the live line-up. We have some ideas and surprises lined up, we just have to see if they are possible. Then again, everything is possible. Thighpaulsandra's touring stint with Spiritualized lasted until early May 2002, when he formally rejoined Coil.
This was the only time that Martin Schellard, Danny McKernan, and Matthew Gibson played with Coil live. Martin is the guitarist in Thighpaulsandra's solo work. Danny remembers: "i had met jon whitney online and he introduced me to their music … then i was in NYC for the show & met them in their hotel lobby before the show & they invited me to perform with them that very night and i said yes :)" He also knew Matthew Gibson: "we went to high school together and flew to NYC together." Jon Whitney attests that he introduced Danny to Coil.
Concert Background
Feeling: Glowing
"Constant Shallowness Leads to Evil" phase.
Other acts: Mirror Reveals, Claire Voyant, St. Eve, Anathema Device
Sound problems plagued the whole show, leading the sound guy Russel Polden to come onto the stage periodically to finagle with the equipment. Furthermore, you can scarcely hear Martin's guitar in recordings with live sound, yet he frequently dominates the mix on the SBD #1 recording.
Something
John: "We're dedicating this concert to the moon, to the hare, the stag of the cabbages. A little bit of lunacy for everybody, this evening."
The backing audio track begins overdriven in the live mix, so Russell steps onstage and adjusts the equipment.
Amethyst Deceivers
Russell adjusts Tom's marimba mic closer to the keys midway through this song.
Female audience member (after the song): "Thank you! Thank you, John. Thank you."
John: "You're welcome."
What Kind of Animal Are You?
John plays up to the audience and grabs various fans' hands during this song.
Blood from the Air
"I Am the Green Child" has a false start where the opening backing audio track plays and John namechecks the song, before realizing his mistake.
John: "I am the Green Child. Oh, right, haha…This is 'Blood from the Air.'" The audience erupts in applause.
This is the only performance of the song where the Yamaha SPX 1000 pitch-shift affects John's vocals, just as it normally would on the next song.
I Am the Green Child/Constant Shallowness Leads to Evil
John: "This time I really will tune the 'Green Child' whistle, haha!"
This was the second of only two times where this song segwayed right into "Constant Shallowness Leads to Evil."
Danny McKernan and Matthew Gibson only came out onstage during this last song. Dressed in nothing but underwear and drenched in fake blood, the two carried the metal sheet which John repeatedly banged his head on.
The reception of this gig was universally positive, despite all the problems.
Line-up
John Balance – vocals, Alexis AirFX on "Amethyst Deceivers," Yamaha SPX 1000 pitch-shift effect on "I Am the Green Child," metal sheet percussion on "Constant Shallowness Leads to Evil"
Peter "Sleazy" Christopherson – backing audio sequence, video projections, Clavia Nord Modular Synthesizer
Thighpaulsandra – Fenix Synthesizer, Clavia Nord Modular Synthesizer
Tom Edwards – marimba
Martin Schellard – electric guitar, Fenix Synthesizer on "Something"
Danny McKernan – bloody performer in underwear holding metal sheet on "Constant Shallowness Leads to Evil"
Matthew Gibson – bloody performer in underwear holding metal sheet on "Constant Shallowness Leads to Evil"
Russel Polden – concert sound mixer
According to Danny McKernan, the only reason Ossian Brown didn't play at this show or the next was because he had problems obtaining a visa.
Advertisements, Backstage or Related Promo Material
Ticket Stubs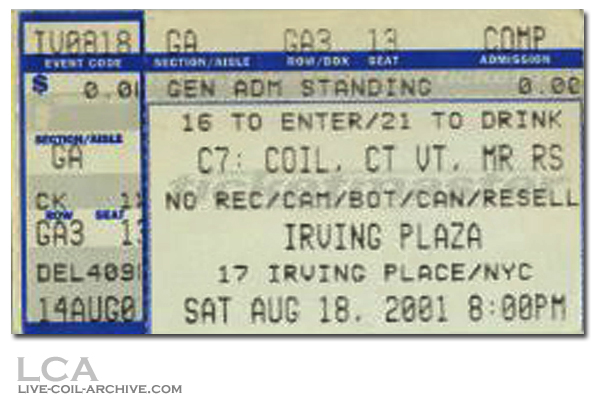 Gallery
EDIT #1a – Soundcheck, Gig, and Photoshoot
EDIT #1b – Gig and Photoshoot
Gig Review(s)
The following is a review archived on Brainwashed from the now defunct "The Fragment" website:
This is the second time this year that I have been witness to a Coil live event. The first was at the Wave Gotik Treffen in Leipzig, Germany. Until spotting Jhon in an elevator at The Warwick shortly before the doors slammed shut, I scarcely believed that Coil was in fact going to play just an hour over the bridge from my home.
The venue (Irving Plaza) has a small stage and relatively small floor area. At Leipzig, the event was in a hall the size of a small jet hangar (though I managed to scrunch within arm's reach of the stage there). It didn't allow for Coil to fully install their stage set: no light bulbs, little room to move around on stage, to allow the members to get into "character", etc
But this simply allowed Coil to rearrange their format a bit. The set was very close to the Leipzig event but with some added surprises: a live guitar which I don't recall at Leipzig, and a Xylophone (I recall my GF saying just before the show – I doubt Coil will use a Xylophone. I simply smiled). The set was also a bit shorter – with less improved theatrics. I could also tell the band seemed a bit tired (jet lag likely) and had less energy than Leipzig. The space was not as conducive to the feeling that you were trapped in a reality distorting event as the light, color and sound extremese were not as intense as at WGT. The video projections were the same though also seemed slightly abbreviated. But perhaps this was also because I was seeing it for the second time and knew what was coming.
BUT – all this by no means detracted from the set. It was an amazing performance – the small space allowed much more intimacy with the band, and actually a much better view of the gadgets and equipment Coil uses to make their soundscapes. Though not as brutally loud as Leipzig, the sound was much clearer – allowing me to differentiate between the melodic and harmonic drones, tones, vocals, and very subtle electronic beats. The sheer sensory overload at WGT made me feel like I was being raped in every hole by a Titan rocket.
The arrangement of a few pieces was also slightly different than the WGT set – this only added to my enjoyment as it allowed me to get a bit of a fresh feeling out of the same basic show. It is also unfortunate as NY law did not allow Coil to have the climax of their set with the lovely, largely endowed "angels" but managed to improvise well with some rather clean shaven youths in tight, blood decorated underwear carrying the mirror. Jhon's crouching before it worked well visually, allowing a rather ahem – backwards – view of the vocalist as the lights played across the metallic surface.
The question likely asked by hardened Coil fans will likely be, was it worth the 70.00 just to see Coil? Being a huge fan of their work for many years and seeing their shows live up to expectations, I of course will say, YES! I understand many people just could not afford a day or weekend in NYC, travel expenses, and a high cover fee, to see one band. That is understandable but I urge you to get to see Coil live when they return to the USA next year.
– John Harford
—
The following is an excerpt from an article entitled "Coil Fucks Our American Minds for the First Time and for Good" originally published in a 2001 issue of Alien Rock and written by an unknown author. It served as a companion piece to this gig.
Contrary to my recently obliterated belief, techno wasn't invented just ten years ago and Nine Inch Nails was not one of the founders of industrial music. (Yes, I know it's embarrassing that I believed such things.) It turns out, that the true roots of electronic music head back much further, with a major focal point being the work of Coil.
Coil's experimental music expresses itself in a peculiar way, merging simple and complex electronics, vocals, and live instruments. They work directly in the listeners' subconscious. And that is what they did to America on August 18, during their first-ever North American performance, held at Irving Plaza, New York City, as part of Convergence 7 (C7 is the seventh annual convergence of goths from around the world. What a unique occasion for an American debut.)
Formed in 1983, Coil is Peter "Sleazy" Christopherson and John Balance, newer official members (Drew McDowell in 1995 and Thighpaulsandra in 1997), and several changing collaborators. Peter was a member of Throbbing Gristle, the band that pioneered industrial music in the mid-seventies, and both Peter and John were members of the revolutionary Psychic TV, from which they broke off to form Coil. Coil have an album due on Nothing Records in Spring 2002 for Summer release, and will have a follow-up tour that year. Backed by Nothing and a U.S. tour, their mass-market exposure may soon dramatically change.
Considering these are the great warlocks of the keyboards, I was surprised that during their soundcheck, you could hardly tell Peter and John from the rest of the stage crew. Both in slacks and t-shirts (John in a Coil t-shirt no less; probably an inside joke). Peter did most of the quality control, checking each setup and discussing issues with many of the crew members. John, who does the vocals, stayed by the mike, singing, screeching, and whispering through parts of a few songs that were tested (including "Amethyst Deceivers", "Blood from the Air", and "The Green Child".) Their soundcheck was barely an hour long. Not much for the band that was considered the headliner by most and for many was the only reason to attend C7.
Before their show started at 11:30 PM, Peter and John walked on stage for some final adjustments. Hardly anyone noticed. Perhaps people didn't know what they looked like or were keeping with the introverted goth persona.
At show time, the five members from Coil (John, Peter, Thighpaulsandra (soundboard), Tom Edwards (marimba), and Martin Schellard (guitar) walked on stage, all except for Tom Edwards were wearing grey jump suits that shone white and that had cloth belts that seemed to dangle from their waists. This time the crowd recognized them, as it abrupted in screams of relief–18 years of waiting to see this band were finally over.
"Something" started the ceremony, repeating in a breathy deep voice. John swung the belts off his sleeve up and down as if blessing the crowd at an alternate world church ceremony. "I know why the birdcage sings," John intoned, in a rickety high pitched voice, over the sound of screeching, whistling winds. John brought prayer hands back over his head and to his gut. The ceremony progressed.
The sound and visuals worked together to form a body and soul experience for all. It had rising action, a climax, and a denouement. There was no deciphering between one song's exact ending and another's beginning. The same was true for the visuals. It was all continuous and affecting. During "Something," on the screen behind them, checkered cubes moved within the bounds of a sphere. It was too dizzying to look at for long. "Something" became "Higher Beings Command." There was the sound of flapping air, mixed with drones and high whistles, as "Higher Beings Command" was spoken in a languid voice. Images of a woman in Imperial Asian wear flashed rapidly: she had her hands out and was smiling; she whispered; her hands were on her hips as she talked and smiled. It expressed to me human emotion, its versatility and irrationality.
Some distortion that wasn't part of a song could be heard early in the show; a crew member walked on stage to adjust one of the setups. The gentle drumming of "Amethyst Deceivers" ensued. Clouds shot through a light blue and a pink filter moved like waves in the ocean on screen. An electronic swiping noise could be heard as John swung his suit's belt around. This song faded to silence, one of several breathing pauses during the show, when the crowd went wild.
"The Green Child" began with electric guitar heavy-metal-like strums. John did the voice-overs in a normal voice and with a deep demonic voice. White lights in spiral shapes, waved along the floor audience. Like a rabid animal, John yelled "I am an animal!", "I am a dog!", I am a salamander!". A symmetrical, fiery head on screen (my opinion of this Rorschach test) seemed to be speaking his words. A red light circled on the screen, I felt I had completely succumb. It was like looking into lava and seeing shadows of faces in the middle.
The true climax (but to me it had several or could be considered a one-hour climax): two young, fit men (Danny McKernan and Matthew Gibson), wearing only white underwear and splattered with blood, carried on stage about a 10 x 8 foot piece of sheet metal. They held it motionless center stage. John got down on all fours and knocked his head into it repeatedly. It made a subtle bop noise. I wondered if the sound capabilities at Irving kept it from being louder. He turned his ass to the metal and bowed down.
I felt drones and small thunders from the music inside my body. I vibrated from the inside out. I closed my eyes for a new effect. Opening my eyes, over red clouds flashed in Helvetica type the double entendre "God please fuck my mind for good," then "Resist the things you can find everywhere," and "Persistence is all." A blink and you could have missed one of the notes.
The music and stage presence had worked together so well that by the end, I was brought to a new place, between reality and the music. I stayed there until the show finished and they walked off with no encore (probably none was allowed), regardless of the people's chants for more.
-Alien Rock!
Contemporaneous Interview(s)
The following is a text-only interview with Coil which Jon Whitney originally published for Brainwashed here:
Derek de Koff: Forgive me if I'm a little nervous, but I'm a huge fan of your work.
Peter "Sleazy" Christopherson: That's quite all right – just as long as you're not our "number one fan"!
DdK: Your show was amazing, although I missed some of the last section. My friend ending up getting sick near the end: three vodka gimlets on an empty stomach. It started somewhere during I am the Green Child.
PC: Hmm… well, it's quite appropriate, then.
DdK: So, I wanted you two to talk a little about what seems to be a rekindled interest in blood.
John Balance: You noticed, then?
DdK: Well, there are new T-shirts that show you [Balance] covered in blood, and a vintage edition of Musick to Play in the Dark whose front cover is smeared in your blood as well.
JB: (Pulls back his shirt sleeves to reveal that both his arms are lacerated with scars.)
DdK: Oh! You're not kidding, then. What brought this about?
JB: Just frustration, actually. But it turned into a psychotic break. I smashed my head through a window at our house, but luckily it was Victorian glass, so it broke in chunks and not shards, which was a God-given miracle. A Goddess-given miracle. It didn't cut me, really. Well, only a little bit, but not much. So then I went downstairs and started attacking my arms with the glass. But by then, I'd already worked it into a magickal thing. I thought, "I'm in a real rage here. I need something to shift, and I'm not sure what." So we – he – Peter – fortuitously, foresightedly grabbed these blank album covers and smeared them on my face and arms. And then we made a recording with the broken glass. I had reached more than a red rage. You know that state? It just carried on… It took about a week to calm down from it.
PC: Sometimes your demons are useful. But sometimes they actually prevent you from doing things.
JB: We have a "feed your demon" theory. Some demons need banishing, obviously – especially those that have been given to you by someone else. Also, there are God-given demons. And then there's those you inherited because of your existent genetic matter. But you've created a demon. And I've got those and I use them. They're grit. Talking about homogeny and things, and why things feel so safe these days, people don't have enough grit.
PC: It's like those animals that have to have grit in their stomach…
JB: Those are… chickens!
PC: (Laughs.) Oh… I knew it was something like that. We were talking to someone earlier about musicians who have alcohol and drug problems and who get clean. It's obviously good from a health point of view, but then they become sort of boring.
DdK: They do. Why do you think that is?
JB: Well, I've sort of dabbled with rehab, and this is a real stumbling-block for me. Because getting clean is about seeing the results. Wonderful for the family and all the emotional upset stops – but I think everybody is addicted to something. I think it's a gift in a way, because I can create music from it.
PC: Addiction is about trying to change the way we feel. And it's a question of what we use to change it. Because everybody wants to change the way they feel. It's part of human nature. And I think it's not even a human thing. I think animals do it as well…
JB: And we are animals, of course.
PC: Of course. What we try to do is make music that permanently and fundamentally changes the way people feel and people understand their environment and the place they're at in the world – and hopefully not do it in a way that's damaging to their health.
DdK: With Musick to Play in the Dark 1 and 2, you were consciously playing with lunar energies; it was a more gentle, tidal sound. But Constant Shallowness Leads to Evil is anything but gentle. What are you playing with here?
JB: Lavishness is my stock answer for this. There's too much of everything.
PC: There are too many magazines! You go into a magazine shop and you can never find the one that you want. There's too many of them. And there's too many CDs. And there's too much choice in the supermarket. You can never decide what brand of…
JB: I was trying to buy some mouthwash, and the choice of mouthwashes lined across an entire wall. And I turned around, and there were more! I thought, "You only need the one…"
PC: But we're not against choice…
JB: No – but at the same time, this is a response to the overwhelming choice.
PC: It takes so much time to think about all these things that you almost can't think about the things that are important.
DdK: Having too many options ends up the same as not having enough.
JB: Yes. Definitely. It's that, and it's about our frustration with consumerism. I don't want to sound like a communist or something, because I'm not. There's just too much stuff around us, and people – people – have been forgotten about. I'm sort of talking about homeless people and people who need treatment for drug addictions – but people! We were talking to these two nineteen-year-olds the other day, and they were saying, "No one's ever tried to bond with us like this for a while." Except, you know, their gran. And this is why we've come out to tour. It's not to smell the audience – I know that's a terrible KISS-like thing to say – but to actually meet people and bond with them.
DdK: You've said that this concert is an invocation to Pan. I was interested in what this means, in relation to Pan and panic.
JB: I think it's getting straight back to the core of what we are. We call it the human animal. We're visceral and we respond to sound and we respond to light, or we respond by panicking or having euphoria – or both! And those two, you know, can flip. It's about that. And we're quite considerate with the show. We're not putting in really high frequencies, because that's just really unpleasant. We're aiming around here (points to upper left chest). I'm getting into chakra systems here. It's sort of heart chakra; it's also energy.
DdK: Are you trying to incite a sort of primal fear with the music?
JB: No – but a primal response.
PC: The best moment of any concert, whether it's a Coil concert or any other band or even a classical concert, is the moment when you lose yourself. You become unaware of your surroundings, totally absorbed by the music. That happens less and less often with contemporary rock. I've been to about twenty concerts in the last two or three years and I've not been transported.
JB: I've been moved to tears… of boredom.
PC: And I think that's a shame. I think what we're trying to do is encourage people to lose themselves in our music in the same way we lose ourselves in it. And I've tried that with everything we've ever done. Because whether you call it a trance state or a mental focusing thing – however you want to describe it – something greater takes over. And if we can bring a little bit of that to the people in the audience, then that makes it worthwhile. And it may not be necessarily something they find pleasant for that moment, but it will be something they look back on and say, "Hey, something really happened. I actually felt something—"
JB: – hopefully –
PC: "And it moved me. And I can't figure out what it was." You may never figure it out, but at least something happened.
DdK: Why I love your music: I think all music should aim to put the listener back in touch with their own imagination.
PC: Absolutely.
DdK: Obviously, most of the music that comes out today is incredibly unimaginative. However you do it, it's amazing to me how your music almost seems impossible – that it can't actually exist – particularly the way it can connect or click with the listener. It's quite extraordinary. It's a gift.
PC: I think if you connect with that place in yourself…
JB: If you've already got some of that in you, all we're doing is setting the vibration frequency a little higher.
PC: But it's not a physical… it's not physics, necessarily. It's some kind of emotional or psychic state that works, and I don't know how it works. You can't really put it on an oscilloscope and figure it out. It's just a question of choice.
JB: It's a question of instinct, as well.
DdK: You've said before that you work very instinctually. How do you mean, exactly?
JB: I have notebooks and ideas and it's just grabbing, really: trying to be informed by the earth and the etheric. And trying, by any means whatsoever, to make that into a solid object, or a sound object, or a record. And that's what we've always tried to do. It seems – we don't create it, really. It's already there. We just assemble a kit.
PC: We have discussions sometimes about the feeling behind a track that's about to be started. It might be a discussion about a picture or a feeling, or a moment in a film…
JB: Sometimes we set down a whole page of parameters: it should do this, it should do that, it should reflect the moon, it should be lunar. Or we'll burn some incense or let the dogs run wild around the room while we're doing it – or we'll shut them in the garden. Anything like that. Or eat carrots for a week and then do something. Just so some chemistry within us is deliberately changed.
PC: As for the music itself, it's not like "Let's set up a rhythm and set up a base." We'll try combinations of equipment or filters or computer programs almost at random and then—
JB: Something hits.
PC: There will be something about one of them that you like and you want to develop. It's almost like the process of selection is the most important thing.
JB: This is the choice thing again.
PC: It's hearing something that you know is right and going further with it.
DdK: Going further…?
JB: When we played in Amsterdam, it was so loud, this one girl in the audience fainted because of all the frequencies. So her friends carried her outside and she had oxygen given to her. And she was asked, "Do you want to go home?" And she said, "No, I want to go back in again." So she went back to where she was. And she fainted again!
DdK: She sounds like a woman after my own heart. Did you talk to her after the show?
JB: Oh, yes. She said she loved it!
PC: Yes, and since then we've taken out liability insurance. (Laughs.)
DdK: You've been travelling with this show quite a bit. Do you find different reactions according to territory? Are there differences between an audience in Amsterdam and one here?
PC: Not too much, actually. You'd be surprised. There are the hardcore fans that will travel five thousand miles to see you, and that's fantastic. And then there are other people who are less familiar, or curious, or shell-shocked…
JB: We have this one guy who travels around with us – I don't know his name, actually – and he stands centre-stage and just stares like this: (He crosses his arms and glares). And he comes to every one of them! And I always think, "He must be hating this! Why does he keep coming?" But in the end he comes up and gives me an assessment of the concert. He's a really nice guy. So that's one response.
PC: But then there are the people who come and they're looking for your whole hidden message. They think we're putting them in there – and we certainly have put some in there – but I think it's quite possible to overanalyse Coil. It's just the noise, sometimes. As simple as that.
DdK: You've been making music for well over a decade. Is there any particular phase you're particularly fond of?
PC: I always say it's whatever we're doing at the moment. That sounds like a cliché, but we've been through so many different aspects and different places. The one thing that drives me bonkers is the idea that we'd have to stay in the same place.
JB: Stasis, yeah.
PC: We're always trying to find something new and stimulating.
DdK: And as for the future, where are you heading?
JB: Well, we've done Musick to Play in the Dark 1 and 2. And I think we're going to do one more.
PC: Hmm, first I've heard about it.
JB: We just compiled two Russian compilations because we've been counterfeited so often over there. We did one melancholy one and one mad one. We took quite a bit from Musick to Play in the Dark 1, actually. I'm quite fond of it.
PC: I liked it as well. Musick to Play in the Dark takes you to that dark, melancholy, but friendly place. It's intimate. And then, there's our "noise" stuff that takes you to some place else – and it's kind of a battle; not between us, but…
JB: I really like headfuck, twisted music. But I also really like introverted work, as well.
DdK: I think these two styles complement each other to give you a larger, contradictory picture.
JB: It's a body of work. A dead body of work. (Laughs.)
DdK: Are you going to do more along the lines of Constant Shallowness Leads to Evil?
JB: There's one more that we're going to do along those lines.
PC: (Sighs.) That's news to me. Which one?
JB: Wounded Galaxies Tap at the Window, a tribute to William Burroughs.
DdK: You two are always eager to cite your influences in your music. In liner notes and in titles, a list of names come up often: Burroughs, William Blake, Austin Osman Spare, Alexander Shulgin…
PC: There are a few people, like William Burroughs or Alexander Shulgin, who had a great influence on us when we were younger. They had such a powerful effect on our lives that we feel we have an obligation to pass that on to other people, and to try to have the same or similar or as powerful effects on… not necessarily kids, but anyone who might come to us fresh. It's a cheesy analogy, but you have to pass these things on from one generation to the next.
JB: It's a legacy. We don't own it, but we have our own interpretation of it. And I do think it's a duty that we make information available. The good bits we keep to ourselves. (Laughs.)
DdK: William Burroughs was certainly a lifer when it comes to themes that you've worked with: certainly the idea of hallucination as truth. Now that you've made a deliberate attempt to cut down on your substance use, do you ever feel you're missing out on the benefits of complete drug derangement?
JB: Well, we couldn't have kept it up, though. It takes its toll.
DdK: When does immersion becomes dangerous and self-destructive? When does it impede creativity as opposed to influence it?
JB: Well, after we completed Love's Secret Domain, we didn't record a lot after that, really, for quite a while. It was a long time space. Now… I'm not sure whether it's our age or the age that we live in, but I feel far more desperate to accomplish things and make up for lost time, basically.
PC: A lot of times I just think that those experiences – those drug experiences, psychedelic experiences – that's a place you need to see.
JB: That everyone needs to see.
PC: But you don't need to do it over and over again. As long as you know it's there…
JB: And you've absorbed the knowledge that it can give you…
PC: To continue to look back to that same door is a waste. It's a waste of your resources.
JB: (After a pause.) But certain things like psilocybin mushrooms can teach you something new every time… (Laughs.)
Attendee Recollections
Adam Vavrick remembers: "About 2 months prior to the show when it was announced, i sent a message to the Coil list offering up a good bit of my cd's, vinyl & some synthesizers to help pay for a ticket to get myself out there for the show. I received a private email reply a day or two later from Sleazy saying that it was very flattering and sweet i'd sell all my stuff to see them, but i shouldn't bother, as they're planning a truncated set with borrowed gear, and that there should be a full tour in the spring, to send him my address. That tour never happened, and i very much shouldn't have listened to uncle sleaze. When we met during the 2009 TG reunion and i recounted this story for him, he gave a giant beaming smile, put his hands over mine and said "Oh, er, yes, never listen to your elders i guess." Cheeky bastard"
Nathan Ketchum: "I made plans to go with my one time best friend Brandon who, little did I know, was addicted to heroin and would be going through withdraw during the trip. This meant that he would needle me with personalized and psychologically on-point passive-aggressive (or sometimes just plain aggressive) comments the whole time a' la Who's Afraid Of Virginia Woolf. Fun. A day before the flight from Michigan I had a terrible nightmare set in a kind of colorful video game world. I dreamed I was inside the airplane to NY when it was hijacked and flown into a skyscraper over and over again. I woke up in a panic with the awful feeling that I shouldn't fly. I'm not normally afraid of flying. The flight ended up fine. When we got to NYC we realized that the "hostel" we had reserved to stay in was actually a homeless person's shelter with no air-conditioning. Instead of rooms it had partitions like bathroom stalls. Walking by I saw a man who obviously lived in his stall with just a lazy boy and a television set as furniture – like an image from the movie "Brazil" – and it depressed me terribly. Outside there was a traffic island / park in the middle of a square that was crammed, like animals in a pen, with men and women sitting and working on laptops or just staring into space. Many of them wore business suits and had briefcases with them. It looked like a flock of office managers had just landed from the sky to graze like geese. I was told that they were the newly homeless and this was a small bit of land on which it was legal for them to "loiter." NYC was hot and humid. My friend dragged me around the city aimlessly until my army boots dug into my feet and made them bleed. It felt like a giant shopping mall. Stores repeated themselves endlessly. I spotted an attractive guy in an area that seemed empty of anything but sandstone walls and proposed we follow the man (just for fun). We followed him several blocks and then ended up ducking into a music store. The next night we realized the dude was, by coincidence, one of the guys in bloody tighty whities who held up the metal sheeting during the Coil show. We met an old friend of mine at a bar called "The Detroit Bar." Shortly after explaining to her why Christopherson was also called "Sleazy," I excused myself to go to a small, one toilet bathroom. I have to sit to urinate because of piercings and, a little tipsy from drinking and walking in the heat all day, I sat on the toilet without checking it first. I ended up sitting in liquid. I stood up and realized the toilet was filled to the brim with clogged up toilet water and swirling chunks of feces that were now dripping over the edges like slugs plopping onto the floor. I did my best to clean up before returning to the bar but it was pointless: I smelled like shit the rest of the day. My friend gave us some tips for sightseeing and, for some reason, I panicked and said that we could not go to the business district…I even warned her not go to the business district by herself. I felt pretentious saying it…like I was pretending to be some sort of mysterious oracle (and even more pretentious reporting it now), but both the nightmare I had before leaving and this impromptu, weird warning (not to mention an oppressive sense of Mothman doom I had the whole time I was in NYC) made sense a month or so later when the 9/11 attacks occurred. I've not had a "premonition" like that…something so clear that it allowed me to make a warning…either before or since. I didn't even process it as a "premonition" at the time…I thought I was just being irrationally anxious. Perhaps I was…The concert was wonderful. It truly did sound as if there was quadrophonic sound going on though I think I was told, after the fact, that this was not the case. Later I was shocked at how raw and less refined the live recordings sounded. It was impossible to capture the experience of being there or the sound they actually made. The next day we ran into Sleazy and Geoff at their hotel. I had just bought a silver bracelet cast from a thorn branch and when I went to hug Sleazy my bracelet got caught on his t-shirt and almost ripped it. I was self-conscious while talking to them. I was a little worried that my friend, coming down off of heroin, might say or do something awful…but he didn't. Geoff asked us what we were up to right then and I quickly said that we were going to an off broadway show about a hotdog and a leatherman (which had been the plan). Geoff said, "Of course you are!" They invited us to see Little Annie Bandez perform later that night. My friend was angry at me that I had told Geoff we were going to the hotdog show. "He was going to invite us back to his room and you ruined it," he said. At this point my anxiety level was through the roof and I couldn't think of anything worse than having to hang with my music idols in their hotel room and navigating conversation (or more) with them while saddled with an unpredictable smack head suffering withdrawal…The Little Annie show was as amazing as the Coil show. She was beautiful, honest, and completely mesmerizing. I cried. Annie (jokingly, it turns out) said during the show that she wanted to bum a cigarette off of someone because she was trying to quit and, after the show, I bummed her one of mine. We had light conversation and she clued me into some parts of NYC where there might be some hoodoo shops. Many years later I would run into Annie again and she remembered me very clearly. This had been her return to performing live after a hiatus so it was a memorable performance for her (as well as the audience). The crowd was mostly friends and so they were less likely to bum her a cigarette out of concern for her health, I guess. Apparently I was a much needed nicotine lifeboat at the time, lol. Annie is precious…and she was the only truly "pure," loving presence I felt while in NYC…apart from the music of Coil itself. As the crowd left the Little Annie show I saw Simon Norris (I believe) in the throng. We made eye contact and, exhausted by everything we'd been through and somewhat face blind by nature, I happily yelled "Thighpaulsandra!" He replied, "No…but I could be!" I was embarrassed after realizing my mistake and had nothing quick and witty to say in response. By chance, we trailed Simon Norris and his companion…it might have been Sleazy if I remember correctly…on the walk back to our homeless shelter / youth hostel. We walked the whole time about 20 feet behind them but said nothing. Even my heroin withdraw fueled friend was exhausted at this point and felt it best to avoid the "fanboy" syndrome. On the trip I spent my extra money on: an original copy of Uri Geller's soft rock/motivational album, a bootleg copy of Lucio Fulci's A Cat In The Brain, a silver thorn bracelet (lost shortly thereafter), and an overpriced vintage shirt which I bought in a panic after my only other shirt was destroyed by sweat stains and NYC grime. I went home penniless. Years later when I saw the flight training video Coil used during their European stage shows, I realized that it was the same colors and quality of imagery that was in my hijacking nightmare before leaving for New York. That was the one last weird thing associated with that trip…like a coda…"
Andrew Mendez attend this gig and remembers: "I had a great time and enjoyed the show to the hilt. There was a backstage party in which Mr.Balance tried to pick me up, should had gone with him. Plus had a few words with Peter which he stated he would love to work again with Cris and Cosy-I guess this was the first of XTG ."
Known Recordings
Tapes owners/taper:
SBD and EDIT #1a – Don Poe.
| | | | | | |
| --- | --- | --- | --- | --- | --- |
| Source | Quality | Complete | Length | Lowest Gen | Comments |
| SBD #1 | 8+/10 | Yes | 55 min | M1, FLAC | "Something" peaks for the first few minutes. Officially released on Live in NYC August 18, 2001 CD. |
| EDIT #1a | 7/10 | Yes | 85 min | M1, 352 x 240 AVI | 1-camera angle (amateur). Includes soundcheck, gig, and backstage footage. Some of the soundcheck footage uses the camera mic, but midway through, the soundboard gets fed through. Gig portion uses camera audio. Officially released on the Live in NYC August 18, 2001 VHS - a relatively lo-fi VHS rip has surfaced on archive.org. |
| EDIT #1b | 8+/10 | Yes | 59 min | M1, MKV | 1-camera angle (amateur) with a few visual effects layered over. Includes backstage footage. Gig portion uses camera audio. A glitch on "I Am the Green Child" causes a few seconds to repeat. Officially released as Colour Sound Oblivion DVD #3; the set claims there were 2-camera angles, but no cuts in the video indicate it was just a single angle. |
Concert Recording Downloads