"Persistence is All"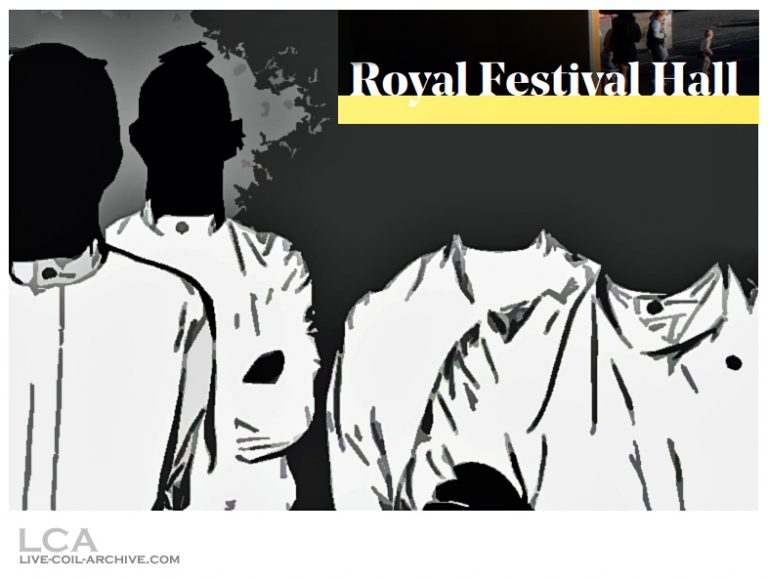 19th September 2000 – Royal Festival Hall, London, England
Set List
Something
Higher Beings Command (Instrumental)
Amethyst Deceivers (Version 1)
Titan Arch
Blood from the Air
I Am the Green Child
Constant Shallowness Leads to Evil
Background
"Constant Shallowness Leads to Evil" phase, named after Coil's concurrent album Constant Shallowness Leads to Evil, released exactly a week prior to this show. They played a setlist primarily based around the album until the end of 2001. "Lowest Common Abominator," "Beige," "Freebase Chakra," and "Tunnel of Goats" all sort of became combined into the epic suite "Constant Shallowness Leads to Evil," while "Higher Beings Command" and "I Am the Green Child" were significantly expanded and altered from their studio counterparts. "Something" comes from Musick to Play in the Dark, Vol. 2, released in September 2000, while "Titan Arch" and "Blood from the Air" are revivals of classic Coil songs, off of Love's Secret Domain (1991) and Horse Rotorvator (1987) respectively. Audiences were consistently responsive to "Blood from the Air" in particular, often erupting into applause every time they would play the song. "Something" always transitioned into "Higher Beings Command," and occasionally, "I Am the Green Child" would transition into "Constant Shallowness Leads to Evil."
Feeling: Glowing. Coil discarded the Sun Ra-inspired polar bear suits in favor of semi-glow-in-the-dark unbuckled straightjackets, or boiler suits. Photographers who used flash photography at any of these shows often produced pictures of the band members appearing headless and ghostly. John, Peter, Thighpaulsandra, and Ossian painted physical injuries on their heads and faces, possibly in reference to John's self-harming episodes, one of which inspired the "Trauma Edition" of Musick to Play in the Dark Vol. 2. John would dart around the stage during "What Kind of Animal Are You?" slowly tramp about on "I Am the Green Child," and usually bang his head and hands into a big metal sheet towards the end of "Constant Shallowness Leads to Evil." Peter most often remained stationary at his computer and synths, while Ossian and Thighpaulsandra would sometimes walk about the stage. Ossian often wore a dazed expression and would kneel and pray underneath his synth during "Constant Shallowness Leads to Evil," while Thighpaulsandra stayed stoic. For most of these gigs, stagehands hung naked lightbulbs from the ceiling, which the band members would accidentally bump into or intentionally bat at, occasionally breaking them upon impact with one another. Peter would sometimes sing backing vocals on "Blood from the Air." Tom Edwards, wearing different clothes than the rest of the band and often tucked away in the shadows closer to the back of the stage, played marimba on "Amethyst Deceivers," "Titan Arch," "What Kind of Animal Are You?" and "I Am the Green Child." He would also sometimes add marimba or metal sheet percussion on "Constant Shallowness Leads to Evil."
Debut performances of all songs except "Amethyst Deceivers (Version 1)"
When present at the shows and with very few exceptions, Thighpaulsandra primarily controlled John's vocal modulations. He remembers: "None of these were done with Ableton live although Sleazy did use Ableton to process parts of the backing tracks. All the live vocal treatments were performed with a modified (by Kanwal Dulay) Electro-Harmonix 16 second delay which could loop, reverse, pitch change and detune. I had a feed from John's vocal mic and fed the output through my onstage mixer to the FOH desk. The Green Child effect was created with a Yamaha SPX 1000 just on a pitch change program I created but was run from FOH. Right up to the Dublin show apart from The Green Child all the vocal effects were from the EH. I've still got it…They don't make the model I have anymore but I think they make something similar. The guy who did the mods for mine also did them for Robert Fripp and Peter Gabriel…[M]ine was modified and rack mounted with a remote footswitch [sic] for all the functions.
At this show, on the left side of the stage sat a red LED light displaying the slogan "Persistence is All." This same sign can be seen in the Hello Culture documentary (see the next section for further details).
Foetus (Jim Thirlwell) headlined this concert, going on after Coil's performance. According to eye-witness testimony, David Tibet of Current 93 left after Coil's set, missing Foetus. Some Coil fans have expressed that Coil should've headlined, that it was very difficult listening to proper English rock for around 76 minutes after their set.
Something
I know why the birdcage sings
It's wrapped its song around everything
Higher Beings Command
John does not sing on this performance of the song, but he does on all others.
Amethyst Deceivers
Patrick Farr turns off the light bulbs until John sings.
Pay your respects to the vultures
For they are your future
Our fathers and mothers have failed
To release us
Into the welcoming arms
Of the amethyst deceivers
Pay your respects to the vultures
For they are your future
Our fathers and mothers
Have failed to release us
Into the welcoming arms
Of the amethyst deceivers
Titan Arch
The backing track plays for a few measures before John announces the song's title.
Crown the dark animal
Black jackal crawling
Eternal returning
An end to the waiting
There are thrones underground
And monarchs upon them
They walk serene
In spaces between
At the head of the storm
Darkness is rising
In the garden of jaws
His wounds are shining
Angels take poisons
In rotting pavilions
Under shivering stars
The sickness is gilding
Blood from the Air
John: "Thank you. This next track's, uh, from Horse Rotorvator, which we consider stolen property, along with Scatology. We want the stolen property returned by the man who stole it, Stevo Pearce. Until he returns it, he's cursed." Stevo Pearce ran Some Bizarre Records, which had just made unauthorized reissues of the two albums John mentioned earlier that year. Coil made their own reissues of these albums and Love's Secret Domain in 2001 with new covers which famously held the message, "Stevo, pay us what you owe us!"
A sleeping explorer, his wandering mind
Crossed over the border
A mind like a cemetery where the corpses are turning
Where the bodies twist deep
In the frozen grip of a dreamless sleep
Then the lowest comes up
Like a wreck from the depths
He hears night calling and has dreams of waking
Here in this brightness
That burns like slow lightning
He sees words burnt in ice
And reads that the world is a wound
In the body of Christ
Effects of the animal, animal sound effects
He says, "Death, he is my friend
He's promised me a quick end"
The world is in pain
And should be put down
And God is a sadist
And that he knows it
The depths of the night skies
Reflects in his eye
He says, "Everything changes (Nine Knives of ice)
And everyone dies"
And the night slits her veins
And the darkness drains
And the void rumbles in
Like an underground train
Forever comes closer
The world is in pain
We all must be shown, we must realise
That everyone changes and everything dies
After the song, John knocks a lightbulb into his mic stand, breaking it. "Fuck. Heh. It's the curse starting to work, there. This is strange; we haven't been playing live for 17 years. To suddenly start singing these songs is extremely bizarre."
Audience: (applause)
I Am the Green Child
John: "I am the green child. I should be harmonized as well. Whoa, ohhh."
England awakes
England expectorates
All hope evaporates
Colour sound oblivion
Colour sound oblivion
Vengeance is mine
A vengeance divine
I am the green child
I am the green child
I am the green child
We're swimming in a sea of occidental vomit
We're swimming in a sea of occidental vomit
We're swimming in a sewer, swimming in a sewer, swimming in a sewer
We're swimming in a sewer, swimming in a sewer, swimming in a sewer
I am the green child
I am the green child
I am the green child
I am the green child
I am the green child
Vengeance is mine
A vengeance divine
We're swimming in a sea of occidental vomit
We're swimming in a sea
I am the green child
I am the green child
I am the green child
I am the green child
I am the green child
Colour sound oblivion
Colour sound oblivion
We're swimming in a sewer of hate
We're swimming in a sewer of hate
The machine started to flow into a vein
The machine started to flow into a vein
At war with words
Leave a papercut
It's the least I could do
Splash colour sound oblivion
Splash colour sound oblivion
Colour sound oblivion
Colour sound oblivion
Colour sound oblivion
Colour sound oblivion
Colour sound oblivion
Colour sound oblivion
Colour sound oblivion
Colour sound oblivion
Colour sound oblivion
Colour sound oblivion
John (after the song): "That's a strange little song, isn't it?"
Constant Shallowness Leads to Evil
John: "Ahem. This next track is dedicated to, uh, my friend Fritz, who went down and never came back, and it's dedicated to my friend Russell, who went there, and he came back, and it's dedicated to my friend David Tibet, who very recently nearly went there. 'Constant Shallowness Leads to Evil.' I really mean that."
Sound effects from "I Am the Green Child" can be heard in this version.
Louder, louder, louder, louder, louder!
Louder, louder, louder, louder, louder, louder, louder, louder (louder)!
Louder, louder!
Louder!
No allegiance to the hummingbirds
No warning from the sun
Hornet, wasp, or hoverfly
Even the bees have their alibi
All hummingbirds must die
All hummingbirds must die
Do you believe in dentists?
Anesthetists and gas
I want to go under in the society of animals
I want to go underneath
I'll swim across an ocean of drunken fish
Fly with suicidal birds (hornet, wasp)
I'm tired of the thieves and the priests and the rich
Cross-pollinating sores
In the Altered States of American Death
Christ on a bike with carpet burns keeps falling to his knees
I want you and I need you, but I can't find you
I'm allergic to disease
And when I reach the station in the heaven of glass
I'll say a little prayer for you
Then I'll cut off the heads of the doves that fly
All hummingbirds must die
All hummingbirds must die
There is no wrong, so why go on?
There is no wrong, so I go on
And the sun dissolves like an octopus
The entire band takes a group bow at the end of the concert.
"Hello Culture"
Shortly before this gig, Matthew Collings interviewed John, Peter, and Thighpaulsandra for episode three of his 2001 documentary series Hello Culture, entitled "Badness." Coil primarily discuss the concept of evil as it appears in modern culture, their personal goals of waking people up to the nasty reality of consumerism, Catholicism, and Aleister Crowley. Snippets of the professional video recording of the gig are shown in the documentary – full segment here, with related section beginning at 7.52min).
Ian MacMillan edited at least this portion of the series. He remembers: "For 'Hello Culture' we had both the clean feeds of the stage projections and the tapes from a camera from the mixing desk, both given to me by Sleazy and John. I was a good producer and returned both after we'd finished our edit. I guess I ought to have made copies but at the time that didn't seem appropriate."
Line-up
John Balance – vocals, Yamaha SPX 1000 pitch-shift effect on "I Am the Green Child"
Peter "Sleazy" Christopherson – backing audio sequence, video projections, Clavia Nord Modular Synthesizer, backing vocals on "Blood from the Air"
Thighpaulsandra – Fenix Synthesizer, Clavia Nord Modular Synthesizer
Simon Norris (Ossian Brown) – Kurzweil Synthesizer
Tom Edwards – marimba, metal sheet percussion on "Constant Shallowness Leads to Evil"
Patrick Farr – lights
Advertisements or Related Promo Material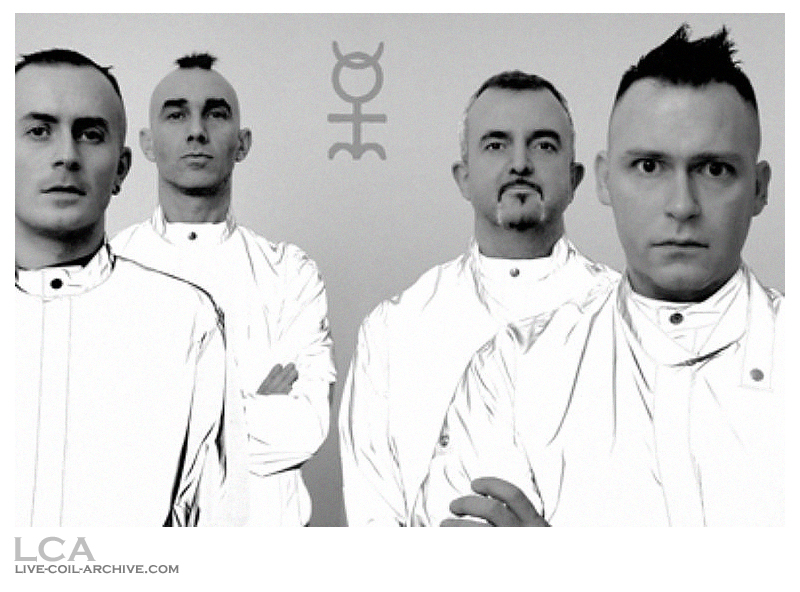 Ticket Stubs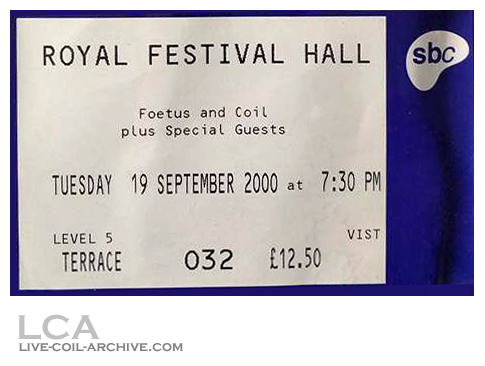 Gallery
2001 "Hello Culture" Documentary
PRO #1 – Clips from the "Hello Culture" Documentary
Gig Review(s)
The following is a review of the concert published on Compulsion Online:
Coil and Foetus
Royal Festival Hall, London
As incense smoke wafted over the crowd from a pot centre stage, Coil, to the taped strains of 'Something', took to the Royal Festival Hall stage for the second time this year. In complete contrast to their earlier performance as Time Machines where they transformed the huge auditorium into a giant pulsating and throbbing mass. "Persistence Is All", the name given to this performance, was no less awe-inspiring but was more concerned with displaying Coil in a more song-based format. It was conversely more musickal but perhaps more extreme.
Coil consisted of the nucleus of John Balance, Peter Christopherson, new recruits Thighpaulsandra and Simon Norris together with a mysterious marimba player who stood set apart from the others. Dressed in black, he remained in the wings distant from the others. With their shaven heads, bruised make-up, and white boiler suits they looked like apocalyptic rent boys; refugees fashioned by Vivienne Westwood. Hung from the ceilings and draped across the stage were seven light bulbs which Balance and others would regularly toy with. At the rear of stage a neon red sign proclaimed Persistence Is All. Also on the ceiling, and directly above a sheet of metal, was a huge screen where visuals, including Elph symbols, and sleeve designs, appeared warped and transformed – often into mandala like shapes. Phrases were projected at the audience, in almost subliminal fashion. Balance, on the night, appeared almost reticent, staying close to the huddle of musicians centre stage, rarely straying to the stage flanks, and, if so, only to spin the light bulbs. The stage set, itself, seemed less cluttered and more intimate in design than their Time Machines show. With the stage cast in fluctuating shades of red, green, blue, and clear light, the electronics blasted as Balance, poised in front of his music stand, sung 'Amethyst Deceivers', from the Equinox series of CDs. A demonic elemental painting by Austin Osman Spare followed by the words "Zos Kia Cultus" appeared on the screen as they launched into 'Titan Arch' to which Thighpaulsandra managed to add some guitar based feedback. I've no idea if Marc Almond was in attendance but it was especially exciting to hear Balance sing this song. It's funny, he commented later, to be singing some songs that are as old as 17 years.
Stevo from Coil's former record label, Some Bizarre, was criticised (and cursed) by Balance for 'stealing' both Scatology and Horse Rotorvator before Coil launched into 'Blood From the Air'. I can't imagine there have been many occasions when the Festival Hall staff have been subjected to the accusations of God is a Sadist echoing round the vast expanse of the hall. It appeared the hex was still good as right on cue one of the lightbulbs exploded.
New tracks appeared with one being dedicated to friends (like David Tibet) who had either crossed over and came back, hadn't come back or nearly went.
This was a show to be treasured which just got more intense as they seeped into tracks taken from their specially recorded CD, Constant Shallowness Leads To Evil. Smoke billowed from behind the stage set as the flash of the strobes began to flicker. At first, as the sounds built up, the flickers were random and intermittent. Then as the visuals started flashing, the strobes got rhythmic. And then it got intense and disorientating. This was Coil at their most visceral, most aggressive and most brutal. Balance crouched on the floor, while the other musicians arched over their keyboards. If they're hadn't have been seats maintaining one's balance may have proved difficult for the audience. The sounds got more ferocious, the strobes now in rotation across the stage flickered faster, and the decibel level increased to an ear-splitting volume. And then it got more intense and more disorientating. "Colour Sound Oblivion", "God Please Fuck My Mind For Good" flashed from the screen in quick succession. It was relentless.
And then it was over. The crowd was left reeling and completely disoriented. With the bombardment of sound and light it was as if the auditorium had been transformed into one huge Dream Machine. The five members bowed to rapturous applause leaving the Festival Hall crowd enthralled once again.
If it seemed everyone was here for Coil, its fair to say that the Festival Hall was even more rammed for Foetus. It was obvious from the moment Jim Thirlwell aka Foetus swaggered onto the stage that he is still in his anti-rock God persona. With his shock of orange hair, his skinny frame, psychedelic shirt and tight seventies slacks hiding his cowboy boots Jim Thirlwell is, as he once described himself, a white nigger. He's a New York honky straight out of a seventies movie. But, oh boy, he rocked. And shook that pelvis. With his empty posturing, tonight this was dumb-ass rock'n'roll. And Foetus delivered the hits – 'Throne of Agony', 'Take It Outside Godboy', 'Mighty Whitey', 'Clothes Hoist', 'Butterfly Potion' – touching base with most of the Jim Thirlwell archive. He even gave a rare airing of the apt 'English Faggot' from Thaw. With a band, drawn from the likes of Cop Shoot Cop, Family of God, Swans and Morning Glories, dressed all in black they look like hired hands. The backbone of taut bass, powerhouse drumming and riffing guitars occasionally gets caught up in some sub-NIN industrial rock. If only they'd ditch this rock as parody thing and deliver some keyboard stuff, some orchestral washes, some Steroid Maximus, something more jazzy – everything that makes a Foetus record compelling. Let's hear some of the other shades of Foetus and not just the noir rock. Still you can't help smiling, when for an encore Jim Thirlwell appears in an Elvis styled gold lamé suit with the finest pair of platform boots to grace the Festival Hall stage since Julian Cope. Viva Foetus.
—
The following is a review of the concert published on Freq.org.uk:
Coil/Nectarine No.9/Foetus (live)
Royal Festival Hall
South Bank Centre, London
19th September 2000
For their third live performance in a year after the seventeen of build-up, Coil arrive onstage dressed in unlaced grey strait-jackets, backed by a neon sign proclaimng the title of the night's performance, Persistance Is All. The multiple possible meanings of this slogan soon becomes apparent, as the playback of Jhon Balance's spoken title beat which opens "Something" fills the "Royal" Festival Hall. The group are backed by a circling corona of fire on the projection screen which soon becomes the visual focus for the set, and this develops into a hypnagogic kaleidoscope show of the first water, trickling retinal patterns like the strongest hallucinogen to the trip-kicking music. Not that drugs are necessary; it's far more a state of mind on offer through the combination of light and sonic textures – or Colour, Sound, Oblivion as the flashed-up message proclaims (as does the black-on-black T-shirt, the badge, etc. etc.).
Colour plays a key part in the whole; red for the demonic gyres made from swarms of seething computer imagery; green for the new track "I Am The Green Child", when the previously monochrome op-art patterns become colourfully-edged all of a sudden, as the peak of the trip is implied – or impelled. Blue for the chill of "Amethyst Decivers", and light and oblivion are to follow. Watching the members of Coil onstage is a once again a peculiar combination of technicians at work and hierophants enacting a ritual – which is not so far from how the best musical perfomances of any stripe should be at all. Least occupied when not singing and/or invoking is Balance, who wanders the stage, swinging the large lightbulbs dangling low from the roof in small circles, crouching below one as it describes a short arc for a time. Two bulbs break in flashes of lightning, and later one swings perilously close to the metal frames of the instruments. Balance performs some kind of calisthenics, takes a turn around the space between the sharly-angled racks of electronics, twirls the strap of the strait-jacket around his head. Peter Christopherson, Simon Norris and Thighpaulsandra perform their alloted tasks with more attantion to their boxes and keys, occasionally gathering to stand shoulder to shoulder admiring their projections when the music can safely look after itself for a while.
Unlike their presentation of Time Machines earlier in the year, tonight's show brings forth songs from their far back catalogue – "Titan Arch", enlivened by the excoriating guitar feedback ride Thighpaulsandra evokes, and "Blood From The Air", one of Coil's strongest pieces, a searing slow lament on the immanence of death in the world and the sickness of God. Higher beings might command, as another message goes, but Coil may not be obeying. All through the middle section, the group are joined onstage by a xylophonist of great skill, who helps bring these unexpected songs to rattling life, and Balance expresses his surprise to be singing them live after so long. He also takes time to drop a passing curse on Stevo for continuing unhelpfulness in regard to the Coil albums he still controls the rights to.
And the finale, introduced as "Constant Shallowness Leads to Evil" – Coil are having a lot of fun with this Situationist-Occultist opportunity to broadcast billboard-sized thoughts to a crowd, even if they be the readily-persuadable; one of the few traits they share with Psychic TV these days, apart from some of the most effectively mindbending light shows around – and brings things off in a welter of dial-stretching analogue synthesis, urgent rhythms (some crashed out on a sheet of metal suspended behind the electronic setup), and strobes. And more strobes. Plus more, repeated, phased until the room is virtually alight, drenched in brightness and unholy righteous noise. How to take the roof of the hall through thunderous bass tones and distending harsh white light. And their slogan for the end? "God Please Fuck My Mind For Good". This is the kind of psychedelic dualism Coil unleash through this most enlivening of musics – the sublime and the horrific encased in an onrushing suspension of time through sound. Dramatic and effective, and far fucking IN.
-Antron S. Meister-
Attendee Recollections
Balance said of the show, "Thanks to everyone who turned up for the Royal festival hall concert. A few facts. David Sefton and Liz McCudden asked us back after Time Machines as they liked us so much. Atari Teenage Riot were supposed to be on the same bill which I would have love but they couldn't commit. It was great to see Jim Thirwell as I hadn't seen him for 15 or so years.He is a very wonderful and intelligent man who has been extremely influential for many bands.As for all the comments about Foetus as boring rock. I caught a few moments of him doing panther like movements as I was out front in the foyer.Rock is Dead. period. For me and what my hearing brain accepts via my thinking ear anyway.even Marilyn Mansons flirtation with this concept makes it even more laughably dead. I felt more akin to LaMonte Young than to anything else. Our line-up was Tom Edwards on Marimba, a 21 year old 6ft 3″ classical percussionist who is also works with Spiritualised, Thighpaulsandra, Sleazy, Mice-Elph and Simon Herne aka Norris. Peter and I designed the video piece especially for the Persistence Is All concert. I designed the stage set and lighting and it was realised by Paddy Farr who is a genius. Tim Sunderland did the sound.Hes worked with Spiritualised and Hawkwind in the past as has Paddy.Gavin Wall was our roadie….COIL have a roadie.He often works for Julian Cope.I designed the costumes along with the fabulous and very hard working David Cabaret. I think all the items from the concert ie the 2 new T-shirts and the CD and two different button badges/ decals and stuff are available from World Serpent up until Christmas. We MAY be playing in Berlin as ELpH in late December. The whole RFH concert was an invocation to Pan. IO PAN!!!!!!!!!!" The eLpH concert never came to be, unfortunately.
Pete Greening remembers: "One of the times i saw Coil live at the Royal Festival Hall i had gone with a friend. We partook of our favourite poison beforehand and being slightly befuddled we went to the Queen Elizabeth Hall instead (only next door, in case you're not familiar with London's South Bank). We showed our tickets to an usher and asked where the seats were – they indicated up a level and through a particular door. When we got to that door we checked with another usher who showed us where our seats were but there were already people sitting in them – after asking them to move, the usher suddenly realised our tickets were for the RFH – we dashed out, went to the right venue and took our rightful seats just as Coil came on with this track… phew."
Robert Dee remembers: "'Constant Shallowness Leads to Evil' at Royal Festival Hall in 2000. Coil and Foetus. My two favourite bands in one night."
Mat Handley remembers: "This was the only time I saw Coil. Brilliant night!"
Rattus O Carneagh remembers: "RFH & Dublin, loved the appearances at RFH, but Dublin had an atmosphere all of its own."
John S Rome remembers: "I saw Coil perform this at the Royal Festival Hall in London, 2000 (I think). Man, I was completely out of my fucking skull by the end of it…[I]t was a truly breathtaking experience. My only regret – not going up to Jhon after the gig (as the band hung around downstairs afterwards, chatting to folk) and thanking him for inspiring me since I was a kid. I didn't want to look uncool. Now, I think, fuck it. Life is too short. I didn't make the same mistake with Sleazy at a later TG gig. He was so warm and unassuming as we talked. Both my heroes are gone now. They were beautiful, uncompromising, visionary men. I really miss them."
Paul Forshaw remembers: "The only negative about this gig was Coil playing before Foetus. I was looking forward to Foetus, but it felt meaningless. Rock after THAT Coil performance?…[T]hey were good, but it felt like nothing after Coil. Noisy clattering with guitars that just detracted from what went before."
Steve Garlick remembers: "The night I met the boys and still the most powerful live music experience I've ever had…Foetus seemed pretty inconsequential after that!…I'm hugely fond of Foetus and was really looking forward to it, so duly went back in after the interval, but after 20 minutes or so abandoned the rest of his set and headed back to the bar. My memory (never entirely reliable) tells me a lot of the audience did the same. There was no way he could compete with that performance!"
Oktafish Vylon remembers: "I remember walking out with white knuckles and trying to get my breath back …"
Known Recordings
Tapes owners/taper:
AMT #1 – Davide Gostoli
AMT #2 – Patrick Farr
SBD #1 – Royal Festival Hall
| | | | | | |
| --- | --- | --- | --- | --- | --- |
| Source | Quality | Complete | Length | Lowest Gen | Comments |
| AUD #1 | 6/10 | No | 54 min | M?, 192 kbps MP3 | One solid track, no indices. Nearby audience members talk over the music at some points. The mix/clarity changes repeatedly, indicating the taper physically readjusting the tape deck. There's static and glitches during certain points. "Something" cuts in. |
| SBD #1 | 9+/10 | Yes | 54 min | M1, FLAC | Released on the semi-official live album "Persistence is All" on November 13, 2022. Stereo desk recording remastered by Thighpaulsandra in 2022. |
| AMT #1 | 4+/10 | No | 2 min | M1, 240x176 MPG | 1st-generation copy surfaced on March 11, 2017 with more footage of the last song; a slightly less incomplete version had been circulating for several years without Gostoli's knowledge or consent. Recorded off a mobile phone and converted through ITunes ~30 second segments of "Blood from the Air," "I Am the Green Child," and "Constant Shallowness Leads to Evil" only. |
| AMT #2a | 5/10 | No | 50 min | M0, Youtube | Initial 240p version, uploaded to Youtube October 2017 and taken down soon after; missing "Something," "Higher Beings Command" cuts in; has some sound cuts. |
| AMT #2b | 7-/10 | No | 50 min | M1, 720 x 576 MP4 | Second Youtube upload by Patrick Farr; edited version and 480p quality, also uploaded to archive.org. Audio mixed to mono-right-channel and fewer audio cuts, but strobe effects in post cause desync towards the end of "Constant Shallowness Leads to Evil." |
| PRO #1 | 9-/10 | ? | ? | ? | Snippets of "Constant Shallowness Leads to Evil" appeared in the Hello Culture documentary in 2000. The full recording has yet to surface. |
Concert Recording Downloads