At Spoiler Museums Quartier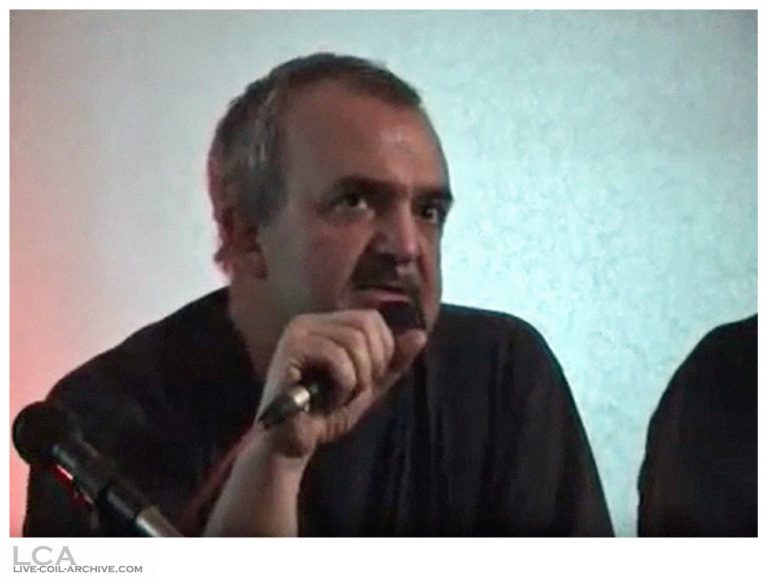 30th October 2002 – Spoiler Museums Quartier, Vienna, Austria
Background
Feeling: Talkative
Spoiler Talks was a series of workshops run by various artists. Coil did theirs one day after the Flex show and fresh off the "Live Four" tour. It was not really a workshop, per say – more so a general discussion followed by a Q&A. A few interesting points are addressed, including Peter's childhood and adolescent musical background, Throbbing Gristle, John's failing health, and the possible ending of Coil live. Ossian, Massimo, and Pierce chime in only occasionally, including Massimo and Pierce talking about how they met and started their own musical endeavors.
John Balance and Thighpaulsandra were notably absent. draZen can be seen in the audience.
This talk was recorded on one camera. It was put on a DVD, limited to one copy, which can be borrowed free of charge from the Spoiler library in Vienna.
Line-up
Peter Christopherson.
Simon Norris (Ossian Brown).
Massimo Villani.
Pierce Wyss.
Advertisements, Backstage or Related Promo Material
Ticket Stubs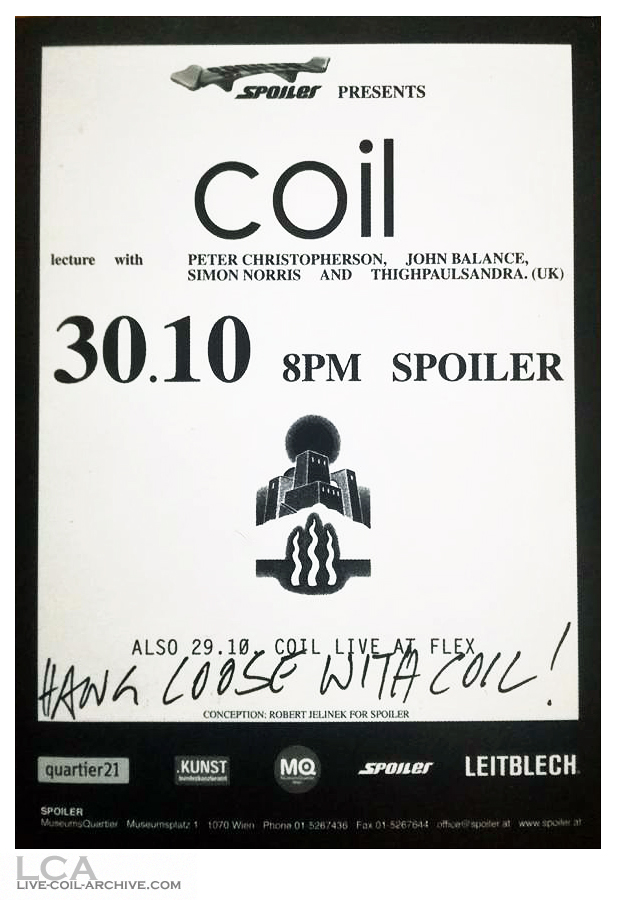 Gallery
AMT #1
Known Recordings
Tapes owners/taper:
Unknown
| | | | | | |
| --- | --- | --- | --- | --- | --- |
| Source | Quality | Complete | Length | Lowest Gen | Comments |
| AMT #1 | 7/10 | Yes | 110min | M1, 352 x 288 MKV | Lineage: DVD-R > SVCD > MKV. Audio glitches throughout. The DVD-R release was limited to one copy, which can be borrowed free-of-charge from the Spoiler library in Vienna. |
Concert Recording Downloads