At Centrum Filmowe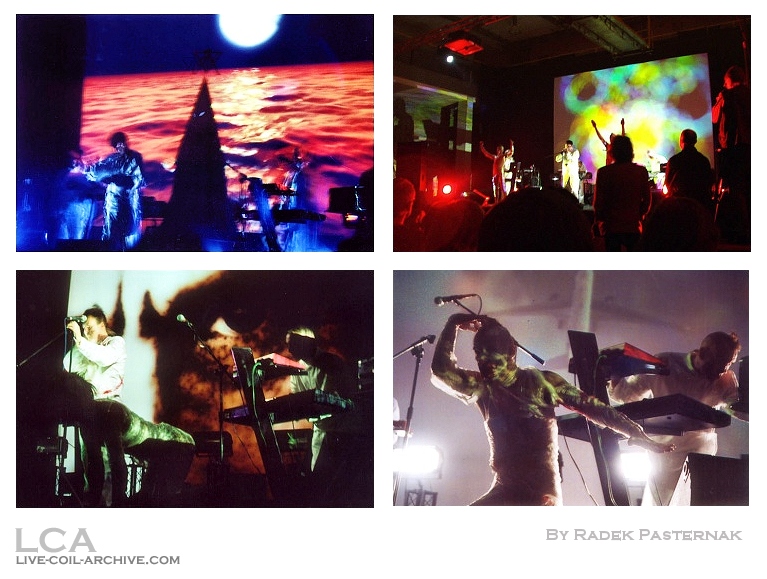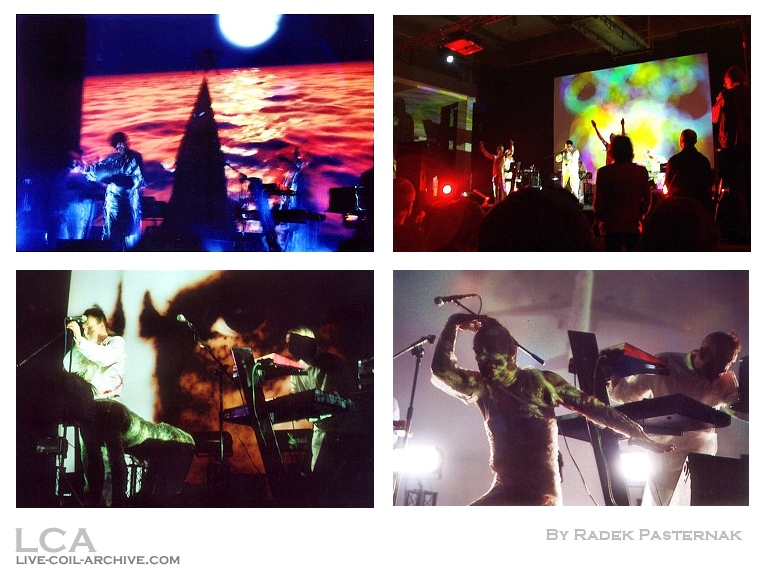 26th October 2002 – Centrum Filmowe, Lódz, Poland
Set List

I Am Angie Bowie (Sine Waves)
The Last Rites of Spring
Are You Shivering?
Amethyst Deceivers (Version 3)
A Warning from the Sun
Drip Drop
Windowpane
Drip Drop (Reprise)
Ostia
I Don't Want to Be the One
Bang Bang (Sonny Bono Cover)
An Unearthly Red
Background
Feeling: Reflective
"Live Four" phase.
Debut performance of "Windowpane," a song tagged to "Drip Drop." Brainwashed writer Jonathan Dean named this jam after the Love's Secret Domain track, though the name has proved debatable among Coil fans over the years. Compared to its studio counterpart, it is more of an electronic/hip hop jam. This particular performance lacks lyrics that match the album version, but the two subsequent performances of the song have lines akin to them: "Gold is the metal with the broadest shoulders / Took liquid LSD in my eye."
—
Supposedly, the entire band were tripping on psilocybin mushrooms – at least John was. They put him in a foul mood. Exacerbating this were several photographers who insisted on using flash photography. He berated the audience throughout the show and gave more of an unhinged performance than usual. Centrum Filmowe has a raised stage, but most of the audience sat on the floor a few feet away from the very front. This gave John the space to run off the stage and interact with the audience.
Photographic and video evidence confirm Massimo and Pierce wrapped themselves in cling film for this performance, though it's unknown if they were required to by the club or just decided to themselves. Unlike at Gdansk, "An Unearthly Red" was played, so they may not have been under any religious obligation to cover up. By the time they got to that song, Massimo's film was really falling in tatters, exposing his genitals.
Intriguingly, Ossian wore his hood over his head for the first two songs.
I Am Angie Bowie (Sine Waves)
Make this loud, make this loud, please make this loud
Britannia rules the sine waves
Britannia rules the waves
Britannia waives the rules
She waives the sine waves
There are crazy horses, here [repeated]
John (after the song): "That's the end of the beginning, so clap. Clap or wank, or whatever, do what you do." Initially, the audience sat in silence, but started to clap and cheer at John's insistence.
The Last Rites of Spring
John: "Now is the different position. Now is the different position. It's the different disposition. It's, uh, pain in the ground. So many fucking photographers, why are you chroming my mind?! You know the church in Gdansk. We were in a church, a cathedral, in Gdansk. Each picture you take reflects my inner state, so…We were in a church in Gdansk." He is referring to the gig from the previous night, perhaps lamenting a busy touring schedule.
At one point, Peter goes to check one of the onstage monitors, putting his ear up to it. As he stands up, he shakes his head, implying no sound is coming out of it, to his disappointment. During the middle section, John climbed down from the stage and started singing in front of various audience members – he would do this during later songs as well.
But first of all, we are children
But first of all, we are child
We were born under a black sun, black sun
Of course, we are children
And the animal survivor will survive
Don't pull out my plug, don't pull out my plug
And the animal survivor will salive [sic], alive, alive
Oh!
And it's him! [?]
And William Burroughs is hallucinating in space
Are You Shivering?
John: "Moon musick under the light of the moon."
He makes hushing and moaning sounds throughout the beginning of the song and doesn't sing until the first choir section.
If you pray for the darkness
The day will not come soon
I feel loathsome tonight
Amethyst Deceivers
John: "You're a very polite audience, ha! We're a very polite band. I've got wanton caught over me."
After singing the first line or two of the song just off mic, he goes on a lengthy monologue:
This is an important message for those who take psilocybin mushrooms. Hallucinate. Cause a flux in your deliciousness. Pay your respects to those mushrooms that teach you things, and if they don't teach you, they'll teach you a lesson. They've taught me lessons since I was eleven. They took me to heaven when I was eleven. So pay your respects to the vultures. Pay your respects to the vultures. It's such an entanglement. I have to thank Adi Newton for such an entanglement. I know you on the bootleg. Will people understand what I'm saying? I have to thank Adi Newton from Clock DVA and Sean from Cabaret Voltaire, look, asking us to All Tomorrow's Parties. We're privileged, we're humbled. We are privileged, we are humbled. We are privileged, we are humbled. And then Ian Curtis hung himself from his fucking window; what was that about? Mediocrity bleeds contempt, mediocrity bleeds contempt, mediocrity bleeds contempt, mediocrity bleeds contempt, and mediocrity bleeds contempt, and mediocrity bleeds contempt, and mediocrity bleeds contempt. I'll electrocute my ears. I'll electrocute my queers. I will electrocute my peers.
So pay your respects to the vultures
You pay your respects for all the black birds
The rooks, and the ravens, and the crows
The magpies and the jackdaws
Ones that live at your front doors
Pay your respects to all the black birds
Are you raven, crow, rook, magpie, jackdaw?
Then pay your respects to the vultures
Into the welcoming arms, in the welcoming arms
We need welcoming arms [repeated]
Come on, we need welcoming arms!
Of the amethyst [repeated]
Of the amethyst deceiver
What is the amethyst?
I'm unsure if John was really was doing mushrooms by age eleven. This is also the only time, I believe, where he addresses bootleggers live. Coil would eventually play the All Tomorrow's Parties festival in Camber on April 6, 2003. Ian Curtis was the lead singer of post-punk band Joy Division who killed himself on the eve of their debut American tour on May 18, 1980; he did not hang himself from his window, but rather from the clothes line in his kitchen.
A Warning from the Sun
John: "Oh?"
Audience member: "Bravo. Bravo."
John (drawling): "Excuse me?"
(Audience laughter)
John: "Speak English, please."
He opens the song with a yelp.
Drip Drop/Windowpane
Russell, whistle and I'll come to you, my lad
Russell, I'll come to you, my lad
Look at you, come on
I will slice you with my knife
Who's up for cutting? Come on
It's the damage done [repeated]
I wanna drink like my sperm [?]
I will unleash my worm
Why won't you take my cold? [?]
I sound like fucking Jim Morrison, fuck that!
At one point, John crawls off the stage, takes his water bottle, and splashes the floor in front of it. He rolls his sleeves down on the line "Who's up for cutting? Come on," displaying his own cuts on his arms from his infamous self-harming psychotic episodes. Apparently, he also did not like Jim Morrison, the lead singer of 60s/70s band The Doors! The "damage done" line might be a reference to Neil Young's "The Needle and the Damage Done," a song about heroin addiction. Perhaps John is equating self-harm scars to heroin usage?
"Windowpane" has nascent lyrics compared to the next two versions:
I'm trying (repeated)
It's a trial (repeated) 
Try and be grateful
Don't (you) try it (repeated)
Oh, so what? (repeated) 
Oh, to see
Oh, to see them passing
I wish (repeated)
Don't try me, I will cry (repeated)
Don't try me, or I'll cry (repeated)
John's delivery on some of those lines suggests he might have actually been on the verge of tears.
Ostia
John: "Dedicated to Pao…Pier Palolo [sic] Pasolini, and to the poets and the queers, here."
There's honey in the hollows
And the contours of the body
A sticky golden trickle
A sluggish golden river
You can hear his bones humming
You can hear his bones humming
Singing like a puncture
Singing like a puncture
Leon like a lion
Is sleeping in the sunshine
Lion lies down
Lion lies down
Oh, throw his bones over
Whoa/Well, throw his bones over
The white cliffs of Dover
And murder me
He said, he said, "Murder me"
He said, "Murder me in Ostia"
He said, "Murder me"
Leon like a lion
Sleeping in the sunshine
Lion lies down
Oh, lion lies down
Oh, murder me
He said, he said, "Murder me in Ostia"
He said, "Murder me"
He said, "Murder me"
Lion lies down
Leave me, little lions [?]
Lay down with me, little lions
Murder me, little lions
Murder me
He said, "Murder me in Ostia"
Then murder me
And the body reverses over
And murder me in Ostia, oh…
And murder me, go on, murder me in Ostia
The backing audio track pauses for a second in the middle of the song.
John (after the song): "Quiet, audience, thank you."
I Don't Want to Be the One
A reflection, a deflection, a refraction, expectectation [sic], tick tick -tation, a dictation, I don't want to be the one. You see, sometimes, like people put stuff on me. I am a mirror to reflect back what you say 'bout me, or write about me, or say about me, or do about me. I am not what you think I am. I don't know what I think I am either. It's just I don't wanna be the one who has to choose what you say about me, or them, us, here, now. Do not reflect, do not expect, inflect, introspect, disrespect, hopeless fucking ingeniousless [sic], -ness. Because these things that get put upon me, and this photography and this, like, it's okay. I said yes, but you should ask, and I don't want to be the one.
Then sometimes, I have to be, so I have to put my head on backwards, heh
After the song, someone whistles and I think Thighpaulsandra says something, but I can't make it out.
Bang Bang
John: "A Sonny Bono song."
John (after the song): "That's in memory of Kurt Cobain. Dedicated to Courtney [pronounced "Curt-knee"] Love."
An Unearthly Red
John: "And now, a little something about America. Superpower supermodel, fuck them all." He looks at Massimo. "Oh, there's blood coming through your mouth; how surprising."
Peter struggles to get the backing video projection working, which apparently gets John's attention as he says, "Video! Huh?" By the time the video comes on, John says, "Good for you! Good work."
The monitors, the monitors
He is the mother of all wars
And the American president wakes up in his bed
And his hand is dripping red
And it's an unearthly red
And he can't tell whether he's dripping
Or dripping, or tripping
And he wakes up! [?]
YOU CAN'T-!
She is the mother of all wars!
She is the mother of all whores
She'll pour war milk on it [repeated]
She will pour war milk on it
She is the mother of all battles
Do not fucking trust an inch, inch, inch
Inch, inch, inch, inch, inch, inch
She is the mother of all war
My father is God, and then he said, he said, "Do it"
And then experienced God told me to do it
She is, she is battle
She has battles
SWALLOW THE BIBLE!
SIT THERE AND TAKE IT DOWN!
[Indecipherable]
SIT THERE AND TAKE IT NOW!
God told me to do it
See, God told me to do it
He said, "God"
He said, "God told me to do it"
My father is God, father is God
My mother is a whore
My mother is a whore
Fucking mother of all wars
But God told me to do it
God told me to do it
Fuckin' mother of all wars [?]
Throughout the track, John runs around the audience, at one point singing a few lines directly into the Marcelo Zammenhoff's camera. At the climax, he jumps and swings upside down on a wire hanging from the ceiling – two videographers take pictures and/or film him doing this.
? (after the song): "Thank you very much."
John's closing words: "Thank you very much for coming tonight. We really appreciate it. We've had a hell of a long journey to get here but thank you for coming. It was worth it, massively, and please come again if we come again. Yes, thank you?"
Audience member: "Drink more water."
John: "And drink more water. Thank you."
Audience member: "Thank you!"
John: "Oh, you're very welcome."
Line-up
John Balance – vocals
Peter "Sleazy" Christopherson – Ableton sequence, video projections, Clavia Nord Modular Synthesizer
Thighpaulsandra – Clavia Nord Modular Synthesizer, Kurzweil Synthesizer, Electro-Harmonix on John's vocals (with 16-second delay, modified by Kanwal Dulay)
Simon Norris (Ossian Brown) – Clavia Nord Modular Lead Synthesizer, Kurzweil Synthesizer on "Are You Shivering?"
Massimo Villani – Pasolini poem reading on "Ostia," Black Sun Productions' "Ghost Boy" performance art
Pierce Wyss – Black Sun Productions' "Ghost Boy" performance art
Advertisements, Backstage or Related Promo Material
A contemporary bootleg disk (of a 2-cd set) made of the gig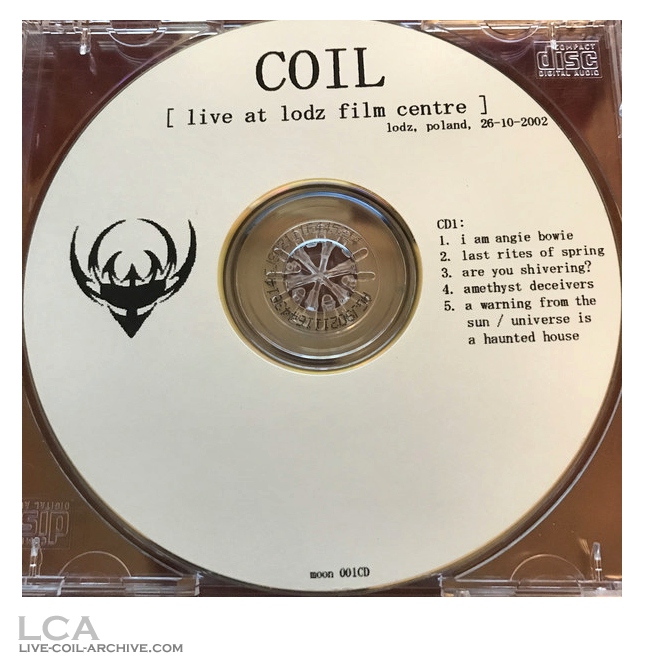 Ticket Stubs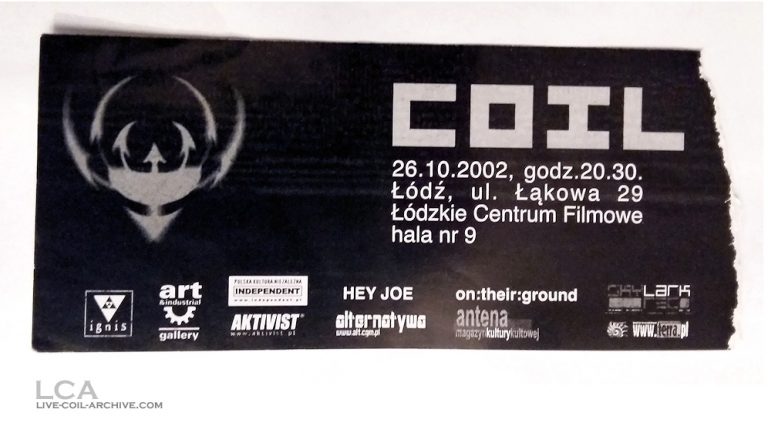 Venue
Address at the time of the concert:
Łąkowa 29
90-554
Łódź
Poland
Current address:
Lódzkie Centrum Filmowe Sp. z o.o.
ul. Obywatelska 102/104, bud. C kl II
94-104 Lódz
Poland
Gallery
AMT #2 (Re-Sequenced)
Gig Review(s)
Here is Radek Pasternak's review (translated into English from Polish; forgive the typos, as I do not know Polish and thus am forced to use Google Translate) of this concert for taboo.art.pl. He misdated it, but the review was indeed for this particular gig:
Coil (Lodz Film Center, October 27, 2002)
In the middle of last year, I came across on the Internet at the following slogan: "Coil for two concerts in Poland" . As the die-hard fan of their work t akiej chance to see the legend live can not let go, the choice fell on lying closer to my place of residence Lodz. Despite the typically autumn rainy weather, "film" part of the city impressed me the best impression – what a perfect choice of the industrial atmosphere of the place to the sources from which derives the music Coila … digressions on the subject, however, leave for another occasion, as well as descriptions factory monumentality of the city. Best to go there and see for yourself – I recommend!
What is the possibility of electrifying to see Coila live? I do not think the fact that the core team creates the pair (recently, however, remaining with each other on friendly terms) Gay: Peter "Sleazy" Christopherson and Geoff Rushton , better known under the pseudonym John Balance ? Although we live in a rather strange country, where the sound of the word "gay" majority of the population willing to bend the solid rock, but this time without its oprotestowywania events by the wheels of the Rosary and supporters of a tax-free radio station. They had too little publicized this "scandal"? Anyway, in my case, the only point of worship in / in men is music that make up the … well, this year's Coil celebrates twenty years of its activities! Not only that, Christopherson in the seventies was the co-founder of the radical group performance Coum Transmissions and derived from the musical pioneers as industrial – group Throbbing Gristle . After the dissolution of the band part of the staff set up a group Psychic TV , having assumed to be a multimedia project. There, Peter met his future partner and collaborator, John. Not entirely satisfied with the development of Psychic TV, they decided to create their own project, which gave the name of Coil.
It may be hard to imagine, but most of the music that appears from time to time in the regions called. progressive pop music could be heard a few years earlier … The discs Coila. Their evolution proceeded from siermiężnego dark-EBM-era "Scatology" by the dance-rhythmic brain departures "Love's Secret Domain" , totally psychoactive and shapeless messages contained on discs recorded under the names ELPH and Time Machines , ending with the ethereal and monumental, two-part "Musick to Play In the Dark" and noisy and brilliant "Constant Shallowness Leads to Evil" , which seems to contain elements of pure, animal energy. Since about three years Coil, which is assumed studio project (not to mention a few concerts at the beginning of his career), he returned as one of the most interesting live-actów independent scene. Aided by invited musicians (mainly being "on-time" third member Thighpaulsandra ) and performers (most recently Massimo and Pierce with a controversial Swiss Black Sun Productions ), have had a few dozen concerts, m. In. in Europe, Russia and the United States. Reviews and photos of the performances arouse curiosity and cause an irresistible urge to pick their music combined with a stage performance version "live".
It finally awaited day. First, a few words about the place and the people: Lodz came approx. 500 people, many of them friends of the so-called. underground, but many also run a variety of reasons – greetings for both groups! A concert hall she was quite large and perfectly adapted acoustically hall movie studio – and I applaud the organizers expect more such events in the future! On the "company" stand with plates and gadgets drew attention primarily high prices (eg. Round 100 PLN for the album "Remote Viewer" available only at concerts …), while the other two (belonging to the Polish publishers and distributors), the opposite : price of the most affordable and … lack of Polish distributor plates Coila!
And finally, with a slight delay, they took off…
Stretched and processed phrase introduction to "Anal Staircase" . Four motionless, dressed in white characters with synthesizer and microphone, the sides of the stage, two others dressed in conical outfits – the mystery was initiated. On the back of the stage you can see the big screen, and the video małpiatką (may lemur?), Who is trying to catch venomous, orange centipede. The image of the so strange that it was the first animal seems like a benefit from the action of venom, sinking in kilkunastosekundowe states of stupor … Some people probably know like the states of operation of more or less of the chemical origin … To all this, of course, the question is asked: " What Kind of Animal Are You? " So much for the introduction. As the human memory is sometimes unreliable and can play only the events of special importance and influence, excuse me, but I noted in my head only some fragments of the concert … Characters (Massimo and Pierce) during the performance gradually get rid of their clothes until remain clothed only in bandages with transparent foil and … white paint on the body. "Dancers" remain motionless, from time to time by performing only economical gestures. During the "Are You Shivering" stand all the time with his arms bent in the shape of large cups. The latter song, for my taste a little too little force – after the disc radiates from him, the energy from the earth trembles! On the screen, a full moon and hypnotically undulating sea-colored brick-brown. Thighpaulsandra with another musician slowly and majestically change places with instruments. Then the time for "Amethyst Deceivers" – obviously heavily unrecognizable version … It is also a quiet ballad dedicated to … the widow of Kurt Cobain . At some point, Massimo announces the Italian song "Ostia" , dedicated to the memory of director Pierre Paolo Passoliniego . During the next "I Do not Want To Be the One" in paragraph two fixed form begins slowly flowing blood. At the last (as it turns out) the song the dancers suddenly revive – the music convulsively smear "blood" after their bodies and the stage. Stroboscopes offend the eyes, Balance throws himself around the stage, shouting perverse text – energy seems to swirl in the air … This piece, which had never heard (it was the second day – the first was a ballad for Courtney Love ) is indeed brilliant – consists of very expressive "breakbeatowego" rhythm typical of Coila dense textures electronics and manic, expressive vocals. Has the announcement of the new album? If so, I'm looking forward!
It is unfortunate that this is the end, although we must admit that they played not the shortest: just over 1.5 hours. The team put on their "classics" and absolute novelty – a pity, however, that there were no tracks with excellent plate "Constant Shallowness …" . To sum up: for staunch supporter – ecstasy, for the uninitiated – such as the concert moving senses and body. Additionally, even outright fantastic sound quality (loudly, clearly, but without a trace of a busy grating) – for the next concert they go without a second thought!
In conclusion, I would like to share a few comments. The concert proved that in Poland there is quite stable and clear audience of music existing beyond the so-called. mainstream and, despite the fact that this group is negligible (as close czterdziestomilionowy country), it is this type of event to organize. It is all the more so if it is available to a place like Lodz Film Centre – the idea was simply sensational. Not to przesłodzić, a small note to the organizers for the future advise to think about more efficient protection. I do not mean any dangerous situation, because those are not even there, and only need to shift some viewers in another place – a handful of people standing in front very effectively obscured view of the stage…
—
The following is Tomek's review of the concert, translated from Russian to English using Google Translate that can be found here:
Coil, Łódź Film Center, October 26, 2002.
On October 26, Łódź hosted a concert of an important formation originating from the industrial scene, namely the COIL team. The concert is important because the band is regarded as one of the leading representatives of the underground experimental music scene, which until today is a very creative formation and how well it is culturally known. Balance & co. they began their musical mystery at 20.45, which is quite a time (the concert was planned to take place at 20.30) and ended quite quickly, because after one and a half hour! The music that you could hear that evening was completely different from the one we know from Coil's studio production. The band was accompanied during the concert by two performers from Switzerland, who were initially dressed in black robes, which were then dropped and you could see that the gentlemen had on their bodies kuse clothes (if you can call it that anyway). In my opinion, it was not unusual what both gentlemen presented to each other. I must say that at some point I completely stopped paying attention to them.
I liked the images in the background much more. From psychoactive graphics to photos of people and ending on a computer game. Coil started the concert with a sonic attack of sound, which after a few minutes turned into an addictive musical ritual. The pieces presented by Coil (those I recognized) differed significantly from the versions known from the records. Slowly developed noise attacks were mixed with calmer, more subtle songs. One of the songs was even dedicated to Kurt Cobain! Balance on the stage raged, he fell into a lunatic trance and completely indulged in music. In places, Balance's behavior reminded me of another vocalist, David Byrna. Coil surprised me very much.
The songs presented by the band in some places were able to smash the skull :). I liked the piece ending the whole show the most. Heavy, slow rhythm, a lot of electronics spiced with a noisem and four lamps attacking with a very sharp patch meant that the listener loses control over where and what is happening :). In addition, a computer plane flapping into the ground in the background. In a word delicious! The acoustics of the hall in which the concert took place was good. Immediately I must say that I liked the atmosphere, a lot of scrap metal, concrete etc. :). Besides, you could buy a lot of publications from the circle of unconventional music, which, as usual on such occasions, enjoyed great popularity. Summing up the concert was very successful, but not too short, which many people complained about. Let's just hope that someone will come to Lodz again because there are too few such events here.
11/01/2002
[Thomas]
Known Recordings
Tapes owners/taper:
AMT #1 – Robert Tuta
AMT #2 – Marcelo Zammenhoff
Concert Recording Downloads