At St. John's Church
25th October 2002 – St. John's Church, Gdansk, Poland
Set List

I Am Angie Bowie (Sine Waves)
The Last Rites of Spring
Amethyst Deceivers (Version 3)
A Warning from the Sun
Drip Drop
Ostia
I Don't Want to Be the One
Bang Bang (Sonny Bono Cover)
Are You Shivering?
Background
Feeling: Reflective
"Live Four" phase.
Sergei Ivanov from the previous Russian gigs regrouped with Coil here. There exist pictures taken backstage where Sergei gave Sleazy DVDrs containing AMT #1 and Andy Reynolds the DAT to SBD #1 of the 2002-09-29 Konigsberg show.
According to Massimo, "Only in Gedansk we had to wrap ourselves in cling film and behave. The people running the church made us very clear, they'd cut off the power if we would have done anything against the Catholic's moral. During rehearsals, we've been approached by a local Coil fan who confirmed they did that before to other acts, so we took them for granted and did nothing that could jeopardize the show." As such, "An Unearthly Red" was not played and Massimo and Pierce did nothing obscene onstage (though pictures suggest they still kissed during "Bang Bang"). However, a photo shoot backstage reveals that after the show, while still covered in fake blood, they removed plastic from their genitals and posed suggestively, kissing each other, touching cocks, and biting into candles, perhaps as a protest to the limitations placed upon them.
Massimo and Pierce's choreography deviated from the norm at this show. During "Amethyst Deceivers," they spun in circles with the costume heads still on and were fully uncovered during the intro to "A Warning from the Sun."
Peter had some technical problems with the video projections throughout the show, struggling to keep the footage playing throughout the first couple of songs. Alternately, the video would be paused or the projector would display the message "No input is detected on video." It's unclear whether this latter message played as a default on the projector or on the DVD player.
SBD #1 incorporates either audio tracks from the multitrack soundboard recording not heard on live sources or overdubs, as this source has some exclusive instrumentation and much manipulated vocals.
I Am Angie Bowie (Sine Waves)
John: I am Angie Bowie, no!
Audience member: No!
John: I am Angie Bowie, no!
Audience member: No!
Peter restarted the backing audio tracks midway through the song, making this the longest performances of the song, clocking in around 7 minutes. Perhaps this was done in an effort to fill up stage time lost when "An Unearthly Red" was removed from the setlist. Consequently, the backing video projection finishes about five minutes in.
The Last Rites of Spring
We are children of the-
Here it comes!
Oh, here it comes!
Here it comes!
(Ah!)
The animal saliva will survive
The animal survivor will survive
The spiral animal will survive
The animal saliva will survive and William Burroughs is hallucinating in space, sksk
It's a huge animal
It's a huge animal
And the animal saliva will survive
And Brion Gysin let the mice in
Brion Gysin let the mice in
And the animal saliva will survive
And the animal survivors will survive
I dropped dead on my knees
Just let the lemurs live
Just let the lemurs live in their trees
Just let the lemurs live [repeated]
And I cannot be seen drinking water
And I cannot be seen drinking water
And I cannot be seen drinking
But the animal saliva will survive!
The animal saliva will survive, uh!
Yow!
Ow!
Watch out! [repeated]
And the animal survivor will survive
John screams out to the audience off mic at the end of the song and Peter can be seen adjusting one of the stage lights midway through.
Amethyst Deceivers
…Of the Hammersmith deceivers
So put your trust in the black birds
Put your trust in the black birds
Put your trust in the crows and the ravens
In the rooks and the ravens
But pay your respects to the vultures
So pay your respects to the vultures
And the black birds, the crows, the ravens, the rooks
The magpies, the jackdaws, the rooks, the crows, the ravens
The magpies, the drooks [sic]
The rooks [repeated] and the ravens
Pay your respects, please
Place your trust in the animal
Put your trust in the animals
For we are all animals
Place your trust in the animals
For we are all animals
For we are all ravens
We are rooks, crows
Magpies in the sky
These tiny little mushrooms
That make your head go strong and long
These tiny little mushrooms
We have to make room for the mushrooms
Have a room for the mushrooms
Have a room for your mushrooms
Thighpaulsandra affectionately labels this song "Hammersmith Deceivers" on Live Five (2019), after John's lyric.
The performance commences with the melody synth audio track and is only one to do so. Thighpaulsandra and Ossian make unique use of alternate synth timbres they'd normally reserve for "Broccoli" and "Drip Drop" during the latter half of the song.
John (after the song): "Thank you. We feel very special to be here tonight. Thank you for coming to see us. Incidental or accidental, thank you for coming. Oh, my goodness."
Audience member: (Polish)
John: "Huh?"
A Warning from the Sun/Drip Drop
John: "Beware of solar flares. Beware, beware, solar!"
The sun is
Is, is, is, is, is coming
And the dragon flies
The song segways right into "Drip Drop."
Censorship is in command, here
So whistle, and I'll come to you, my lad
I will cut you with my knife
I will cut you with my knife's
I'll give you a Leonard Cohen afterlife
Listen, whistle, and I'll come to you, my lad
I'll cover your face with sperm
It seems John was not happy about St. John's Church putting limitations on the band.
Ostia
John: "This is dedicated to Pier Palo Pasolini. 'Ostia.' And it's dedicated to all the poets and the queers."
John (after the song): "Thank you. Thank you, thank you."
I Don't Want to Be the One
Excremental horses. Elementary divorces, excremental horses. That combines the divine with the excremental. I'm in a church and I didn't want to, do not want to blaspheme, but Jesus was a carpenter, and now he's a gardener. Ask him to cut your lawn for you. And there's some things that I don't want to be he didn't want to be either. An impaled Nazarene, and now he cuts the garden green. Impaled Nazarene. That's for my friend Russell. And there's some times when people, like, push things onto you, like a mirror maybe reflecting lights. Or the day reflects the nights, whatever, and I really don't want to be where I'm in the position of being. Sometimes, sometimes, only, there's sometimes. In fact, now, today, I don't feel so ashamed about being. In fact, I'm pleased about giving. There's positions put upon you, and it's cold up there, it's cold up there, it's cold up there.
John (after the song): "But then again, sometimes, I have to be, so."
Bang Bang
John (after the song): "Nancy Sinatra, we love her. Written by Sonny Bono, who died; in fact, he skied into a tree, which is strange."
Are You Shivering?
John's closing words: "Again, I'd really like to thank all of you for coming to see us. It's been very special, actually, and that's it for tonight. Thank you."
Dave: "Okay, okay, hallelujah…More, more, more!"
John: "Thank you very much. Thank you, Dave."
At the end of AUD #2, Piotr Jachi says something in Polish.
Line-up
John Balance – vocals
Peter "Sleazy" Christopherson – Ableton sequence, video projections, Clavia Nord Modular Synthesizer
Thighpaulsandra – Clavia Nord Modular Synthesizer, Kurzweil Synthesizer, Electro-Harmonix on John's vocals (with 16-second delay, modified by Kanwal Dulay)
Simon Norris (Ossian Brown) – Clavia Nord Modular Lead Synthesizer, Kurzweil Synthesizer on "Are You Shivering?"
Massimo Villani – Pasolini poem reading on "Ostia," Black Sun Productions' "Ghost Boy" performance art
Pierce Wyss – Black Sun Productions' "Ghost Boy" performance art
Advertisements, Backstage or Related Promo Material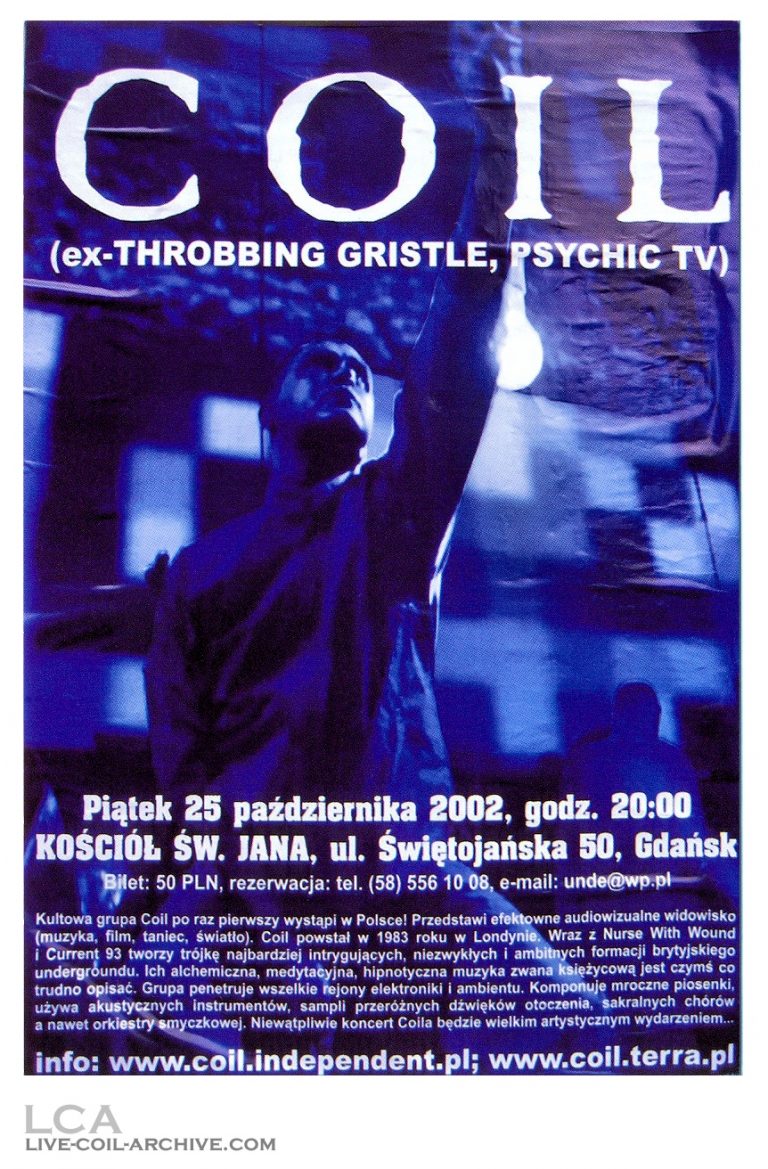 Soundcheck and BTS
Gallery
AMT #1 + AMT #2 + AUD #1 + AUD #2b Matrix
Contemporaneous Interview(s)
The following is a transcription of an interview with Coil translated by Google Translate from Polish to English (the original of which you can find here):
Here is the transcription and translation of the interview I had the privilege of conducting with the Coil band after their concert in St. John in Gdansk on October 25, 2002. The delay in the publication of this interview was that I had not received an answer or that the team authorized the interview. Then it turned out that the authorization of interviews in a civilized world is not an indispensable thing, but a nice addition if one wants to be polite … Anyway, better late than never.
PI: What is your impression after today's concert?
John Balance: I thought about it as something happening in a unique place, with unique people, and I got lost in the music, which I just love! I did not pretend to be myself, just something broke. Was well.
PI: The concert versions of your songs are different from the album versions, Where do you get ideas for these changes?
JB: They just happen. We work hard and with talented people, so we can relax and give birth to this version.
PI: How did you get in touch with Massim and Black Sun Productions?
JB: With Massim? Massimo contacted us!
PI: Have you seen their show, Plastic Spider Thing?
JB: I even participated in him! It was very, very interesting. They have been living with us for three months now near Bristol. I encourage people to participate in Plastic Spider Thing because it is an incredibly powerful ritual of chaos magic. When you read about it, it may seem a bit ridiculous, but when it comes to it, it turns out to be a very, very powerful ritual.
PI: How do you get along with Genesis P-Orridge right now?
JB: Not bad. Looks like he decided to be a nice guy (laughs) and that's good. I still have some objections to his person when I meet him remind him that he did it or that. Throbbing Gristle is just releasing a set of memoirs to commemorate their activities, as well as a couple of reissues too, so mostly Peter talks to him about legal issues. But there is no longer any hate between us.
PI: What equipment do you use in the studio?
ThighPaulSandra: We use a lot of stuff. For example, we used two Nord Modulators, one Nordlead 1 …
JB: We won the subsidy from Nord! [Laughs]
TPS: We also have Kurzweil K-2000, special delay effect, It was built by a man from England specially for us, and we also use Macintosh and a lot of different software, and even more stuff in the studio, too much to replace.
PI: ThighPaulSandra, you seem to prefer analog sounds …
TPS: Yes, of course!
(ThighPaulSandra raises Anxious magazine number and shows him the first article about Coil, then about ThighPaulSandra solo)
TPS: Look. Wonderful!
JB: No, rather awful. You should not be encouraged! (Laughs)
PI: John, you've worked with such artists as Current 93, Nurse With Wound, and Death in June. What was the experience of working with bands whose style is so different from Coil's?
JB: Well, they are just friends. So in a sense they do not differ … I will do what some people ask me. You know how David Tibet asks me something that I just do it. It is not a favor, only a privilege. Also, I will always be willing to work with Steve (Stapleton – M_Alex). It was good to work with them sometime, but now I do not know Doug Pierce …

PI: How do you work with World Serpent Distribution?
JB: All right, but we also work with Warp Records.
PI: Really? Frankly speaking when listening to LSD albums, some of the sounds strike me with their characteristic sound that could have inspired or even been sampled by such artists as Aphex Twin and Autechre …
JB: They certainly did not inspire Aphex Twins, Richard James just does what it does. does. Autechre like our music and remixed it. We have about three remixes that they have done for us and they are amazing. They are our good friends, like Boards of Canada and Haswell. We know a lot of people associated with Warp and appear to be rather a group of friends than a record company, even though they are a record company.
PI: Steven Stapleton designed a couple of album covers for you. Was it a privilege for you or did he give you a favor?
JB: Well, Steve's graphics are beautiful, and fit into those albums. I would buy them, steal, whatever. He is a genius. I am admirable to him, and there are not many such people. Leonard Cohen. Nina Simone and Steven Stapleton are the people for whom I am full of admiration.
PI: Speaking of Cohen, your Bang Bang version sounded very "Cohenowato"
JB: Really? It's not Cohen's song, but it's still a good version of our performance anyway. Normally, we dedicate it to Courtney Love.
PI: You played a fantastic version of Ostia, but the text was changed …
JB: Yes, I improvise while performing songs on concerts.
PI: How does Pier Paollo Pasolini inspire you? As a poet, filmmaker, or because of who he was privately?
JB: First of all because of who he was. There were so many trials against him, something around 139, maybe 149, and all won. All of them wanted to bargain in the courts: Communists, fascists, for offenses of religious feelings, for heresies, and so on … But he was clean. He was a pure person. How can I see a pure person … (John breaks, turns and sees the figure of Jesus Christ) Christ stands over my shoulder … I'd rather have Pasolini there. He said "Kill me in Ostia" before that happened. He predicted his own death.
PI: What is art for you?
JB: What is art? Art is life. I do not consider her, I live it. That is the artist: someone who does not distinguish between what he creates and who he is.
PI: For you, the inspiration is, for example, Aleister Crowley's magical works, for example, so sometimes you are misunderstood by people …
JB: Oh, fuck them. I can not go out with people who do not understand me. If they do not understand this they do not understand. We do what we do and if someone understands it understands it. How does that not?
PI: A lot of people have been in Coil since the group was formed: Stephen Thrower, Crew McDowell, Thighpaulsandra, Simon Norris, Danny Hyde, Otto Avery … But were you and Peter the creative core of the band, or did other members influence what you do?
JB: It's just me and Peter, but for example Thighpualsandra is a big and important part of the team, and Simon Norris … We choose our friends very carefully, and everyone can gently do something, somehow affect us. For example, Thighpaulsandra often claims to drink alcohol (John is an alcoholic) or for improper behavior, like Simon. But Coil is me. Just me.
PI: Because you originally founded the band in 1983 and Peter came to you, yes?
JB: Yes. I stole him from Psychic TV! (Laughs)
PI: Have you ever eaten a hot dog for religious reasons?
JB: What ?!
PI: Have you ever read Principia Discordia?
JB: Yes …
PI: In the Principia Discordia there are five commandments, the other saying that the Discordant should eat hotdog every Friday to negate other religions.
JB: I do other things to negate other religions. But we are now in this beautiful place and I can not completely deny it. I am not a Christian, but I will not be hostile towards such a wonderful place with such exceptional people with such beautiful objects. How could i How dare i I just do not do it. I would not dare. It is too beautiful.
PI: You have evolved to a great extent throughout your years of business …
JB: We had to. We have been doing it for 20 years, and if we did not evolve we would die. Just like a dolphin.
PI: What causes evolutions in Coil?
JB: We're just looking for something new, we want to do something new.
PI: Peter, are you still steaming (music video and commercials – M. Alexander)?
Peter Christopherson: No … Although yes, myself.
PI: And how was it, to lead other people with such productions?
JB: Suck!
PC: Directing was fine, but the trouble is that when you try to please other people it is difficult to stay with your original vision. When you work for money you have to make compromises.
PI: Yes, and since you've worked with artists from Nine Inch Nails to Hanson ….
PC: Well, Hanson was fine, but the bands are not troublesome. The trouble was the record company. Record companies are always in trouble.
PI: And your record company?
PC: It's perfect. I am my boss!
PI: We talk about Threshold House?
PC: Yes.
PI: A World Serpent?
PC: They are rather a company that distributes us than produces, but they are fine.
PI: And like to remix other artists?
PC: Yes, I like doing remixes, but it's always a hassle because we are so busy with Coil's business that it's hard to find some free time. You know to make a decent remix take about a week to sit in the studio, but we are always asking for you.
PI: And what's the remix being locked in a drawer, like your version of Depeche Mode's Rush?
PC: Such a thing is just boring.
PI: Thank you very much for the interview.
Attendee Recollections
Tomasz Śliwiński attended this gig and mentioned that he recorded AUD #1, while his mate recorded AMT #1.
Known Recordings
Tapes owners/taper:
AUD #1 – Tomasz Śliwiński
AUD #2 – Piotr Jachi
AMT #2 – Ash Neuro
Concert Recording Downloads