At Fylkingen
19th October 2002 – Fylkingen, Stockholm, SE
Probable Set List (Concert Has Not Surfaced In Its Entirety)

I Am Angie Bowie (Sine Waves)
The Last Rites of Spring
Amethyst Deceivers (Version 3)
A Warning from the Sun
Drip Drop
Ostia
I Don't Want to Be the One
Bang Bang (Sonny Bono Cover)
Are You Shivering?
Confirmed Songs:
The Last Rites of Spring (Picture)
Drip Drop (Video Clip)
Ostia (Picture)
Bang Bang (Video Clip)
Are You Shivering? (Video Clip)
Moulin Rouge (?) (Picture)
Regarding the probable setlist above, certain copies of the three video snippets place "Are You Shivering?" as the first song in order, while some put it last, thus some confusion. If "Are You Shivering?" was played last, then they skipped "An Unearthly Red," but if it was played as the third song in the set, then they also played "An Unearthly Red." Given the fact Massimo and Pierce have already spit blood upon themselves during "Are You Shivering?" a move which they would not normally do until "I Don't Want to Be the One," it's most likely their setlist is as I mark it above.
However, to be even more confusing, Ossian is seen in AMT #1 to remove the lower part of Massimo's black costume during "Drip Drop," a song by which point the pair have already discarded their costumes entirely. It's possible "Drip Drop" is the 3rd song in the set, then, given that's the usual point Thighpaulsandra and Ossian would remove that article of Massimo and Pierce's clothing! But then, pictures reveal that Ossian walks back to Massimo, to remove the top part as well – again, something which does not normally happen. Usually the removal of the bottom and top parts of the costume are spaced out between two songs at any given point.
I guess it's still up in the air, since Coil were known to occasionally mix up the setlists, choreography, and backing projections in unpredictable ways. For example, two pictures show they played the "Moulin Rouge" backing video behind them at one point, something which they did not normally do. Maybe they played an exclusive song? Who knows.
Background
Feeling: Reflective
"Live Four" phase.
The day of this gig, Brainwashed announced: "Coil are currently in the middle of a European tour. In addition to the previously announced dates, there is apparently an impromptu concert taking place tonight (October 19th) in Stockholm, Sweden. This tour was originally planned to end with two shows in Italy on November 1th & 2th, but it appears that the final stop will now be in Vienna on October 29th. However, it is rumoured that Coil will be joining Black Sun Productions on stage at their November 4th performance of the Plastic Spider Thing ritual at Teatro I' in Milano."
This was apparently a surprise gig, which may explain the lack of a full surfaced recording.
Line-up
John Balance – vocals, baby rattle
Peter "Sleazy" Christopherson – Ableton sequence, video projections, Clavia Nord Modular Synthesizer
Thighpaulsandra – Clavia Nord Modular Synthesizer, Kurzweil Synthesizer, Electro-Harmonix on John's vocals (with 16-second delay, modified by Kanwal Dulay)
Simon Norris (Ossian Brown) – Clavia Nord Modular Lead Synthesizer, Kurzweil Synthesizer on "Are You Shivering?"
Massimo Villani – Pasolini poem reading on "Ostia," Black Sun Productions' "Ghost Boy" performance art
Pierce Wyss – Black Sun Productions' "Ghost Boy" performance art
Advertisements, Backstage or Related Promo Material
Venue
Fylkingen
Torkel Knutssonsgatan 2
118 25 STOCKHOLM
Gallery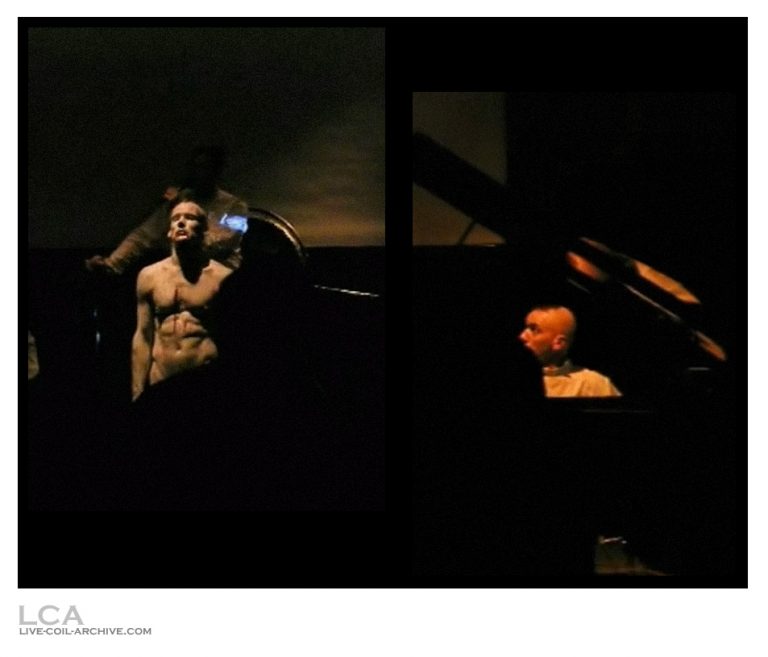 AMT #1
Attendee Recollection(s)
Peter Åkerbäck attended this gig and remembers: "Copenhagen and Stockholm. Its all a haze, but I do remember shaking hands with Peter and John after the Fylkingen gig (its a very small venue and after a concert its always very intimate) and Peter said 'This was so much better then in Denmark' 🙂 John was very happy and had gotten a whole back of beer that ha carried around 🙂 By the way, the whole Fylkingen gig was recorded by a very good camera. This is standard on Fylkingen every time, I hope someday they find it XD…And yes this is the actual baby rattle used by Jhonn at Fylkingen…He sort of drop it in front of the stage and I grabbed it. It may have been Fylkingen property by I do not really care, its mine now" On October 18, 2020, Peter shared a picture of the baby rattle on Facebook: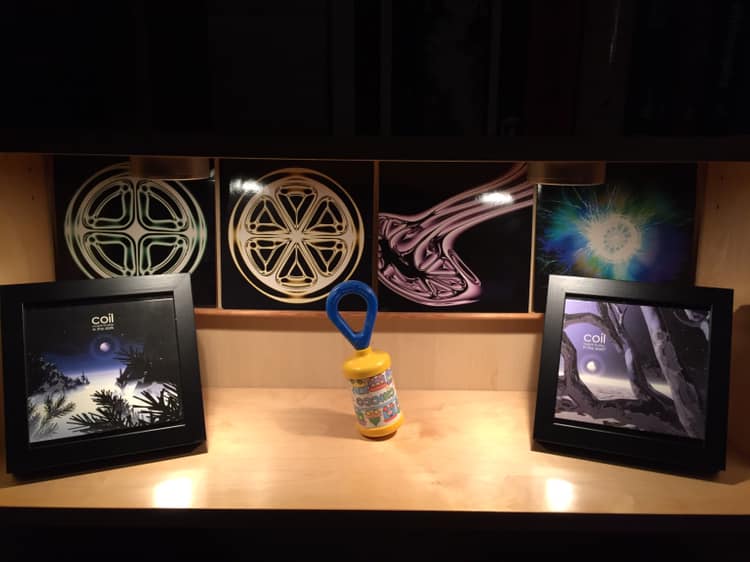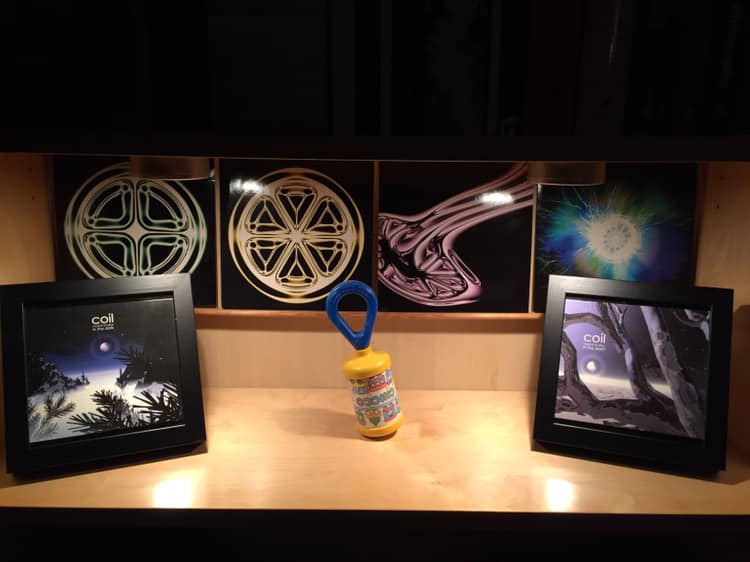 Known Recordings
Tapes owners/taper:
AMT #2 – Fylkingen.
Concert Recording Downloads