At Casa da Música Festival, Porto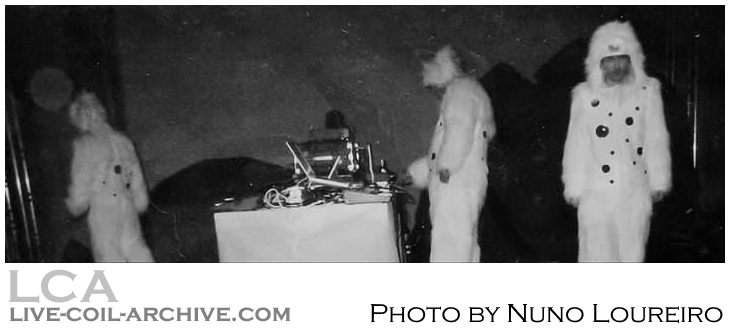 21st June 2003 – Casa da Música Festival, Porto, Portugal
Set List
Drip Drop (ANS)
Blue Rats
Triple Sons and the One You Bury (Instrumental)
Radio Weston
Snow Falls Into Military Temples (Instrumental)
The First Five Minutes After Death
Bootlegs often misspell the track "Radio Weston" as "Radio Westin."
Background
Feeling: Fluffy!
Instrumental phase. Final live performance of "Snows Falls Into Military Temples."
—
Thighpaulsandra: "Good evening. We are feral. We are feral, and we are Coil."
Triple Sons and the One You Bury
Audience member (before the song): "I love you! Faster!"
Radio Weston
Thighpaulsandra: "This is 'Radio Weston.'"
This, as far as I can tell, is the longest version of the song, clocking in around 13 minutes.
Thighpaulsandra's closing words: "Thank you very much. Thank you. We have been Coil."
Line-up
Peter "Sleazy" Christopherson – Ableton sequence, video projections, Clavia Nord Modular Synthesizer
Thighpaulsandra – Fenix Synthesizer, Kurzweil Synthesizer
Simon Norris (Ossian Brown) – Clavia Nord Modular Lead Synthesizer
Advertisements, Backstage or Related Promo Material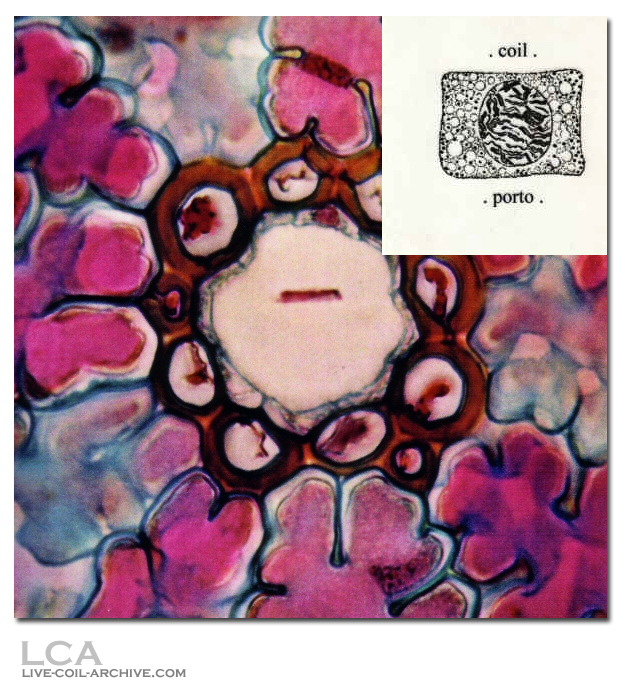 Gallery
Notes on Pictures and Video Footage of This Show
On January 7, 2020, Nuno Loureiro shared four pictures he took at the concert. These are the first visuals to surface from the show publicly. They prove Ossian did indeed play at this concert, making it his last official one as a member of Coil.
In 2018, a private collector approached LCA with a desire to trade material. Among this person's archives was some footage of this performance. Unfortunately, we could not make a successful trade, and that footage remains unsurfaced. All we know is that the footage is incomplete.
Contemporaneous Interview(s)
The following is an edit from the article entitled "Strangers In The Night" originally published in issue #110 of Terrorizer and written by Guy Strachan (link to full article here).
You could be forgiven for thinking that Coil is a living, breathing example of the laws of outside influence or indeed the maxim of 'if you play with fire you get burned'. Coil are undoubtedly heavily influenced (and John Balance in particular seems to be a frequent practitioner) with and by magic(k) in a multitude of forms. For example, the upcoming special edition of the new series of live CDs will feature "art objects loaded with magickal intention". But how much bearing do such interests have on Coil's output?
"It's true to say that we are influenced by a lot of currents in the world that are not immediately accepted or recognised or regarded as a part of so-called Western reality, if you like, of which the occult is one thing," Peter reckons, "but there are also a lot of other passages of energy, meaning and corruption and decay that pass around through the modern world that have a tremendous influence on us so in that case, yes."
So is Coil a vehicle through which you can channel those energies?
"Well, not all of those things are necessarily positive energies and quite often we, in a small way, take on causes that we think are important that are not a question of us supporting them but a question of us taking a stand against them. For example, the campaign against light pollution (International Dark Skies); against the prevalence of light in society, not only as a symbol but also as a reality such as with street lights coming on at night and shining into everyone's bedroom windows, so it's not just that we take up a series of wacky or weird causes and treat them as our own."
Christopherson's line of of not all energies being positive as well as the aforementioned playing with fire were brought home to Coil in the winter of 2002/3. During that period, Balance succumbed to a major bout of depression, culminating in his not eating for a total of twenty-one days and surviving on "occasional glasses of vodka and milk".
"He's at the sort of cutting edge of raw existence," Christopherson explains, "He experiences life to the full and whether that's through an alcoholic haze or a haze of any other kind of chemical or a haze of religious, spiritual or sexual fervour, in doing those things without restriction you inevitably expose yourself to a large number of dangers and sometimes those dangers and demons can get the better of him. I think that he's planning to go into retreat for a year and recharge his batteries and consider which direction he wants to take so that will probably have an influence but again, it doesn't mean that we're not going to continue to do things or to explore different ways of doing things."
Yet Balance's illness came at a time when Coil's public profile was arguably at its highest level for nigh on a decade. Having spent much or the '80s in a world of little promotion, the release of 'Love's Secret Domain' in 1991 was heralded with a promotional campaign that included quantities of press advertising not to mention a good amount of shop display space. Yet although the campaign had the required effect of an increased interest in Coil's activities, the following years saw Coil retreat into the netherworlds with most releases only advertised through mailing lists and the like. In the present day, where on the one hand Coil have begun playing live for the first time since the mid-80's, yet couple it with a veritable avalanche of releases that can differ hugely from one to the next.
"We've always done a lot of different things," explains Christopherson. "'Black Light District' was quite different to 'Time Machines' which was quite different from the conventional albums. Obviously we did start to play live again at the beginning of 2000 and in the time since then we've done quite a lot of touring and basically doing four completely different kinds of show because we've got such a low threshold of boredom; we're not the kind of people that can go out and do a hundred-date tour and do the same songs on each date because it's too boring, basically. So that's kind of increased the public perception of how much we've been doing. We've always done a lot, but not necessarily always in the public eye. I think that Coil goes in cycles of doing things publicly but then there are always things that we do privately. But what you said is true; there was a kind of a gap between 1994 and 1997/8 when we started to do a lot of other things as well. There'll probably be a gap in 2004 every '4 to '7 during a decade we always take that time off!"
As Christopherson said, autumn 2002 saw Coil take to the road across the length and breadth of Europe. The fruits of this labour are the series of four CDs from the tour (as well as an upcoming DVD), each of which comprises a different aspect of Coil's performance work. The first disc, 'Live Four' is out already with the second disc in the series, 'Live Three' (lord knows why they are being issued in reverse order!) being released as I type.
"By the time that this interview is published all four discs should be out," Christopherson reckons, "they encompass four main styles; number one is a double CD containing the first performance we did at the Royal Festival Hall in London and a performance we did at Sonar in Barcelona where there was a kind of riot. We played in this church and there was a riot when people tried to get in as the number of Catalonians who wanted to see us had been underestimated. Those shows are quite electronic and abstract and quite mad in that way. The second album is the first of the two shows that we did in Moscow. That one is more song-oriented: we played a couple of songs with quite a few more electronic pieces. The one after that is Bologna which is much more song-oriented and featured Cliff Stapleton on hurdy-gurdy and Mike York on bagpipes and the last one is the tour that we just completed in the Autumn which was Prague and Vienna which is very song-orientated."
Attendee Recollections
Coyot Gonzalez attended this gig and remembers: "Than[k]s for this! I was in the Porto concert,saw somebody with a camera filming all.Simon Noris was in the band,before the concert start it was Peter Christopherson making a DJ set. It was advertised as a electro nigth,with some electro band after Coil. The concert was made in the underground car park of Casa da Música,because the place was still under construction.Simon and [Thigh]Paul[Sandra] ligth some incense on the stage before the music start."
Known Recordings
Tapes owners/taper:
Unknown
| | | | | | |
| --- | --- | --- | --- | --- | --- |
| Source | Quality | Complete | Length | Lowest Gen | Comments |
| AUD #1 | 7/10 | Yes | 66 min | M1 (?), 192 kbps MP3 | Officially released on Live in Porto, which used MP3 files; the raw MP3 file, one track without indices, is circulating, however, so it is unnecessary to get this release. |
| AMT #1 | ? | ? | ? | ? | Remains private. |
Concert Recording Downloads