At Megalithomania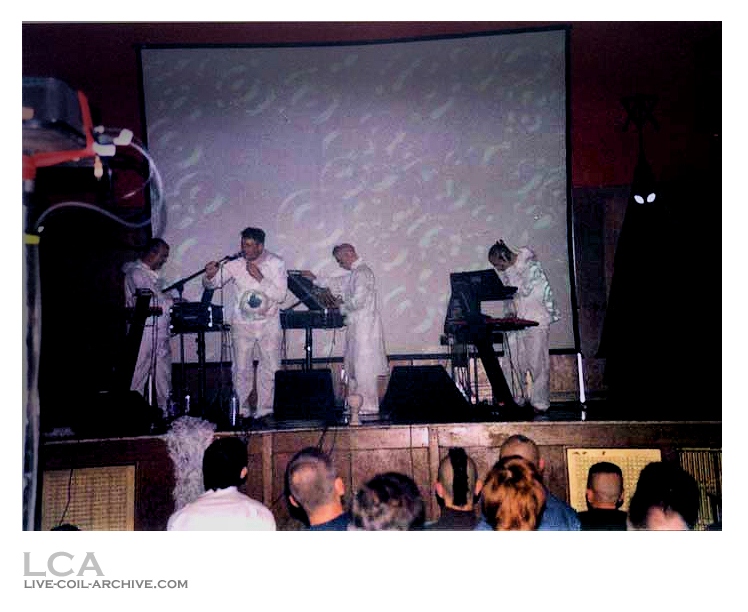 12th October 2002 – Megalithomania – Conway Hall, London, UK
Touring Background
This gig was originally announced on April 29th 2002, two days after the end of the "Anarcadia" tour.
The morning after their previous show in Greece, John left the hotel Coil were staying at without telling anyone where he was going or what he was doing. Peter, Thighpaulsandra, and Ossian could not find him anywhere, leading to a tough decision to stick to their schedule and board the plane back home without him. Peter was nothing if not a professional, after all, but this call left him worried sick for days. The story goes John miraculously managed to hitch-hike all the way back to Weston Super-Mare, but contrary to popular belief, according to Fred Mann, John's then-boyfriend, "[Geff] and Sleazy had already broken up before the Greek Tour and he was living with me in London. We only used to go to Weston so he could work. On the Greek tour, it was hard to stop the Greek fans giving him drugs. We were fighting to keep him clean, which was very hard. Mute had to cancel the rest of the tour and Sleazy, Simon, and Thighpaulsandra came home early. Geff was in a house on an island writing poetry on all the mirrors with lipstick and taking DMT, and I paid for him to get him home. He didn't hitch."
John in fact returned home safely, albeit shaky. Everyone was quite concerned by his wild behavior, especially Peter, but with no real time to sort out their personal and professional issues, they were to perform at Megalithomania before embarking on their European/Scandinavian tour.
This was the first gig where Pierce and Massimo wore their full-body black, conical, fabric suits. John and Ossian conceived the designs and David Cabaret created them. Each suit came in two pieces, a cloak and a head, and atop each head was an Austin Osman Spare-inspired sigil. Images of them were later used on the cover of Live Four. Part of the choreography from this point on had Thighpaulsandra and Ossian lead the pair onto the stage during "I Am Angie Bowie (Sine Waves)," then take the bottom and top halves of their costumes respectively off at the start of the third and fourth songs, resulting in total reliance on the backing audio track and John's vocals for the first minute or so of each song.
Despite Brainwashed saying otherwise, Danny Hyde says he did not in fact do the sound for this gig. The only time he did was 2002-04-27 The Barbican.
"Drip Drop" often circulates under the title "The Universe is a Haunted House," but to avoid confusion with the song from the 2000-06-17 Sonar Festival gig, the fact that the song uses raindrop sound effects, and the fact that the backing projection of the song represents water drops falling and rippling, the song will be called "Drip Drop" in all LCA listings. A truncated version would replace "Lake View" in the tour's typical set from the 2002-10-17 Oslo show on.
Concert Background
Feeling: Reflective
Exclusive gig; debut performance of "Drip Drop."
Talks/Installations: John Michell, Paul Devereux, Iain Sinclair, Circlemakers, etc.
Supporting musical act(s): Wigwam, Drew Mulholland (Mount Vernon Arts Lab)
Megalithomania was a collaboration between Third Stone magazine and Strange Attractor and billed as "an all day celebration of sacred sites and standing stones as expressed through art, folklore, history and archaeology." There were various presentations during the day – Coil were really just the evening entertainment.
By this point, John no longer wanted to perform live. Fred recalls: "Ha. He refused to go to [Megalithomania]…I absolutely put my foot down and made him go so he took one of the collars off the dogs, Moon or Pan, and wore it and kept making dog paws with his fists. He could be such a diva, and he did need to be told by somebody who simply wasn't starstruck or he would really take advantage." So John went, albeit in a thunderous mood. Many at the time and even now chalked this up to him breaking up with Peter and being quite antagonistic towards him at the gig, but as previously established, they had broken up months before. Fred continues, "He was just stroppy. It wasn't to do with being mad at Peter, he just wanted to stay in bed and get high. He really didn't want to come to London and be made to sing, so he tried to perform as short as possible. But anyway, he did the gig, and it was amazing. I remember Peter saying that at least I had got him to go onstage, say everything he had to say, and then fall over in the great tradition of rock and roll." This also explains why Coil only performed for 40 out of the allotted 60 minutes the festival had given them.
—
Conway Hall, at least at the time, had a huge red curtain onstage. Before the show, a hand reached through it to place the incense chalice, slowing setting the atmosphere to follow. John recycled the white shawl he used during the "Anarcadia" tour, curling himself up into a ball and laying onstage before the other members came on.
Announcer: "Uh, please be advised that the main doors are closing in five minutes, so when you exit, you will need to exit to your right as you leave this room. Uh, the other thing is, if you're gonna drink more beer, please do so now. Uh, we're gonna close the door in about half an hour, so make sure you get your, your Betties and (indecipherable). Uh, that's it, thank you."
Audience member: "I've got a fucking taxi waiting!"
Announcer: "Ladies and gentlemen, excuse me, immense pleasure to introduce the audio-equivalent of the monolith from 2001 [A Space Odyssey]: Coil." The audience erupts into applause as the red curtain opens, revealing the statuesque band members. The raindrops immediately begin.
Slowly, John emerges out of his bundle. His behavior starts off somewhat normal, splashing some water around the stage and near the front row of the audience, before becoming far more intense and wild, intimating a crazed state of mind for the rest of the tour. Infamously, at one point, he tore apart a stuffed animal rabbit (perhaps a premonition of his lyrics to "Unhappy Rabbits") and even threatened to throw a speaker into the front row of the audience, forcing David Tibet of Current 93 fame and friend of his to flee in fear. Fred remembers: "Ha! Well there were plenty of reasons why Tibbs should have run away lol. It's around the time he went all weird and Catholic…He did a religious mass for Geff when he died. Who ever heard of a church mass for a pagan shaman?"
Some audience members reacted negatively towards John's verbal abuse. When he shouted, "I'm serious, it's not a fucking joke. Why are you here?!" someone in the balcony responded in kind by throwing a beer can at him, but missed and hit someone in the audience instead.
The other band members outwardly act like John isn't even there.
Drip Drop
I am not here
I am there
I am not there
I am here
We will push it in your direction
We will push in your direction
Where's my unlucky rabbit?
Drip, drip, drip, drip, drip, drip…
We are not here
I am not here
Where's my unlucky rabbit?
With my unlucky rabbit! [repeated]
Look what's happened to the world!
Push the sound into the world…
Look at my unlucky rabbit!
Were you the unlucky rabbit in there?
Why did you cry?
Why could you cry, what the fuck?
You know you could've asked me questions
Fucking questions…
My fucking unlucky rabbit
Unlucky rabbit
But why are you here?
Why are you here?
I'm serious, it's not fucking a joke [?]
Why are you here?!
Why are you here?!
Don't fucking-!
Fucking [repeated]
Fucking with my unlucky rabbit!
Why are you here with my unlucky rabbit?!
Don't fuck me
Fuck me
I am not here
I'm not there
They are not here
(Why the fuck are you here?!)
They are not, ahhh…
They're not here
They're not here
They are not here
I am there
We are the alien
Many believe John's directing the vitriolic lines not only to the audience but to Peter as well, though as has been revealed, that really wasn't the case. The line "We are the alien" is often seen as a concession to the theme of the evening.
The performance ends with no closing words from the band. Announcer: "Thank you, Coil. Thank you all very, very much for coming. It's been, uh, quite anyway. Um, thanks to everyone who's helped. That means you, everybody, and we just want to say beer is now £1, so uh, get beer. Thank you all."
In sharp contrast to his onstage antics, John was calm and cordial to fans after the show.
Line-up
John Balance – vocals, "stuffed rabbit" performance art
Peter "Sleazy" Christopherson – Ableton sequence, video projections, Clavia Nord Modular Synthesizer
Thighpaulsandra – ARP2600 Synthesizer, Synton Fenix Synthesizer
Simon Norris (Ossian Brown) – Nord Lead 1 Synthesizer, Korg MS20 Synthesizer
Massimo Villani – Black Sun Productions' performance art
Pierce Wyss – Black Sun Productions' performance art
Andy Ray – live engineer
Advertisements, Backstage or Related Promo Material
Ticket Stubs
Gallery
AUD #2 – Includes More Audience Participation and Off-Mic Comments by John Balance than SBD #1
Notes on Video Footage of This Show
According to popular demand, this is the number one most-requested Coil live footage, along with All Tomorrow's Parties 2003 and Porto 2003. Numerous former Coil members/collaborators, including Massimo Villani and Thighpaulsandra, have stated on record they want to see video footage of the show. It almost doesn't need to be said why, but attendees who saw this performance describe it as a totally different experience than their other shows, which makes sense, given the exclusivity of the performance, the context of the Megalithomania festival, and the personal troubles plaguing the band at the time.
Peter had AMT #1, the static camera angle recorded from the back balcony. Andrew Lahman had the pleasure of visiting Peter in his home in Thailand after the dissolution of Coil and fondly remembers personally viewing it. He recommended Peter include it on Colour Sound Oblivion, the then-upcoming live boxset, but Peter felt it too boring a watch, given its static cinematography and remoteness from the stage, so it was left off. A few other people saw this video over the years, but no copies were ever distributed out. After Peter's passing, Thighpaulsandra received all of the live material he had, but strangely could not find this footage in the archives anywhere. As of 2018, even after some careful sorting and digitizing, it is still missing.
Most people, including us at LCA, thought it was just the one camera which recorded video footage, until on February 20, 2019, while looking for live Coil pictures online, LCA found the the picture below on Tumblr. As has been confirmed by one source, this is a video still from a second camera angle, AMT #2, which is also unsurfaced but clearly has more dynamic cinematography than AMT #1.
So far, these are the only two videos we know to exist of this show. If you have any video footage of this show, please let us know! LCA and all Coil fans in general would be eternally grateful if you shared it with us!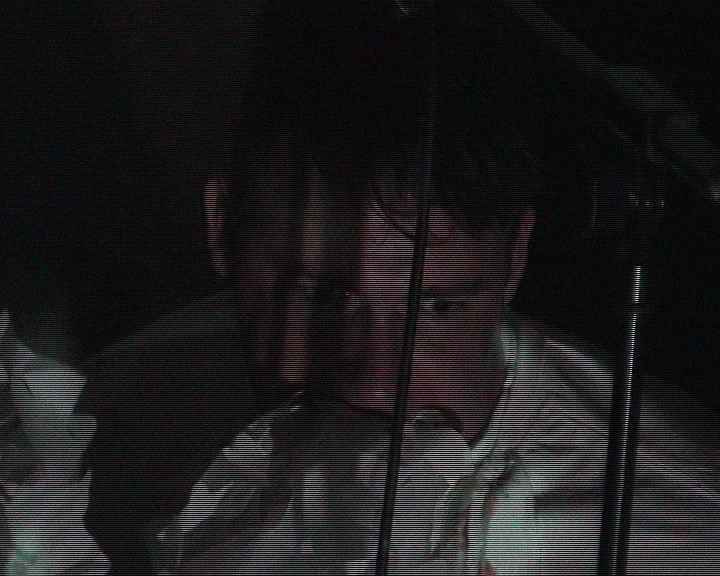 Gig Review(s)
The following is a review of the concert (originally published here):
Megalithomania
Conway Hall, London
Megalithomania was a day long festival organised by 3rd Stone Magazine and Strange Attractor, to celebrate standing stones and sacred sites, as expressed through folklore, history, archaeology, art, magic and music.
The organizers had put together an eclectic range of speakers discussing everything from Standing Stones in the movies, the Stonehenge Free festival to parish priests discussing London's stones and Christian megaliths. It was that type of day where tie-dyed travelers, mixed with tweed-clad walkers, university lecturers mingled with pierced and tattooed individuals.
Having some renovation work done in our house meant that I missed most of the day's activities. My first exposure to Megalithomania was Robert Wallis discussing English Heritage and Stonehenge and the need to strike a balance between ritual and archaeology. It was particularly interesting to hear how English Heritage in their arrogance tried to change the date of the solstice festivities.
The hall seemed particularly rammed for Iain Sinclair's talk on his latest book, London Orbital. Sinclair's vibrant piece dissected the "concrete necklace" that surrounds London. From Wren's Temple Bar in Theobalds Grove, North London relocated from Fleet Street to architect Hawksmoor's resting place in Shenley, Sinclair's talk gave a beautiful and poetic overview of his latest book London Orbital where through walking the entire circumference of the M25 Sinclair reveals the secret history of suburban London. His talk was more compact than his performance a fortnight later at the Barbican. Time will tell whether London Orbital will do for suburban psychogeographers what his previous Lights Out For The Territory did for inhabitants of central London seeking strangeness.
It perhaps took him a short while to grasp control of the slide projector but Paul Devereaux's talk about the simulacra of ancient landscapes and ground markings on sacred and magical sites throughout the world was fascinating. Deveraux's an authority on geomancy, numinosity, consciousness and archaelogy and his illustrated talk was illuminating. It marked the end of the afternoon's lectures, and signalled a short break for refreshments before the evening's musical program commenced.
The evening opened with Brian Barritt, who I later discovered was a collaborator with Ash Ra Temple. Brian introduced a short documentary film recording movement of rays of the Equinox sun across the megaliths at Loughcrew in Ireland. It was accompanied by the vibrating tones of a special soundtrack of trance-inducing 111Hz.
The less said about Wigwam the better. Besides after a few songs I sought refuge in the bar. Gorodisch apparently fared better even providing a commendable version of 'Gently Johnny' from the Wicker Man, or so I'm told.
Glasgow's finest sonic explorer, Drew Mulholland aka the Mount Vernon Arts Lab aka Mount Vernon Astral Tempel as they were for the night were the first act to enliven the evening. I've been an avid follower of Drew Mulholland's vintage electronica and sonic wizardy. Over the course of 5 albums they've collaborated with Coil, EAR and Project D.A.R.K and with members of Portishead, and Belle & Sebastian. In fact, a new release is imminent on Coil's Eskaton label – if they can find the tapes!
At their previous UK show late last year in Glasgow, as support to Stereolab, the Mount Vernon Art Lab were a foursome. Tonight Drew Mulholland stood alone, a small nonchalant fellow with a sound contraption that oscillated wildly. He is an archetypal Joe Meek figure procuring sounds from all sorts of electronic gadgetry. In terms of sound this version of Mount Vernon Arts Lab was closer to their One Minutes Blasts Rising To Three and Diminishing release on Ochre (which incidentally was recorded in a decommissioned subterranean nuclear command centre). Their set, lasting exactly 20 minutes 02 seconds, was specifically recorded to commemorate the palendromic year.
Slides of Drew's urban trespass adventures and sites of psychogeographic importance were displayed: abandoned nuclear bunkers, disused military sites. These avant garde concrete structures proved a fitting backdrop to the MVAL's abstract sound constructions. It was more a case of concrete music than musique concrete.
At the end of the set a lucky handful of people managed to get hold of original pieces of the Wicker Man structure – or at least of the wicker stand-in still nestling in a cove in Burrowhead Caravan Park.
Coil are always such an enticing live proposition. Only two weeks earlier they performed a captivating set as support to Sigur Ros at the Royal Festival Hall, London. Augmented by the naked duo of Black Sun Productions they confounded those waiting for Iceland's finest. The fact that tonight's Megalithomania set was specially commissioned only heightened the anticipation.
There was already incence wafting across the stage before the curtains opened. As they were drawn they revealed three members of Coil crouched and almost hidden below their equipment. There outfits were starch white, and their heads closely shaven apart from Thighpaulsandra who was still sporting a Mohawk.
The music positively pulsated and vibrated. The screens displayed and continued to for the entire set huge rippling liquid effects. From the front of the stage floor Balance slowly appeared. Arms outstretched, he rose slowly from his parallel position hidden on the floor. Coil are masters of drama and performance and for something so simple this was so effective. "Everything fornicates all the time" proclaimed a Coil t-shirt on sale on the night.
Balance didn't appear too happy though. He seemed restless and very edgy. Conversely the music continued to pound and throb in a lovely, warm way. Dripping with rugged sensuality.
From somewhere Balance obtained a large cuddly white rabbit that he begun to batter about, swinging it by the ears, eventually thrashing it off the floor, until it burst. The poor bunny now severely flogged and in several pieces was then thrown to the crowd. It was swiftly followed by water which Balance sprayed across the hall. Responding with a nice piece of audience interaction beer was quickly tossed back.
At some point, they could have been there all evening for all I know, two evil-eyed pointy gonk type beings appeared to flank the stage. Having only seen them naked I can only presume that this is what Massimo and Pierce of Black Sun Productions look like when they're fully clothed.
'Why are we here?' he hollered. 'What are you here for?' he screamed at the front rows. One can only wonder what David Tibet seated yards from an irate Balance thought.
Picking up the monitor Balance began shaking it violently. Back and forth it swung. You wondered whether he could actually hold it that long. Back and forth it swung. Would he hurl it into the crowd? He pounced off the stage, towards the seated front rows.
What made Balance's antics all the more bizarre was the apparent oblivious nature of Thighpaulsandra, Sleazy and Simon. As Balance appeared to unravel the other paid studious attention to their musical equipment. Their apparent sense of normality only made the events seem more surreal. This was Coil, or at least Balance, at their most aggressive, their most frustrated.
I must confess that I like most others were captivated, if slightly unsettled, by Balance's behaviour. In hindsight it's apparent that John Balance is experiencing a rough period. Let's hope he can harness that energy into something more positive, something more productive. All too quickly it was over Balance bounded from the stage. Coil's long swirling drone was over.
It is important that people respect these standing stones and sacred sites but, first and foremost, they are to be enjoyed. Congratulations must be given to 3rd Stone and Strange Attractor for organising a great day nicely balanced between lectures and music.
—
The following is a snippet taken from a review of the entire event (originally published here):
Coil, on the other hand, did what they do, delivering a truly strange performance specially tailored for the night. Awash with projections of green ripples throughout, what began in plinky electronic dripping noises slowly evolved into a rumbling, disconcerting, openly confrontational comment on the event. After some bemusing antics with an unrecognisable stuffed object—bearing all the hallmarks of the backdrop to a David Lynch scene—Jhon Balance began intoning, both on tape and into the microphone: "They are not there. They are here. I am not here… They are not there…" (The event was billed as "a celebration of our awesome monuments and the people who built them"—my emphasis.) Heaving a monitor speaker around, Balance grew more threatening until he seemed to snap and jumped into the audience screaming, "Why are you here? Why are you here?", holding the microphone out. The line between theatre and genuine aggression was thin, but clearly revealed as the music wound up, the applause and appreciative screams thundered, and Balance waved his thanks, head held high as the curtains drew together. A friend remarked that gigs—not just Coil—were commonly much more confrontational in the early 80's. I imagine this is true, so I'm glad people like Coil are still mustering the energy to even try to walk that border between performance and personal confrontation, as an alogical extension of their uniquely potent, abrasive and ambiguous musical creations.
In all, a grand day for megaliths, psychedelic culture and eclecticism. As both the tweedy ley-hunter figure and the tie-died hippy fall into obscurity or irrelevance, it's intriguing and exciting to see what new forms and styles we can create to funnel this potent urge for the land and expanded consciousness through. Megalithomania! was a step in the right direction.
Attendee Recollections
Sten Silhead attended this gig. When asked about the quality of the performance, he said, "Megalithomania was OK actually. Was a day event about stone circles and ancient astronomies, Talks about weird 'occult' characters like Austin Osman Spare etc, Coil were just the evening entertainment alongside Mount Vernons Arts Lab if memory serves. As to the gig, Jhonn seemed to be in a foul mood to start with but warmed up as the gig progressed. There was a very strange atmosphere as I recall, maybe everyone was tired cos' it had been a long day, but deffo one of the more full on performances I recall…at one point he tore apart a fluffy rabbit, was pretty funny (though unintentionally I'm sure)."
Terv Terran attended this gig. He remembers: "Next gig was later the same year at a festival called Megalithomania at Conway Hall in Holborn. A ritualised and magical performance, I remember a hand coming from between the stage curtains before the gig began to place a chalice of some steaming substance before us. Being in the front row, this was about four feet from me. Then began an hour of solid noise, one extended piece made for the occasion. Then Jhon lost his Balance and showed me for the first time how real his pain was by smashing a toy bunny rabbit repeatedly against an old school table whilst yelling 'With my bunny rabbit!'"
Pete Greening attended this gig and too pictures. He remembers: "[M]anaged to shake Balance's hand at megalithomania and thank him for the decades of enjoyment his music had given me…(i also managed to do that with both him and Sleazy at one of the RFH gigs too, if i recall correctly). And you're right – he was in a really good mood."
Paul Morton attended this gig and took pictures. He remembers: "This isn't one of my favourite gigs. It was not fun seeing Balance in such obvious distress…Balance was on stage before everyone else, 'dressed' as a rock at the front of the stage. He emerged from the rock in some horrendous Genesis/Peter Gabriel type performance. Taking Coil right back to [C]oum days with 'Genesis' and his Peter Gabriel haircut…Tibet was sitting front row and almost left in fear for his life when it looked like the very disturbed Balance was about to throw a speaker at the audience…met Jhonn at the bar…though, and he seemed really happy, which is odd as he was seriously fucked up on stage…pete was there too. I was wearing a Negativeland t-shirt whicj JB seemed to find highly amusing , "Christianity Is Stupid. Give Up.""
Steve Fez attended this gig and remembers: "[John] was in a weird space that night. Conversely, when I spoke to him before the Sigur Ros gig he didn't seem to be firing on all cylinders (being barefoot and dressed like a tramp didn't help) but he was fine on stage…Megalithomania should have been louder but the nature of the music dictated that. I thought it might kick off when Jhonn jumped into the crowd but sadly the audience weren't there for any fun. I did like Drew Mulholand's set, lots of loud blasts accompanying the film of ….. stones and concrete from what I can remember. I think one of my friends pissed herself when Coil were on but that was no fault of the band…At least when Sleazy played there years later they got rid of the seats."
On the old Wassonii blog, a few attendees offered their recollections.
The Shivering Manatee recalls: "Balance was particularly disturbed during this gig, and in fact stormed off, but not before Tibet left the audience prematurely. I think he'd been warned that JB was thinking of throwing a speaker cabinet into the audience….haha, I was glad I was sat upstairs."
(Anonymous) recalls: "thanks for posting this one … i was at the show and, yes, jb did seem 'disturbed'! almost like a tantrum. after a spell of repeatedly asking "where's my rabbit?" over and over he disappeared backstage and later came back clutching a big white bunny toy which was then pounded until it broke apart. at the time it seemed an unsatisfying even disappointing performance but after, walking thru the streets everything seemed heightened and weird – perhaps an after effect of the tension? (btw, mt vernon astral temple were the support and were great)."
Morgan Yew (Wey Nagrom)recalls: "I was on the balcony well, a few seats over from a guy who felt it was necessary to throw a beer can at Balance, but hit someone at the rails instead. He seemed to be provoking the audience with the existential question of "WHY ARE YOU HERE?" primarily directed towards one or two audience members to the left-side of the stage (from stage-pers). Before the show I was robbed of what little english pounds my bank at the time allowed me to remove while abroad (Credit Suisse, the fuckers) while trying to score some weed. But hell, I didn't need it anyway. (the pounds or the pot) There was at least one camera at the center recording the event, and I made one using a minidisc recorder as well (of a quality that brings out a little more of the audience participation, I think). Thanks for the amazing archival site, by the way. Figured you'll appreciate any input. _M." Later, he added: "Incredible night. I was also there and had made the trip to the UK especially for this day. I was about 19 years old at the time and tripped the fuck out on the experience alone from the back of the balcony. Before the live performances, I also remember a showing of a film called 'Psychedelic Archeology.' The director asked us to vocalize the frequency registered in a megalithic stone. As a setup to the sets that came later, it was a good way to generate a resonance in the room, that I didn't feel either the neofolk group or Mount Vernon touched the same way Coil did that night. Possibly wishing this were a more 'straight' Coil gig, an audience member on the balcony through a beer can or something at John that ended up hitting someone else on the lower level. I seem to also remember David Tibet being at this gig, seated at the front, but I am not certain. I still have the poster from the gig, maybe some other ephemera, and my own recording to MiniDisc of aspects of the day – including talks and whatever else. I haven't transferred it in all these years…I remember someone videotaping from the balcony as well – I might have even spoken to them that night. It's a bit of a blur. That document is definitely missing from the epic story of their return to the stage. Hopefully they're like me, carrying it from place to place and not discarding it at any point…The breakup would explain some of the weird energy in the room that night. John was somewhere else. Knowing nothing of what they were doing live at the time – it was an incredible, slow, deliberate performance, that seemed to spiral out of control leading up to John smashing the stuffed-rabbit."
Known Recordings
Tapes owners/taper:
AUD #2 – Morgan Yew
Concert Recording Downloads