At Supersonic Festival, Birmingham, England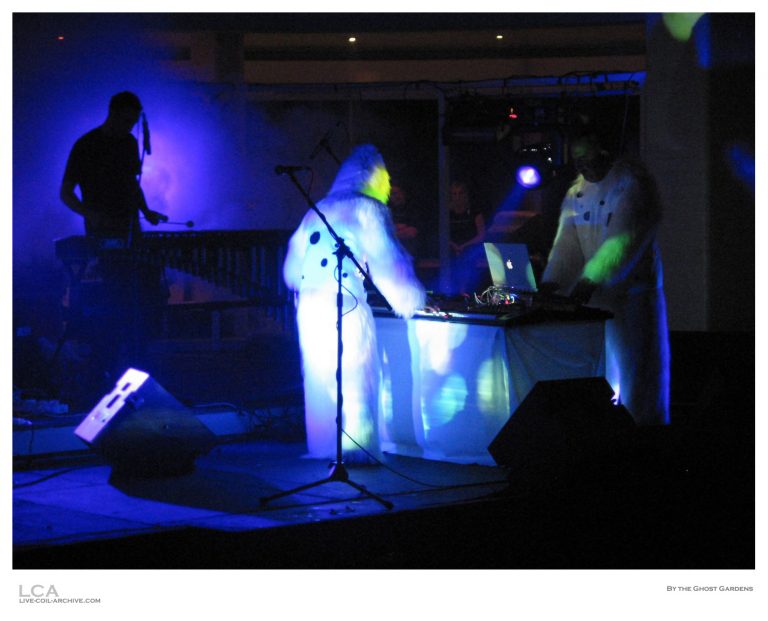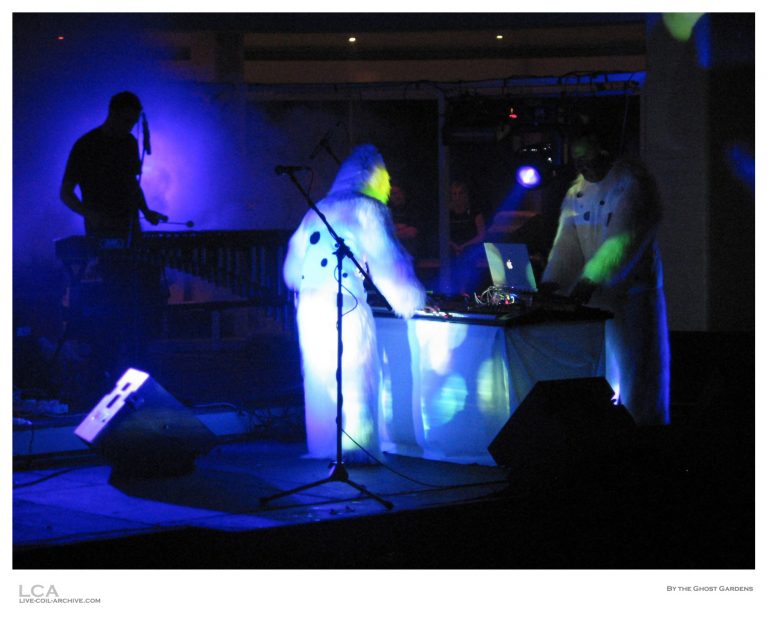 12th July 2003 – Supersonic Festival, The Custard Factory, Birmingham, England
Set List
Drip Drop (ANS)
Blue Rats
Triple Sons and the One You Bury (Instrumental)
Radio Weston
The First Five Minutes After Death
Bootlegs often misspell the track "Radio Weston" as "Radio Westin."
Background
Feeling: Fluffy!
Instrumental phase. Final performances of all songs except "Radio Weston," which would be played five more times under the name "Wraiths and Strays" during the "Black Antlers" phase/Even an Evil Fatigue tour in 2004.
Merchandise sold at this gig: ANS (Single-CD Edition) (2003) and Live Box (2003) for those who had previously ordered them.
Coil's fog machine can prominently be heard on all recordings of the show.
—
Thighpaulsandra: "Good evening. Thank you for coming. We are Coil. We're a long way from the sea, but we're surrounded by water. Thank you."
Drip Drop/Blue Rats
Triple Sons and the One You Bury (Instrumental)
Radio Weston
The First Five Minutes After Death
Thighpaulsandra's closing words: "Thank you very much. We've been Coil."
Official Announcements Made Following this Gig
On August 17th 2003, Brainwashed reported: "Sleazy is about to leave for an extended vacation in the Far East, during which he will be working on new material for Coil, next year's Throbbing Gristle performance, and his new project LeftHandPath. Work has started on compiling and mastering the video footage and projections from various live Coil performances for DVD release. There have been some unexpected delays due to the complexity of some of the material, but Coil hopes to have the material completed and ready for release as two double DVD sets this autumn. One of the sets will be comprised of the recent MUTEK performance and the Vienna/Prague shows that were featured on the Live Four CD." On this latter set, Peter comments: "I actually found this extremely difficult to edit in places, despite having done it professionally for years. Having to watch Jhon in full creative flow but also in such obvious pain…You can begin to understand why his unique brand of 'speaking in tongues' is so demanding, and therefore why he is now taking a much-needed sabbatical." This footage would not see the light of day until 2010 with the release of Colour Sound Oblivion.
On December 1st 2003, Black Sun Productions announced that it "is planning to edit a film about our collaboration with Coil. It's planned to be our personal / artistic impression on what is like to be on stage with Coil – part of Coil. It will feature live + backstage footages from our archives. The title came before everything else: ENO ERA EW. We're talking with Sleazy about how to make it as different and complementary as possible from the four live DVD Coil will release in early 2004." These releases never happened.
Line-up
Peter "Sleazy" Christopherson – Ableton sequence, video projections, Clavia Nord Modular Synthesizer
Thighpaulsandra – Fenix Synthesizer, Kurzweil Synthesizer
Tom Edwards – marimba
Advertisements, Backstage or Related Promo Material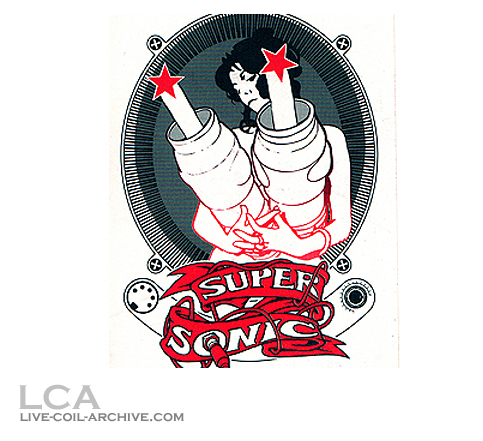 Concert Booklet and Newspaper Review
Concert Poster by artist Lucy McLauchlan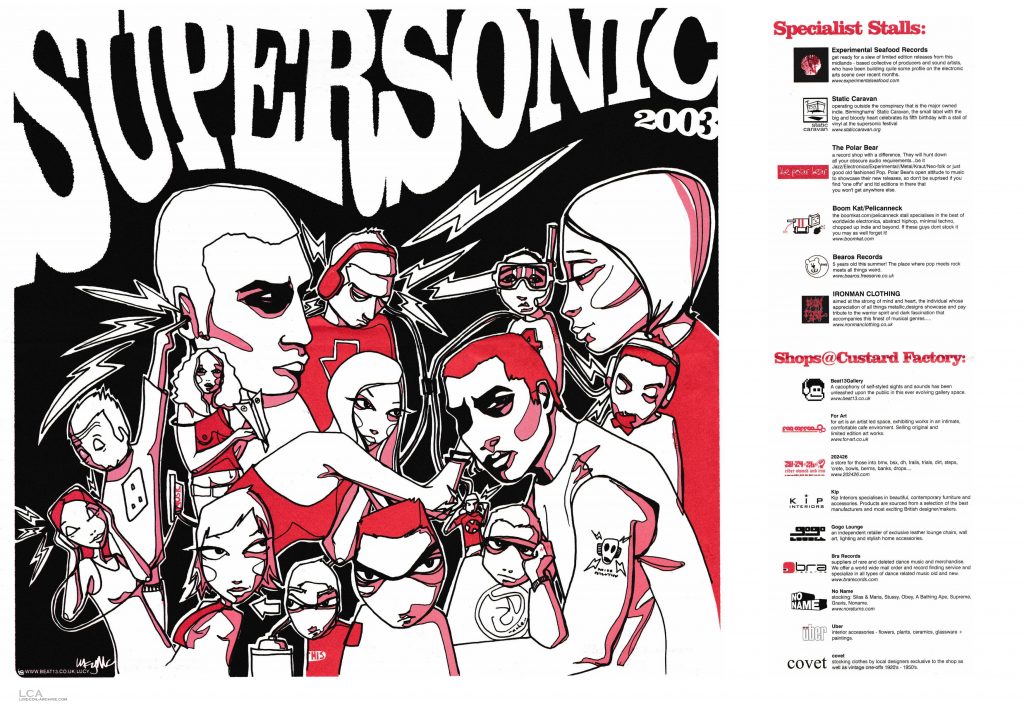 Remastered Supersonic 2003 concert poster (300dpi / 3500 x 2431)  download here.
Ticket Stubs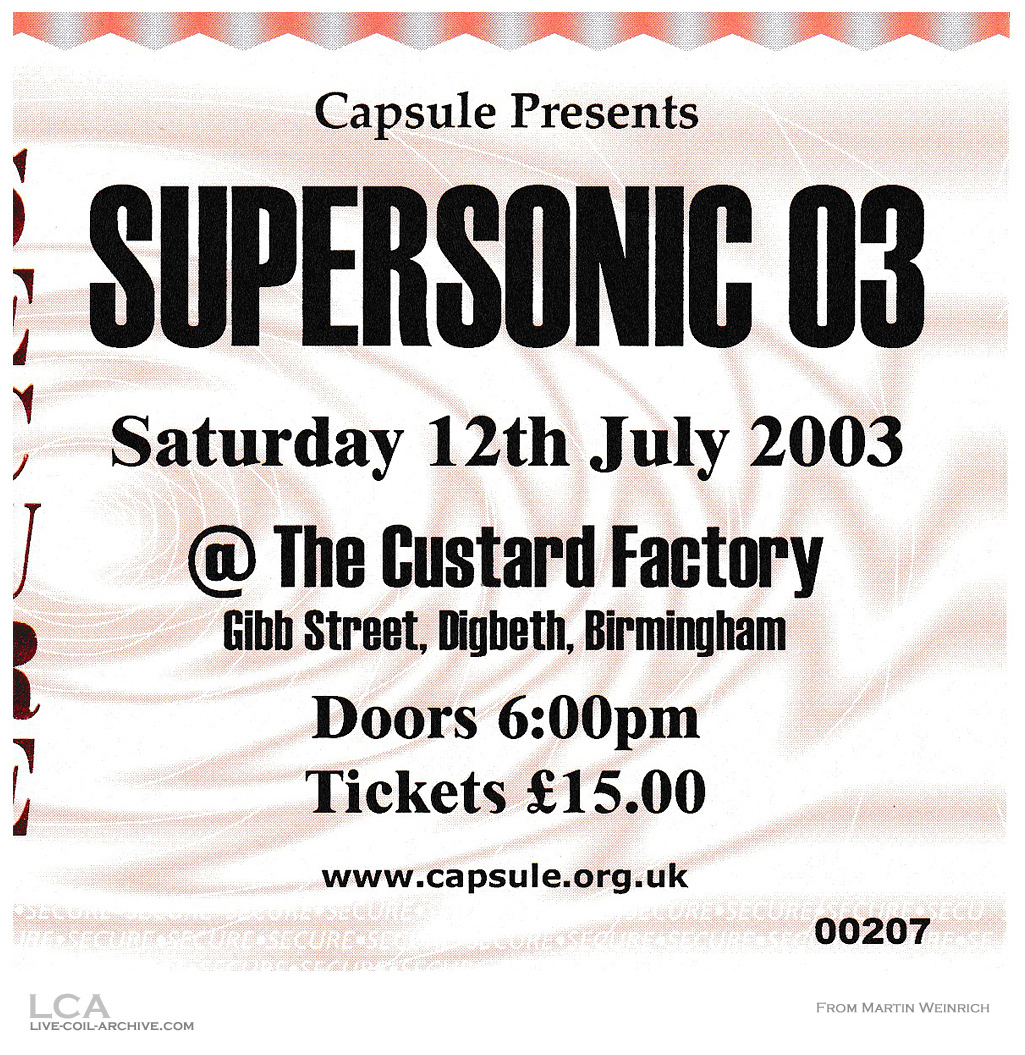 Gallery
AMT #1 – "Drip Drop (ANS)" + "Blue Rats"
SBD #1a + SBD #1b + SBD #1c + AMT #1 Matrix
Peter "Sleazy" Christopherson + Thighpaulsandra Interview – Supersonic Festival, Custard Factory, Birmingham, UK (2003-07-12)
Attendee Recollections
Sten Silhead, who attended this gig, remembers: "Was at this performance, went on way into the night, and as it got later, it got colder and colder even though it was Mid July. On the evening, it was quite difficult to see the visuals, as Peter and Thipe were across the other side of a large pond/fountain. At least they were warm, they had their Time Machines fluffy suits on for much of the performance. As you've probably heard from the audience recording, the crowd were pretty noisy, not many taking much notice of the band. Thanks so much for posting this, it's a great reminder of a fantastic evening with a wonderful ensemble. Venue was the old Bird's Custard Factory now converted into shops, offices, workspaces and art galleries. Wasn't a bad venue as such, but the courtyard had a huge pond in the middle (which is probably why it got so cold). Think it was the first or second Supersonic Festy of 'difficult' music. Saw an early set of LCD Soundsystem on the same night that was amazing, much rawer than they became later on. Lucky enough to see Coil on four or five occasions, Barbican Game On, Feotus support, Megolithomania (though had to go before end as they came on insanely late) and another I can't recall, Oh, doing Time Machines at The Julian Cope Cornucopia Festy in London. Good Times. Was gutted when they both passed. Jhonn went the same year as John Peel. Was in tears when I heard the news, They lived in Weston Super Mare in Somerset. Bumped into them both out walking their dogs on a day out with the kids, they let me gush for what seemed an age about how much I loved their music etc…Met them in about 2001 I'm guessing. Jhonn and Peter split up not long after and I think time was split for them between Threshold House in Somerset and London, though don't quote me on that. (If you use google maps look up 35 South Road in Weston Super Mare England United Kingdom you can see their old house/flat with symbols and eyes still on the front of a group of garages)."
RileyElFunk, who attended this gig, remembers: "[I went] with 3 friends. I picked up a copy of ANS too. It was the first time I'd heard Radio Weston/Wraiths & Strays, but it remains a favourite Coil track…Supersonic was the only unBalanced Coil show I saw, but the strange venue's echoey sound enhanced the whole deal, when you were there." When we started discussing recordings of the show, he said, "I don't think that the SBD isn't too bad, it certainly doesn't glitch, like the mono RA feeds that have been archived (They all did that, I got mine at the time from Capsule and it does the same at the same points)…The first version I had of the sound (the mono real audio stream), I applied the same echo acoustics that I put on the LCD Soundsystem tracks I've posted, in order to get a feel for it, and possibly 'enhance' what was a very low bitrate stream. It was a shame about the glitches in it too."
Maarten Schermer attended this gig and remembers: "Birmingham: I loved it, even if Balance wasn't there. it's the only time i heard those songs, and i was especially moved by 'the first five minutes after death', which has long been a favourite of mine. after the show, i went to say hello to peter and ask about the live-box i ordered. peter was holding a wad of paper with what looked like printed screens, rather than a neat list, and tried to find my name in them. having failed that, he then handed them to me (though i seem to remember that he held on to them, as if he was afraid that i would run off with them – i was probably looking like an overeager coil-collector so i could look for myself. i couldn't find my own name either, but he gave me a box anyway, after having written down my email address, so he could invoice me later if need be. "yeah, i think i recognize the address", he said – most likely from the endless mail-orders, I'm guessing "
Martin Weinrich attended this gig and remembers: "…I do remember very clearly hearing the timestretched version of Blue Rats for the first time and thinking that it worked really well as an instrumental piece in this tempo/format. The stage was quite exceptional as this artificial lake or pond separated the band from the audience to quite an extent. I had just seen a pretty noisy set by The Bug in the Medicine Bar (next to the main stage) and the first 20 minutes of Coil calmed down everything considerably – the stage and the fact that it took place outside further enhanced this. The closer The First Five Minutes after Death had a very strong impact on me. I recall a similar reaction of the crowd after the first couple of notes, when many recognised what was playing. I always thought the Mutek version to be somehow inferior and the Birmingham recordings can't really capture the real thing, they are just too muddied and distorted."
Cormac Pentecost attended this concert and remembers: "…I only saw them twice but the two gigs tell a story about their trajectory at the time…The second time I saw them was at the Supersonic festival at the Custard Factory in Birmingham (12th July, 2003). Even though I lived quite close to the venue at the time I had decided that I wasn't going to go. Partly it was because I was beginning to lose interest in the World Serpent stable but also because I had a very, very strong intuition that Balance wouldn't turn up for the performance. And of course he didn't. Evidently, at this time his 'problems' must have been quite well known. Coil came on very late and the audience were terrible. During their set there was a fight and someone threw up. I don't remember much about the music. I had work the next day so only got a couple of hours sleep. I don't have any good memories of this gig. But I'm sure that the music was excellent, it just wasn't the right setting for them and my attitude was not receptive. There is obviously a lot of interest in Coil's live shows but my feeling is that their true magick lies in the studio recordings."
Known Recordings
Tapes owners/taper:
AMT #1 – Michael Wild von Hohenborn
AMT #2 – Supersonic Festival
| | | | | | |
| --- | --- | --- | --- | --- | --- |
| Source | Quality | Complete | Length | Lowest Gen | Comments |
| SBD #1a | 7+/10 | Yes | 58 min | M?, 320 kbps MP3 | One track, no indices. High generation/extremely compressed, more so than other sources. Formerly labeled "AUD #1." |
| SBD #1b | 8-/10 | No | 57 min | M?, 192 kbps MP3 | Seems to be slightly higher quality than SBD #1a but lower quality than SBD #1c. There are fades between tracks. Formerly labeled "SBD." |
| SBD #1c | 8+/10 | No | 48 min | M?, 192 kbps MP3 | Seems to be a crude mix of different sources, or more likely multiple transfers of the master SBD all spliced together, meaning the sound quality isn't consistent. Some audience noise repeats. Multiple cuts between tracks, volume channels fluctuate between cuts. "Drip Drop (ANS)" cuts in and has internal cuts, "Blue Rats" has internal cuts, burn errors plague most of "Radio Weston." Formerly labeled "AUD #2 / MIX (?)." |
| AMT #1 | 8+/10 | No | 54 min | M1 (?), 720 x 576 AVI | Originally surfaced as two edited video clips on YouTube of "The First Five Minutes After Death" (2.5 mins) and "Drip Drop (ANS)" (7 mins), uploaded on January 1, 2007 and July 16, 2007 respectively by user Doppeldecker23. On October 17, 2018, Michael Wild von Hohenborn, the original taper, found four separate, seemingly uncompressed video files of his original video in higher quality and uploaded them to YouTube, later sending the raw files to LCA on October 23. The indexing puts at least a generation on the video, but its high video quality suggests it's still low-generation. The first video file is missing a file index but otherwise functions. A frame repeats between the first and second video files. "Triple Sons" cuts in and "The First Five Minutes After Death" cuts in, has an internal cut, and cuts out. |
| AMT #2 | 8+/10 | No (?) | 10 sec | M1 (?), 450 x 338 MP4 | Surfaced on Facebook August 20, 2023. 4.5-minute archival sampler film celebrating 20 years of the Supersonic Festival. ~10 seconds of Coil's performance with overdubbed audio toward the end. |
| AMT #3 | ? | ? | ? | ? | Confirmed to exist by private sources. During "Drip Drop (ANS)" on AMT #1, you see the silhouette of a tripod against the video projection for a few seconds - this could be that recording. |
Concert Recording Downloads