Home » Cancelled Concerts
A List of All Known Cancelled COIL Concerts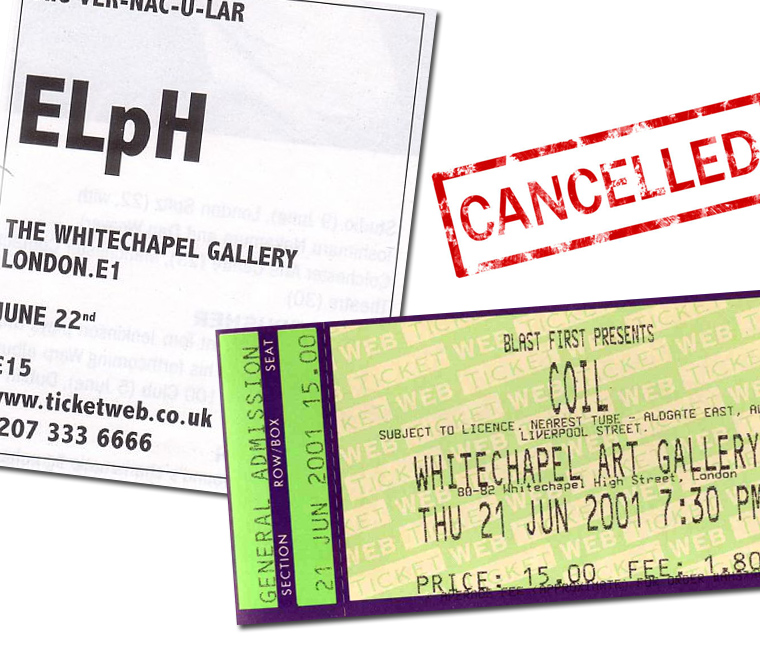 1983-06-21 Equinox Event – Camden, London, UK
From Phil Barrington's essay On Balance: Tracing the History of the First Ever COIL Recordings: "Believe it or not, COIL's very first planned live performance was cancelled by the organisers, the event itself becoming an important milestone gig for Current 93 instead. COIL were due to perform their debut set at the 21st June 1983 Equinox Event in Camden London (the very first mention of COIL on any publicity material being on this event poster). The organiser's removal of COIL from the evening's programme in the days leading up to the show provoked Geoff's anger for many months to come afterwards – indeed, five months after the band was booted off the event, Geoff remarked to Grok magazine: Coil were due to play at the summer 'Equinox Event', at the London Musicians Collective [aka the Kensington Market Musicians Co-op] but [co-organiser and performer with Operation Muzak] Mary 7 Dowd fucked us around and blatantly lied and misled us over several things. This was due to be Jim Thirlwell and I doing something together.
Obviously livid at the rejection, Geoff still adamantly turned up at the Camden venue on the night and, according to Sean Dower (from Death Magazine 52 – the last band of the evening), did a nonmusical performance "on the steel staircase outside the venue". I caught up with Sean recently and he kindly expanded upon his memories of Geoff's performance outside the venue for this essay: There was a lot of activity and intrigue going on just outside the venue on these stairs, not least because things were quite fractious and chaotic inside. I have a picture in my mind of Jhonn crouching down doing something with a box/case on these stairs, though that could be a constructed memory! I had a conversation with Jhonn on the matter in question (around 2002) when we met at a friend's wedding. This meeting was remarkable in many respects, but the short of it was that we discussed the Equinox Event that we were both involved with and he said that this was the first official performance/manifestation of COIL. That was how Jhonn described it, though I'm not sure if the performance was concrete or more symbolic.
1991 Mini-Tour in Germany and Amsterdam
On December 21, 2020, Bob Hoskins recalled: "a hardly known fact regarding Love's secret Domain is that there was supposed to be a small tour of 3 to 4 dates in Germany and one in Amsterdam, presented by Torso. An organisational meeting about this took place in winter 1990/91 at the offices of Public Propaganda in Hamburg. My memory is quite foggy but I believe the local responsible was Uwe [Höhn] from Dark Vinyl and the driving force behind the idea Vinyl Experience from London. Coil (or better John) had suggested me to take care of all promotional and public relation tasks. I don't remember why the idea was dumped in the end, but I believe Curent 93 and Death In June were much more popular with the new emerging german neofolk goth scene than COIL who were heading ffw towards psychedelic dance territories. So the same folks mentioned earlier ended up oganizing a DIJ/C93 and a Whitehouse minitour as well soon after. Oh, by the way, the COIL tour was planned to be a double headlining bill. The other act: LUSTMØRD! For years after I felt Germany had REALLY missed out on something Incredibly great (Lustmord had just relased 'Heresy', and COIL… I knew nobody who DIDN'T want to see them live more than anyone)…my most vivid memory (because it's physical memorabilia) is this is where I got my The Snow promo package which you'll find in the old brainwashed discography but not on Discogs. The rest of the details are in my posting above. I am 100% sure there also was a few pages printed (a sketch of what was planned, which media were targeted etc.) that I had been sent in advance by either snail mail or by fax. The chances are there but very low that this still lies buried somewhere in my archives…the date of that meeting (none of the artists present, just organizers & media) was winter 1990/91 so I suppose between 11/90 and 2/91?"
John had previously stated in The Sound or Progress in 1986 that Coil were disinterested in playing live and took perverse pleasure in turning tour offers down, and it's likely they would have turned this down too.
2001-06-19 to 23 Whitechapel Gallery – Whitechapel High Street, London, UK
Supposedly, these shows were to be art installations, not gigs, although the various names billed suggest some combination of the two:
June 21st – Coil
June 22nd – eLpH
June 23rd – Coil Presents Time Machines
What these performances would have entailed and how they would have differed remains unclear, though it can be assumed Coil would have played some (or all) songs from the original "Time Machines" set at the June 23rd show. All events were cancelled in May 2001.
2001-09-28 Teatro Duse, Bologna, Italy
Technically, this gig was never officially planned. It was just a rumor.
Spring 2002: North American Tour
This tour was to be 5-6 dates. It was cancelled due to John's sudden heart episode and replaced with a European tour instead.
2001-11-25 Teatro Duse, Bologna, Italy
Planned by September 29th, 2001 as a part of the original tentative post-"Constant Shallowness Leads to Evil"-era touring schedule. This was the only show never to be rescheduled.
2002-01-xx Unknown Venue, Brussels, Belgium and 2002-02-xx Unknown Venue, Unknown City, Holland
Planned by October 29th, 2001 as a part of the second tentative post-"Constant Shallowness Leads to Evil"-era touring schedule. Ultimately, Coil never played in Brussels or Holland.
2002-04-02 Forum, Bielefeld, Germany
This gig was announced on February 3rd, 2002, but was moved to Vooruit, Ghent, Germany on February 13th.
2002-04-03 Unknown Venue, Unknown City, the Netherlands
Planned by January 3rd, 2002 as a part of the final post-"Constant Shallowness Leads to Evil" era touring schedule, which included all the April shows that eventually came to be. This was the only gig from that schedule to never take place.
2002-09-26 DK Gorbunova, Moscow, Russia
Moved to Tochka instead.
2002-11-01 and 2002-11-02 Unknown Locations, Unknown Cities, Italy
Planned by September 25th, 2002 as a part of the Scandanavian/European autumn tour. Likely cancelled due to John's degrading mental health and increasing addiction to alcohol and other drugs.
2002-11-04 Teatro l', Milano, Italy
Technically not a Coil gig. This was to be Plastic Spider Thing's 12th ritual performance, which Coil were to take part in. Unfortunately, Massimo and Pierce withdrew from the performance once they learned on November 2nd that the Italian border tightened their security in preparation for the Social European Forum meeting in Florence.
Early 2003 Unknown Venue, New York City, NY, USA
Reported by John on December 12th, 2002 in Solar Lodge, the Coil Soulseek group. Bablicon were set to open for them. It's unknown how far this plan got.
Spring 2003: USA/South America Tour
On May 5, 2002, John stated: "Plans for USA Spring 2003 but we desperately need a reliable promoter!!! Can anyone help??? And then Mexico, Brazil and South America after that. And a full COIL 6 hour event at the Shepherds Bush Empire in London as soon as we can get slotted in."
Presumably, Coil could not find a reliable promoter for this proposed tour after all.
2004-05-29 Gagarin 205, Athens, Greece
Planned by April 26th, 2004. Cancelled for unknown reasons.
2004-11-02 Unknown Venue, Ostia, Italy
Gerhall Hardstatt states: "I recall also that John had mentioned in a card or e-mail to me the idea for another concert at Ostia in connection with PPP. But there was not enough time for this to take place. He had mentioned in this also the name Enrico…It was something in connection with Pier Paolo Pasolini and his death, and he had suggested that also Allerseelen perform – as Allerseelen is the very date of the death of PPP – 02.11…I just found a card that John had mailed to me, date 22.10.2004: 'I´m speaking to the Italians.' It was a strange moment as I got this card inside a letter with a serious delay – I received it only around December 2004."
Enrico Croci helped book Coil for their three Italy shows in Bologna, Fano, and Jesi. Presumably, the date passed before any performance got set in stone.
2004-11-12 "Seed Records 4th Birthday" – Aldwych Disused Tube Station, City of Westminster, London, UK
Cancelled earlier that day. The set was to be "short and low key."
2004-12-03, 04, or 05 "The Nightmare Before Christmas" – All Tomorrow's Parties, Camber Sands, Camber & 2004-12-06 MEM Festival, Bilbao, Spain
Announced on November 10th, 2004. Cancelled due to John's death. Throbbing Gristle played at the former event and dedicated their set to him.