"The Industrial Use of Semen Will Revolutionise the Human Race"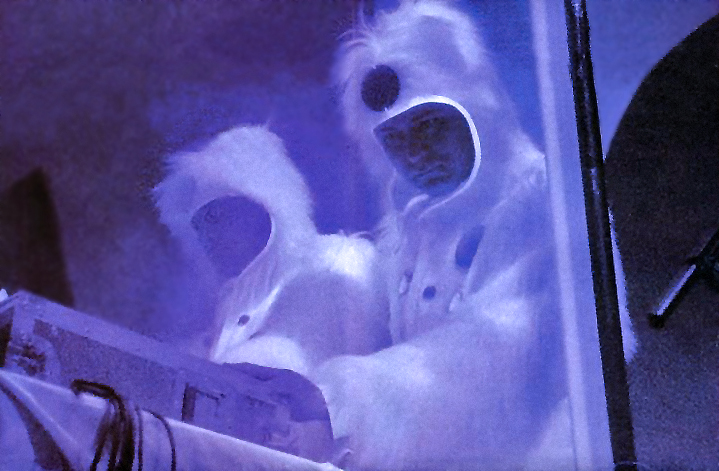 2nd April 2000 – Cornucopea – Royal Festival Hall, South Bank, London, England
Set List
Everything Keeps Dissolving
Queens of the Circulating Library
Chasms
Sipping Birdsong Through Bedsprings
Touring Background
Booking agent Sabine Waltz remembers: "I am running a booking agency since 1987 and I meet them [Coil] at a show in London where they played together w/ foetus, who I was working with. It was the Royal Festival Hall. We talked and some months later I booked a tour for them."
Regarding gig cancellations and rearranging shows as a result of John's eventual health episode and alcoholism: "they never cancelled any tour I booked… We had to move some shows but this was more a logistic problem. John was fine then, until about a year before he died… Coil have never played more, as a London show, before I met them and I am very happy about the fact that we always had a good relationship. They never have let me down. Even when John was at his worse state of mind, they did the shows… John did not have a heart attack as far as I know… And again I had no cancellation of any shows and I was the only person who booked shows for them. They did not trust anyone else. I booked all the shows from 2001 until the end."
Regarding what gigs she booked and her memories of the group: "I booked about three tours… We also went to Russia and did a show in New York. I was traveling with them to several shows. The band was unique, very special, great concerts if they had played at the right context. It was a piece of art rather when a rock show. Sleazy and John were very nice people, we became friends over the years."
She hired live sound mixers Andy Ray and Tim Sutherland as well, who would work with Coil at most of their subsequent shows.
Concert Background
"The Industrial Use of Semen Will Revolutionise the Human Race." First gig of the new millennium.
"Time Machines from the Heart of Darkness" phase, named after the live CD featuring this show. The setlist was primarily based on their studio albums Time Machines (released in January 1998) and Queens of the Circulating Library (released at this very show). "Everything Keeps Dissolving" and "Chasms" are lengthy drone/ambient tracks exclusive to live performances, while the alternatively titled "Circulating" differs dramatically from the studio version, most notably in its shorter length. Dorothy Lewis' pre-recorded vocals would be manipulated live by the band and John would sing live with her.
Feeling: Fluffy. The band famously debuted the fluffy white "polar bear" costumes during this phase, which they would reuse sporadically throughout the rest of their tours. The costumes were designed by their friend David Cabaret and largely inspired by the outfits of jazz musician Sun Ra and his Arkestra.
Debut performances of all songs, only performance of "Sipping Birdsong Through Bedsprings"
Merchandise sold at the gig: Queens of the Circulating Library (2000), Thighpaulsandra's solo album Some Head (2000).
The full event was called "Cornucopea (Two South Bank Evenings with Julian Cope)." Julian Cope is an underground cult musician best known for his 80s electronic band The Teardrop Explodes. Before Thighpaulsandra joined Coil, he played keyboards in Cope's solo work through the 90s. The two would later have a falling out over sexual imagery in Thighpaulsandra's solo work, leading to the rest of Coil distancing themselves from Cope and John even slighting him at the 2002-06-07 Den Haag show. This didn't stop Cope from publishing tribute album John Balance Enters Valhalla in 2019, however.
Coil hung a backdrop designed by John Dee behind them as they played. It is a symbol compromised of the letters "C O I L," reminiscent of the Einstürzende Neubauten logo (which was an undefined archaic ideogram or petroglyph). Peter would incorporate the image into the backing video projection for their song "Something," to be debuted at the next Royal Festival Hall gig, 2000-09-19.
According to Phil Barrington in his book The Golden Age of Bloodsports: The Collected Words, Lyrics, and Performed Songs of Jhonn Balance, "Coil's first major live appearance for around 17 years was at Julian Cope's Cornucopea event at London's Royal Festival Hall, billed variously as 'Coil Presents Time Machines,' 'Time Machines from the Heart of Darkness,' and 'The Industrial Use Of Semen Will Revolutionize The Human Race' (the latter also apparently the proto-title of the 'Circulating' track). Balance appears with a black eye (the others soon to apply makeup to their faces to match his beaten look). Jhonn's bruised eye is referred to only as a 'drunken incident.' Whether this was self-inflicted, a result of misadventure, or even a bar-room 'disagreement' is not publicly known."
John had previously sang at a few Current 93 concerts in the 90s, but this was his first confirmed Coil concert singing. He kept his vocals to a minimum. Recollections from attendees indicate the band were stony faced in concentration throughout. Every action of theirs appeared carefully rehearsed.
Peter's backing audio tracks for this concert have not yet surfaced, though John later admitted to a fan, much to his embarrassment, that most of the music "performed" was actually pre-recorded and played from a CD. Strangely, additional live instrumentation present on fan-made sources is edited out of officially released ones, suggesting the concert may have been recorded on multi-track. Why Peter would edit music out like this is unknown.
The audience apparently laughed as Coil filed onto the stage, given their costumes, but let out a collective "Awww" and applauded when John and Peter hugged each other. Thighpaulsandra played a few synth notes (edited out of official releases) before Peter commenced the backing audio track to the first song proper.
Everything Keeps Dissolving
John spent most of the time walking around the stage equipment as the other members played. At one point, he shone a light into Thighpaulsandra's eye as he played synth.
After the song, the band members each took turns removing their hoods; first John, then Thighpaulsandra, then Peter, finally Ossian.
Queens of the Circulating Library
Dorothy Lewis:
I am the Queen of the Circulating Library
I have declared an amnesty
All books may be returned without a penalty
Return the books to me
Return the books
Don't burn the books
You cut down the trees to make paper disease
It's in the trees; it's coming
Return the book of knowledge
Return the marble index
File under "Paradox"
The forest is a college
Each tree a university
I am the Queen of the circulated library
I'm here to answer your enquiry
All knowledge resides within me
Your membership has expired
You are way past expiry dates
Words, words, words, words!
You may as well listen to the birds
John:
I am the Queen of the Circulating Library
I am here to answer your inquiries
(Here to answer your in-)
The industrial use of semen will revolutionize society
(Society)
It will revolutionize the human race
(-ize the human race, human race, human race…)
This is to all new mothers
And for all you circulators
You astral navigators waiting for permission to land
From the mothership and the fatherland
(From the mothership, ship and the la-la-land…)
(Mothership and the fatherland, from-)
Tell your unborn sons and daughters
Don't believe in earthbound lies
The stars themselves contain the truth
The future is written in the skies
(Written in the sky)
(Sky, from the sky, in the skies)
(-en, in the skies…)
Words, words, words, words
You may as well listen to the birds
The line "It's in the trees, it's coming" is taken from the 1957 film Night of the Demon (aka Curse of the Demon). John would recycle it and some variants a few times later on, including on some performances of "Higher Beings Command," the last performance of "Anarcadia: All Horned Animals," and some performances of "Drip Drop." "The Mothership and the Fatherland" is the name of a song off of 1999's Astral Disaster.
Chasms
Every man and every woman is a star [repeated]
This line comes from Line 3, Chapter 1 of Liber AL vel Legis, or The Book of the Law, written in 1904 by Aleister Crowley under Thelema, his religion.
At one point during the song, John climbed onto one of the speaker cabinets and pretended to nap.
Sipping Birdsong Through Bedsprings
Peter edited this track almost entirely out of all official releases for unknown reasons. It was first released publicly by friend and fan Andrew Lahman on Sleazy Final Playlist, a tribute compilation to Peter after he passed away in November 2010. While the band's concert notes refer to the track simply as "Birds," Andrew named the song after one of twenty-three John variously named each individual Live Box (2003).
RFH Performance Outline
Coil's notes on the first RFH performance were published in 2020's The Universe is a Haunted House book. They give historical insight into the creative process of how they shaped this performance:
Section 1 00:00 – 15:15
Very low key additions only
Sleazy:
Be calm!
Section 2 15:15 – 28:30
Simon & Geff: SMOKE!
Sleazy: slow metal
After Dorothy "Words, words, words" (approx 22:00)
Geff Vox through 16 sec delay
Thighpaulsandra: Manipulate delay.
24:30-28:00
Abstract ending section – wierd [sic] vocal cutup – freestyle additions…
Section 3 28:30 – 40:00
Geff Vox through Vocoder "Every Man and Every Woman is a Star"
Nord #60 in A>E>A
Thighpaulsandra: additional harmonic high tones stepping through…?
Don't fill in gap at 38:00
Section 4 40:00 – 51:15
As above plus big rhythm – Mirrors into audience!
Thighpaulsandra: ascending tones?
Geff shouts ? + 16 second delay
Sleazy:
All: Cacophony at end (but tasteful!) more smoke!
Section 5 – 51:15
Birds
Simon & Geff: FROZEN SMOKE!
Line-up
John Balance – vocals
Peter "Sleazy" Christopherson – backing audio sequence, Fenix Synthesizer
Thighpaulsandra – Fenix Synthesizer
Simon Norris (Ossian Brown) – synthesizers
Advertisements and Related Promo Material
Ticket Stubs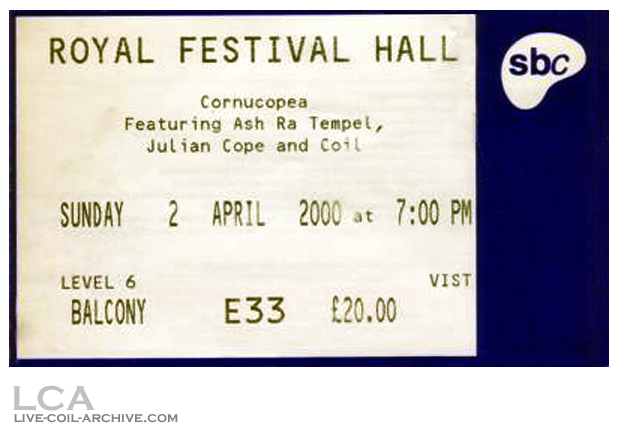 Gallery
Notes on Video Footage of This Show
Becuase this was Coil's first proper concert in 17 years, there was much hype surrounding it in the preceding months, leading to a well-attended and well-documented concert. Sadly, South Bank Centre had strict policies on punters recording shows. Even if punters got cameras and tape recorders past the door, ushers still walked around the rows of seats, shining their torches around. If they saw anyone with a camera, they'd issue them a warning. With repeated transgressions, punters risked their equipment getting taken or even getting kicked out of the venue. As such, there exist few amateur audio and video recordings of the three concerts Coil played at the Royal Festival Hall. Those that do exist are usually average or poor quality since they were made surreptitiously. Only one such fan-made recording, AMT #1 (by RileyElFuk), has surfaced of this concert, and its cinematography focuses more on the ceiling and backdrop of the venue than the band members themselves so as to avoid detection.
Fortunately, the staff at Royal Festival Hall and Coil themselves would usually have the foresight to make their own recordings of these shows. Coil knew this was a momentous event for their history, so they organized a professional soundboard recording and a few different photographers and videographers to document the performance with permission. The band would later officially release SBD #1a and SBD #1b from this concert on Time Machines from the Heart of Darkness (2000) and Live One (2003) respectively, but never any video footage, even though they had multiple video sources. One would think this concert would be an obvious choice for the live DVD boxset Colour Sound Oblivion (2010), but nope. Peter left the gig off the set and none of the three alleged videos Andrew Lahman states exist have surfaced.
If you have any video footage of this show, please let us know! LCA and all Coil fans would be eternally grateful if you shared it with the world!
Gig Review(s)
The following is a review of the concert published at Compulsion Online.
"Coil Presents Time Machines. Julian Cope's Cornucopea, Royal Festival Hall, London."
For two nights Julian Cope, Ur Pagan, Krautrock devotee and author of the Modern Antiquarian, held court at the Royal Festival Hall, London, assembling a line-up that included Groundhogs, Skyray, Ash Ra Tempel and various members of the extended Cope family includingThighpaulsandra, Anal and the unveiling of Cope's new bubblegum trio, Brain Donor. The most surprising and least expected addition to the bill was the inclusion of Coil, who were stepping out of the darkness to perform live as their hardcore minimalist alter-ego, Time Machines. Until April 2 2000CE Coil's last live event was with Zos Kia in 1983. Coil's inclusion was a real scoop for both Cope and the Festival Hall.
Tonight, Coil as Time Machines, which John has previously described as "hardcore La Monte Young" were to present a piece called "The Industrial Use of Semen Will Revolutionise the Human Race". The nucleus of John Balance and Peter "Sleazy" Christopherson was extended to include new recruit Thighpaulsandra and Cyclobe's Simon Norris. With a history of hermeticism, occultism and their overall dark demeanour no-one could have predicted that when the 4 members took to the stage they would be dressed in what has been described as virginal gonks, or pagan teletubbies (sans handbags). With spherical mirrors attached to their outfits and the glare of the fluorescent lights at times they appeared almost pink.
Perhaps the outrageous outfits were a reaction to the greyness of TG, the bleakness of post-industrialism, Thighpaulsandra's love of fake fur, Sleazy's latest fetish. Or perhaps it was the inevitable consequence of having four gay men on stage. Balance had warned about the energies they may create. It did cause universal smiling throughout the hall.
The keyboards were set in a semi circle placed in front of a backdrop of John Dee's glyph. Symbols were emblazoned on sheets draped over tables where the keyboards sat. Each member stood behind a keyboard, Sleazy appeared to take the pivotal role whilst Balance veered between keyboards and microphone. When vocals did appear they would be phased and looped and fed back into the mix. The actual equipment looked like it could be packed and stored in suitcases.
The sounds produced were pure electronic. The keyboards buzzed, bleeped, droned and at times sounded almost ELpH like as they pounded the Festival Hall at a tremendous volume. Occasionally the vibrations were so intense it felt as thought the sounds were coming from within. More importantly it sounded alive. As Balance paced the stage, the others hunched over their consoles looking like fluffy astronauts on a lunar mission. While Sleazy and Thighpaulsandra continued to unleash their electronic drones, Balance and Norris flanked the side of the stages. Kneeling down each holding a spherical mirror the reflective glare of the lights was projected at the audience. As the lights were shone over the faces of the audience it appeared that everyone in the Festival Hall was part of a mass ritual. Magick was at work within the Royal Festival Hall. Towards the end of the hour-long set the electronic sounds dimmed and were replaced by the sounds of electronic twittering. It was the sound of birdcalls. The four now hooded, huddled together in a group hug. Balance then sloped off from the group towards one of the wings, ascended a speaker stack and lay in a foetal like position with one hand dangling over the speaker. Then, like a proud peacock, he sat upright chest thrust out and posing.
And then it was over, but not before all four members took a well deserved bow to rapturous applause. The crowd appeared to be stunned. Coil appeared to have loved it and so they should have. Earlier that evening Balance had quoted the famous Aleister Crowley maxim that "Every Man and Woman Is A Star". Tonight Coil were by far the brightest.
It was a hard act to follow so it was hardly surprising that Julian Cope wanted to open the night. When Cope appeared on stage he was, as ever, decked out in fur patterned lycra leggings and tight fitting top. A hideous pair of platform boots and his unwieldy hair completed the image. Fashion never was one of Julian Cope's strong points.
The previous night he'd launched his new bubblegum pop trio, Brain Donor. Tonight was to be Cope in solo mode. Opening with Pristeen, a lovely Mother Earth metaphor from the great Peggy Suicide album, things were evidently looking good but then Cope went weird on us. Julian Cope became George Clinton, the Festival Hall (Cope a fervent anti-Royalist ditched the Royal part earlier on) became a spaceship and we were off flying across London and transported to Wiltshire and the standing stones of Avebury. This was Julian Cope's very own Journey To Avebury.
When Cope did return to earth he alternated between his ancient Mellotron keyboard, and a selection of guitars generally favouring a doublenecked guitar as it provided the necessary wah-wah sound most appropriate to the night. With his poetic tales and fearsome guitar Cope informed the audience that he was now the personification of the Viking God, Odin. And as this was Mothering Sunday all songs were dedicated to Mother Earth. As much as I love Julian's books and enjoy his spoken word nights sometimes, like tonight, you just wish he'd shut the fuck-up and play.
On the whole this was a frustrating performance from Julian Cope but he managed to salvage his set with a selection of great songs including 'Jerky Pop Perky Jean', The Great Dominion' and a revival of the Teardrop's 'Sleeping Gas' with Skyray and ex -Teardrop's Paul Simpson pumping the Festival Hall Organ and a casio keyboard. Cope for all his strangeness and love of Krautrock is basically a great pop (song) writer and it's one of his main strengths. It's something he should stick too.
Attendee Recollections
Terv Terran attended this gig. He remembers: "The first time I saw Coil was with Foetus in 2000, ten years ago. Feels like several lifetimes. I went there to see Foetus, whom I love; I liked Coil, don't get me wrong, but they weren't a favourite band until I experienced them live. All in white, they were, and set about in a circle of inward-facing technology like they were conducting a scientific experiment of some great import. Then the sound started, the beautiful all-encompassing life-changing sound. Louder louder LOUDER; please God fuck my mind for good. Reckon it did, at that." Paul Morton, in response, said, "I fuckin hated the Foetus performance.I wasn't the only one, since Balance said "rock is dead" or something similar when he came onstage. Did I hallucinate that [sic]?" Terv further stated, "Can't remember. Jim Thirlwell has always been hit and miss live. Coil blew him away, but my love of Foetus allowed me to view his ramshackle performance as idiosyncratic rather than shit."
Steve Garlick attended this gig. He remembers: "That was the first and only time I got to see them (w/ foetus in 2000) – still the most intense performance I've ever seen any act give. I was lucky enough to meet them briefly afterwards and was blown away by how gracious they were." Terv, in response, said: "Yes they happily mingled with their audience both before and after their performances. Shyness and the vague sense that I wanted to keep the audience/performer boundary intact meant I never said hello or complimented them. I regret that now, as I had numerous easy opportunities. I was always completely off my tits at Coil gigs though, it must be said. "Hi I'm tripping balls you guys are greeaaaaat…" Probably for the best as it is, eh? [sic]"
RileyELFuk attended and video-taped a portion of this gig. He remembers: "My first Coil gig. I took a video camera, but was worried that it may get taken from me, and I wanted to enjoy the gig and acid, so I filmed largely the backdrop and ceiling through the shoulders of those sat in front of me…They started as we entered the auditorium and headed to our seats, so I missed the beginning, especially as I was gauging whether I wanted to be obvious with the camera, and trying to see if it was getting any visuals beyond the back of the seat in front, with it sitting on my knee. All this with the acid kicking in…It didn't look awfully camera friendly in the festival hall. I'd seen staff talking to someone with an obvious SLR, and as I was 4 seats from the aisle, with an attendant stood there. I chose not to risk getting my camera taken off me, or somehow worse, getting kicked out…[I]t was an analogue camera from the 90's. I switched it to a slow shutter speed to increase the available light, which gives it that animated look…The switch to negative, and shutter speed adjustments, I did in camera at the time, as it added more detail, particularly in the smoke. You can always flip the negative in your editor…The one thing that does stand out as an additional reminder for me, is that you can hear certain frequencies causing sympathetic vibrations in both the auditorium, and my video camera. There's a short clip of it posted on You Tube…" That footage, of "Queens of the Circulating Library," was uploaded November 12, 2010. "The truth is that it was barely filmed at all, I decided to just capture the audio, but the footage is interesting to watch, a strangely odd view of the venue, rather than the gig. The interference fringe of it, where the edge of the show met the empty space of the venue. I still wish I'd got some good footage though. I didn't actually attempt to record any others [gigs] sadly."
Brian Conniffe attended this gig and remembers: "London, UK: Royal Festival Hall, 2000.04.02, Cornucopea. First Time Machines concert. It was good, but got a lukewarm / indifferent reaction from the Julian Rock / rock music fans who made up a lot of the audience. The stage set up was clearly meant to impart the sense of a performance of ceremonial magic rather than a music performance. It was great to hear the synth drones very loud through the PA: the Live One CD can't quite capture that, and it is also unfortunately lacking the extended bird song track which closed the set. Met Balance, Sleazy, Ossian, Rose and Tibet in the foyer of the venue, all of whom were very pleasant. Balance seemed to be on a real high after the performance, but alcohol or other substances might have been a part of that. He tried to convince me to come back to his hotel room, however I declined and missed out on what was surely my groupie opportunity."
Cormac Pentecost attended this concert and remembers: "…I only saw them twice but the two gigs tell a story about their trajectory at the time. The first one was at the Julian Cope Cornucopea festival at the Royal Festival Hall (2nd April, 2000). Before the gig (or perhaps in an interval between bands) I remember seeing the children's poet Michael Rosen in the foyer area. Presumably he was giving a performance somewhere else within the building that day. I must have had no money at all because I didn't buy any merchandise but I remember that the watches that ran backwards and the 'Industrial use of semen' T-shirts were on sale. Regarding the performance itself, the things I recall are John Balance reciting the phrase from Liber Al, "Every man and every woman is a star" and the lyric, "Words, words, words, you might as well listen to the birds." The thing that stood out most though was John Balance shining a spotlight into the audience. (Having looked at the Coil Live Archive, it would appear that it was actually a mirror reflecting light. So be it.) I think that the light was shone at every member of the audience and my interpretation was that everyone was meant to be included in the performance, there's no distinction between artist and spectator, every man and every woman is a star, etc. Another thing that I do recall is that Current 93 (or at least David Tibet and friends) occupied the royal box. They only sat there for Coil and were absent for the other acts. I still think that that seemed a little discourteous, or at least pointed. In any case, it was their loss because Julian Cope was excellent. I don't remember anything about Ash Ra Tempel except that they were quite boring. I think that all ticket holders were given a copy of the Cornucopea CD (mine is long since sold: once poor, always poor). As Coil had not played live for so long it was difficult to know what to expect. Remember that in 2000 the internet wasn't at all what it is now so there was no sense of collective expectation. I think that I had maybe expected the performance to be more song based and that John Balance would be more of a 'front man'…As addenda, I also saw John Balance perform with Current 93 a couple of times. The first was in Walthamstow in 1992 or 1993, around the time of Thunder Perfect Mind. He was stood in the audience for the support act and he was wearing a T-shirt with a crude, graffiti-type picture of a smiling penis with the slogan, 'More Protein'. His trousers had the work 'FUCK' printed multiple times all over them. He sang backing vocals during 'All the Stars are Dead Now' – "Jesus kills Hitler." As the song came to an end he shouted, "Fuck Jesus, fuck Hitler!" He certainly made an impression and it may have been because of this performance that I expected him to be more of a 'presence' when I saw Coil live. I saw Current 93 again in 1997 in a London church (Union Chapel??). It must have been the day after the general election because David Tibet came on stage and said, "New Labour, new Current 93." You had to be there. I'm sketchy on this but I think Balance recited, "Why can't we all just walk away?" from 'The Long Shadow Falls'. I do remember him performing in 'Twilight, Twilight, Nihil, Nihil' – "Who will deliver me from this body of death?" He was one amongst several people reciting the various parts from that track. I don't remember who the others were. As an intensely shy person I never managed to pluck up the courage to speak with any of the people I saw perform, something I regret. I've been reacquainting myself with Coil's music over the past few months (after having sold all of it years ago- including a vinyl LSD) and this group has been very helpful in this. Thanks for giving me an opportunity to share these fallible memories."
David Larkin remembers: "ok my recollection was getting there late due to an ocd type friend , he ate a jacket potato as they played but we didn't know they had come on , we went to our level and to the toilet , then we realised the very strange piped musick was the sound of time machines and not a playlist , then we rushed to our seats to see the last 30 minutes or so…I saw them twice at the RFH and I get mixed up with which one was what I do know I got to talk to them both briefly and autographs on the ticket Think that was the other time when it was coil and not cook presents time machines."
Alma Fuerte remembers: "Yay…..I was there too. I cried because it was AWESOME. Got Sleazy autograph in the elevator."
Mark Kanakala remembers: "Made a 400 mile round trip from Manchester by train to see this on a Sunday night. Ransacked the merch stand in the foyer. It didn't disappoint. Vaguely remember loads of footie fans on the train home, as it was some big match at Wembley that day."
Paul King remembers: "I was there too. I remember a lot of people in the audience laughing when they walked on stage in their Teletubbies costumes. Just before starting, Balance and Sleazy hugged and the audience let out a collective 'aww' and all laughing stopped. I remember the performance being loud enough to make parts of the venue rattle, and members of the group using mirrors to bounce light into the audience's eyes to create afterimages. I'd been sitting in a box with 3 other guys and had shared my spliffs with them and they shared a bottle of something with me. It turned out that one of them had made Coil's costumes, and asked me if I'd like to go backstage after the gig. So he blagged me past the security, and I ended up chatting to Balance for ages. It was all pretty foggy because of what I'd indulged in by that point, but I remember him telling me sheepishly that a lot of what they had played earlier was pre-recorded. He then offered to sign the copy of Queens of the Circulating Library that I'd bought from the merch stall, so we went on a crazy and fruitless search to find a pen that would write on the plastic clamshell case. So I never did get it signed, but have the memory of going on a wild goose chase with him for a pen to try and get it signed. :)"
Known Recordings
Tapes owners/taper:
SBD #1c – Andrew Lahman
AMT #1 – RileyELFuk
| | | | | | |
| --- | --- | --- | --- | --- | --- |
| Source | Quality | Complete | Length | Lowest Gen | Comments |
| SBD #1a | 9+/10 | No | 50 min | M1, FLAC | Officially released as Time Machines Live. There's clipping at the end of "Chasms". "Sipping Birdsong Through Bedsprings" appears to be a hidden track on the listing, as it plays at the end of "Chasms". Edits throughout, primarily during the intro to "Queens of the Circulating Library," "Sipping Birdsong Through Bedsprings" cuts out after a few seconds. |
| SBD #1b | 9+/10 | No | 50 min | M1, FLAC | Officially released as Disc A of Live One. More compressed than SBD #1a, 4db louder overall. "Sipping Birdsong Through Bedsprings" appears to be a hidden track on the listing, as it plays at the end of "Chasms". Edits throughout, primarily during the intro to "Queens of the Circulating Library"; "Sipping Birdsong Through Bedsprings" cuts out after a few seconds. |
| SBD #1c | 9+/10 | No (?) | 5 min | M0 (?), FLAC | Found by Andrew Lahman on one of Peter's tapes; originally shared by Lahman as a part of Sleazy Final Playlist, his tribute to Peter after his passing. "Sipping Birdsong Through Bedsprings" only. |
| AMT #1 | 7+/10 | No | 46 min | M0, 720 x 480 AVI | Possible lineage: 1990s analog video camera > ? > .avi video file and separate lossless WAV audio. Surfaced in full on April 15, 2017. Mostly shots of the backdrop and the venue ceiling rather than the performance. Switches to low shutter speed in the middle of "Everything Keeps Dissolving" and then to negative during "Queens of the Circulating Library," both video effects persisting through most of the rest of the footage. "Everything Keeps Dissolving" cuts in. Video has lossy audio but a separate lossless WAV rip of the audio has also surfaced. |
| AMT #2 | ? | ? | ? | ? | Remains private. |
| AMT #3 | ? | ? | ? | ? | Coil made this recording with a static camera placed at the sound engineers board. Remains private. |
| AMT #4 | ? | ? | ? | ? | Recorded by a fan. Peter didn't think this recording was good enough for inclusion on CSO. Remains unsurfaced. |
| AMT #5 | ? | ? | ? | ? | Filmed from one of the boxes on the side of the stage. Remains unsurfaced. |
Concert Recording Downloads