At Royal Festival Hall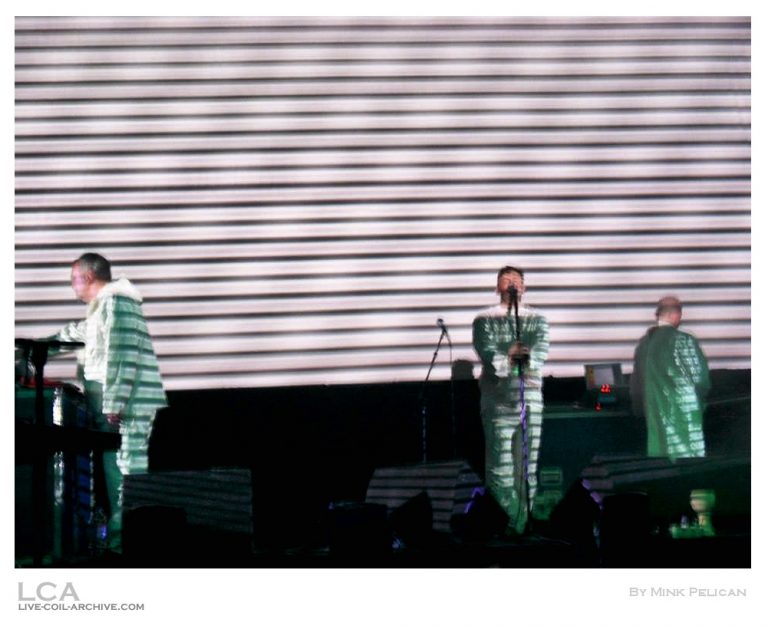 1st October 2002 – "Mind Your Head" Festival, Night 2 – Royal Festival Hall, London, England
Set List

I Am Angie Bowie (Sine Waves)
The Last Rites of Spring
A Warning from the Sun
Ostia
I Don't Want to Be the One
Bang Bang (Sonny Bono Cover)
Are You Shivering?
Personal Background
As it turns out, returning from Russia, John was no longer too keen on performing live, as the strict schedule began taking its toll on his psyche. His then-boyfriend Fred Mann remembers (edited for clarity): "Ha. He refused to go to [Megalithomania] and said he was going to mime supporting at the Royal Festival Hall. I absolutely put my foot down and made him go so he took one of the collars off the dogs, Moon or Pan, and wore it and kept making dog paws with his fists. He could be such a diva, and he did need to be told by somebody who simply wasn't starstruck or he would really take advantage." This explains why many fans remember John looking disheveled – he simply did not want to be there.
Temper tantrums aside, urged by Fred, Peter, and his other band mates, John performed at every Coil concert for the rest of the year, though he ducked out of every PR opportunity he could, and was likely the main reason why two gigs in Italy at the beginning of November were later canceled.
Concert Background
Feeling: Reflective
"Live Four" phase.
Royal Festival Hall apparently never allowed Coil to play a set longer than around 55 minutes for any of the three gigs they played there. The two Russia gigs established the "Live Four" set as at least over 80 minutes, even expanding to almost 90 with the addition of "Windowpane" much later on at 2002-10-26 Lodz, so the band were forced to play a substantially truncated set. The nearly ubiquitous "Amethyst Deceivers," the unpredictable "Lake View," and the lengthy powerhouse "An Unearthly Red" were all cut to save about 28 minutes, while the combination of "I Am Angie Bowie (Sine Waves)" and "The Last Rites of Spring" were expanded from about 16 to 18 minutes to make an approximately 54-minute performance. "Are You Shivering?" was moved to the tail-end of the set as well. Unless a recording of 2002-10-19 Stockholm eventually proves different, this was the shortest "Live Four" gig Coil ever performed.
Massimo and Pierce stopped painting the black stripe along their bodies from this point on.
Coil opened for Sigur Ros. They liked the band, so Pierce Wyss and Massimo Villani did not make a mess of the stage with fake blood and frenetic dancing like they usually would.
—
Announcer: "Hello, welcome to the Royal Festival Hall. Yeah, that's it. You can make a big noise. This is, uh, night two of a festival we call 'Mind Your Head.' Um, people ask me what it's all about. Rather than tell you, I'll just say, uh, what we have coming up. We have The Nice coming up on the 6th with Simian and support, we have Bang on a Can All-Stars performing the music of Terry Riley and Steve Reich on the 7th, and on the 10th of October, Perre Ubu are playing a live soundtrack to It Came from Outer Space (in 3D), with The Electric Prunes supporting. So, what is 'Mind Your Head'? It's a drug festival, let's face it. And with no further ado, it is with great fear and pleasure we bring on Coil."
I Am Angie Bowie (Sine Waves)/The Last Rites of Spring
This is the first time these two songs have ever segwayed directly into each other. The former is instrumental.
Electricity has made angels of us all
Electricity pulsating through the voltage
We're gonna go back
We're gonna go much further back
We've gotta go further back and faster
And William Burroughs is hallucinating in space
We're children of the black sun
Born under a black sun
We are children of the black sun
Born under a black sun
We are children of…
And William Burroughs is hallucinating space
Hallucinating space
And Brion Gysin let the mice in
He let the mice in
(?)
Look through the sin
Broke through the skin
…Which is stuck in
He pierced it with a needle (repeated)
He's smeared himself with weasels
Pierced him with needles
He cut the horse's back legs off (repeated)
He caught the back legs
He used his front paws to smear himself
He used his front paws
A long pause
Dripping, dripping, dripping, dripping, dripping, dripping, dripping
Sometimes, the cleanest people think the dirtiest things
We're feral
Sometimes, the cleanest people think the dirtiest things
Well, we're feral, we're feral, we're feral
Feral
We are feral
We are feral (repeated)
We are animal (repeated)
We are British
We're not British
We're not English
We are
We are feral, agh
We are horsey
We are horses
A Warning from the Sun
John: "Would you care about a solar flare? Would you care about a solar flare? A warning, a warning from sun, 'A Warning from the Sun.'"
Ostia
John: "This next song is about Pasolini and it's from Horse Rotorvator. But first, some poetry from an Italian."
During this song and the next, Massimo and Pierce left the stage to give out organic apples to audience members. Massimo even gave one to Marc Almond, who was in attendance at the show. This is the only gig where Pierce and Massimo did this.
John (after the song): "Thank you. Thank you, thank you."
I Don't Want to Be the One
Sometimes, uh, you do things you really don't want to do, but you have to do them anyway, and sometimes people put things upon you – they project – and they say things about you and they think things about you, and they tell you things, and sometimes it just gets a bit too much, and I just say, 'I don't wanna, don't wanna be the one. I just don't want to be that person for you. I'll be another person for you. But don't ask me to be me now. Not right now. I don't want to be the one. I don't have to be the one. I'm gonna be someone else. Take it away, take it away, take it away. Give it to someone else. Don't involve me. Don't try and involve me. Some things do with you, it's nothing to do with me, don't involve me. I don't want to be the one. I don't have to be the one. I don't have to be the one and I don't want to be the one. It's not my problem, it's yours. You work it out. Ask someone who doesn't know who they are. Ask someone who doesn't care who they are. Ask them if they'll give themselves away to you? Ask yourself would you give yourself away to someone else? Go ask them such a question. I don't want to be the one.
Bang Bang
John (after the song): "Everyone has a bit of Nancy Sinatra in them somewhere. That's a beautiful song written by Sonny Bono for Cher, originally, I think. All good, good people."
Are You Shivering?
John: "I'm a happy kitten tonight, I'm in love. I'm a happy kitten and I'm in love. But I'm cold. I'm cold. Cold and I'm hungry and I'm thirsty. Yesterday, I tried. Yesterday, I cried for five hours. First cry, the last cry. This is moon musick by the light of the moon. We'll ask them for international dark skies. Please switch off the lights, please switch off the lights in your houses, in your houses, in your streets, in the streets." International Dark Skies was one of the proposed titles for Backwards.
John's closing words: "…And that was it for us tonight, thank you. Thank you very much, thank you."
Line-up
John Balance – vocals
Peter "Sleazy" Christopherson – Ableton sequence, video projections, Clavia Nord Modular Synthesizer
Thighpaulsandra – Clavia Nord Modular Synthesizer, Kurzweil Synthesizer, Electro-Harmonix on John's vocals (with 16-second delay, modified by Kanwal Dulay)
Simon Norris (Ossian Brown) – Clavia Nord Modular Lead Synthesizer, Kurzweil Synthesizer on "Are You Shivering?"
Massimo Villani – Pasolini poem reading on "Ostia," Black Sun Productions' "Ghost Boy" performance art
Pierce Wyss – Black Sun Productions' "Ghost Boy" performance art
Advertisements, Backstage or Related Promo Material
Gallery
Gig Review(s)
The following is a review of the concert written by Richard Fontenoy (published here):
Coil (live at Mind Your Head)
The Royal Festival Hall, London
1st October 2002
Following an introduction which emphasizes the psychedelic nature of the selection of musicians and bands from Glenn Maxx, the South Bank Centre's mastermind for the Mind Your Head season, Coil emerge on stage bathed in UV light, their white costumes stark as the sine waves of their opening number, traces of the music projected visually on the giant screen behind the band. They are joined by Massimo and Pierce of Black Sun Productions, who stand to the front as nude statues in deliberately-paced motion, palms out and impassive as the chaos of noise and light builds behind almost as slowly. The strobes kick in at brain-bending frequencies to match the electronic whirlwind, subliminal texts flicker across the screen, and John Balance dusts his hands, declaring "Electricity has made angels of us all", as the emergent bass rumbles rhythms into the hall.
Squitters and gurgles of Burroughsian synths and words in his honour pull matters further back and faster, as Balance informs the audience; Stravinsky strokes creep out to a watchful ring of fire wreathing incensed scents and cranked-down rhythms, and the sight of lemurs and millipedes in timeless struggle fills the wall behind. The music ascends into squeaking arrhythmia and escaping vocalisations echoplexing into insanity – "We are feral…we are animal… we are horses," declares Balance, staring around the rest of Coil, at the projections and the crowd as if unsure that any or all are really there, jerking and spasming to the screech and snitches of the electronic abyss.
The cacophony of sound which follows is matched by colourful blotches in motion: the nudes raise arms as Romanesque pillars bracketing Balance's itchy Pan-led restlessness. "The Sun is coming" he warns, accompanied by sonic sunspots sputtering and erupting in a solar windstorm around the trio which the technicians of Starship Coil work their mysterious electronic machinations behind. Darkness falls to a shimmering scatter of trebly tones, and it doesn't seem certain if Balance considers the sun's arrival is an entirely beneficial event as the title "Warning From the Sun" perhaps indicates.
A short poetry reading from Massimo to the accompaniment of amplified and enhanced insect chirrups precedes a mournfully-slow rendition of "Ostia", Coil's homage to the visionary Italian director Pier Paolo Pasolini. Pictures of the man himself and still images of empty rooms and ominous towers flick past while the Black Sun boys pass out apples from the bountifully-laden baskets on stage among the rows of seats. The cyclical swirl of the song finds new levels of sad reflection on a murdered artist, and the ending comes in digital snowflakes, chilly and elevating at the same time, the Festival Hall shrouded in a respectfully weird atmosphere. The fruit distribution continues during the screeching anguish of "I Don't Want To Be The One", as Balance's heartfelt, rending flow of distracted anti-Messianic self-denial and almost piteous excoriation of connection with worldliness pours into the gathering strobes and spears of coloured lights, bringing forth a primal electronic storm screams.
So it's quite a surprise when the next piece is a strange cover of Sonny and Cher's "Bang Bang", slowed to a torch song croon with Thighpaulsandra's piano accompaniment, exposing both the limits and range of Balance's voice in the process. This is probably the high point of high camp of Coil's live performances thus far, and one which, while not entirely overcoming (or maybe even surpassing) the saloon-bar misery of the original, they bring off with considerable dignity. The finale of what is a shortened set for their current live tour combines Throbbing Gristle with Tangerine Dream, as the rolling ethereal synth chords and wobbly pulsations of "Are You Shivering" ooze out while a virtual yellowed sea washes in the gravitational fields of the bright white moon on screen. This is one of a magickal band's most spellbinding moments, the gurgling electronic voices floating through the disquieting ambient ocean bringing incandescent life to the stage as bats fly from the lunar surface in hyperreal loops. While the nudes breath deeply to the rhythms, the auditorium of the Festival Hall seems almost frozen in time by an apparently endless song of sub-zero lunar collapse, completing the trip with a nagging question from Balance circling in the mind – "Are you loathsome tonight?"
Attendee Recollections
Terv Terran remembers: "Coil played again in late 2002 at the Royal Festival Hall in London. It was a seated gig and we were quite far away from the action. Consequently, the audience annoyed the hell out of me by talking among themselves and not giving the artists the attention they deserved. Coil's set was very song-based this time, with lots of tracks from the later half of their recording career played very tightly. 'I don't want to be the One' screamed out to a black sun sticks in my mind like a dark happy shard. Oh and there were pretty naked boys with apples…"
Steve Fez remembers: "Ran into Jhonn just before they went on. He wasn't looking too great and was walking around the foyer barefoot but he seemed quite upbeat and positive when we spoke."
Andrew Lahman received an apple that night and recounts: "They said their gaydar was strong that night :-D"
Greg Haman remembers: "Just wanted to share my Coil live experience which was in October 2002 at the "Mind Your Head" Festival . I only saw them once and I didn't realise at the time how special it was. Me and my friend saw John, Peter and friends in the foyer before the gig having a drink. I wish I had had the nerve to go and speak to them. I bought a "The key to joy is disobedience" t-shirt which I still have, just wished I'd bought the World Ended watch. I was chuffed they played Are You Shivering? But it was I Don't Want to Be the One that really stood out both in terms of John's performance and impact on me. On a side note, I knew very little at the time about Sigur Ros but they were excellent live."
Davide Gostoli remembers: "I saw Coil playing RFH before Sigur Ros and I do like and respect them but after couple of songs I was getting bored, not to mention the other time at the Barbican when Coil played before Mouse on Mars, didn't mind them prior to that but that was shite man! Ultimately after a Coil show i never really wanted anything else for a while, more like let it absorb, resonate…I remember coming downstairs after two Sigur Ros songs and finding John, Peter and the gang at the bar. I hugged John (that was always the ritual when I saw him;)) and said exactly that '[W]hy weren't you the last to play and not Sigur Ros' and John: 'why what's wrong with them? I quite like Sigur Ros' 'I don't think I can bear them more than a few minutes after your show, they sound like Radiohead with Tom singing gibberish!' I said[.] John laughed out loud and we ordered a drink."
Known Recordings
Tapes owners/taper:
AMT #1 – G.T.
| | | | | | |
| --- | --- | --- | --- | --- | --- |
| Source | Quality | Complete | Length | Lowest Gen | Comments |
| AUD #1a | 7-/10 | No | 55 min | M2, WAV | 2nd-generation copy surfaced April 13, 2018. Lineage: Mini-Disc (M0) > Straight copy of Mini-Disc (M1) > Audacity, WAV > CDr (M2) > WAV. "The Last Rites of Spring" cuts out as it ends and "A Warning from the Sun" cuts in. |
| AUD #1b | 7-/10 | Yes | 56 min | M?, MP3 | Same recording as above, but it's lossy and "The Last Rites of Spring" and "A Warning from the Sun" are complete. |
| AUD #1c | 7+/10 | No | 55 min | M?, FLAC | AUD #1a (M?) Remaster by FageOner. Rendered obsolete April 13, 2018. |
| AMT #1 | 8/10 | Yes | 63 min | M0, 768 x 576 VOB | Surfaced March 16, 2019. Recorded in the audience several rows back from the front. Camera does not readjust focus so much of the video is blurry. Audio is better quality than AUD #1. Includes the first 7.5 minutes of Sigur Ros' set which followed Coil's. |
Concert Recording Downloads