At DK Gorbunova, Moscow, Russia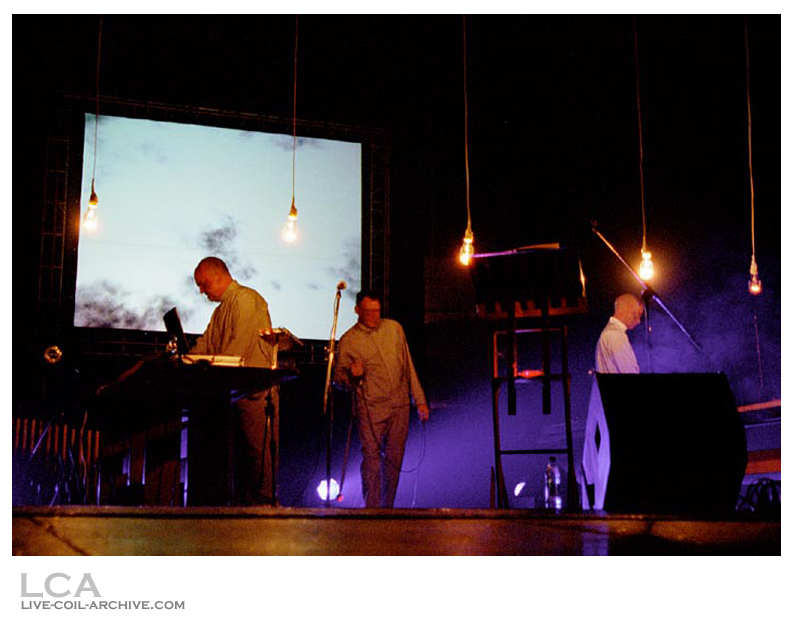 15th September 2001 – DK Gorbunova, Moscow, Russia
Set List

Something
Higher Beings Command
Amethyst Deceivers (Version 1)
What Kind of Animal Are You?
Blood from the Air
I Am the Green Child
Constant Shallowness Leads to Evil
Soundcheck:
Amethyst Deceivers (Marimba)
I Am the Green Child
Touring Background
This was the first of three Russian gigs Coil played. Coil fan Александр Царев sheds light on their Russian presence: "[I]n 1997 Unnatural History III (the whole compilation) was played on Russian Substation radio, and you can buy all World Serpent CD catalog in central music shops (and later also on infamous Russian bootlegs). Also all Derek Jarman's movies (including Angelic Conversation and Blue) were shown in Moscow's Cinema Museum a lot of times in 1990s. So it was not a surprise that Coil came to Russia in the 2000s."
Concert Background
Feeling: Glowing
"Constant Shallowness Leads to Evil" phase. Final live performances of all songs except "Amethyst Deceivers (Version 1)," though elements of "Constant Shallowness Leads to Evil" persist in the ending sections of "Backwards" and the live debut of "An Unearthly Red."
Thighpaulsandra remembers the inspiration behind the "Constant Shallowness" material and the Moscow show in particular: "I'd have to say it was a combination of Edgard Varese's Hyperprism and John Corigliano's score for 'Altered States'. We were just trying to create something with immense power and weight. Obviously we didn't have an orchestra at our disposal so we tried to do it with synthesizers." This might have been the only Coil concert where he used a theremin.
Perhaps to compensate for the reduced number of performers (no Ossian or Martin this time), Peter seems to play more synthesizer than he usually would at previous shows.
Something
Peter starts the backing track and John and Thighpaulsandra walk to the front of the stage. Thighpaulsandra flaunts two blinking red lights in his hands, while John holds one in his mouth and swings one clamped around the belt on his straight-jacket. Backstage, they had discussed doing this just before they went on.
John: "I dedicate this performance to all the artists and to all the poets. To the musicians, the magicians, and the madmen. To those in prisons and in their own incarceration. To those brave enough to live life as it should be lived. To show their own sexuality, whatever that may be, and live it. I dedicate this performance to the moon, to madness, to madness, to madness, to madness…"
I know why the birdcage sings
It's wrapped its song around everything
To madness, to madness, to madness, to madness…
Higher Beings Command
Winged chariots come, their powers to the ground
Winged angels come (with) their powers to the ground
Amethyst Deceivers
John: "Thank you. 'Amethyst Deceivers.'"
What Kind of Animal Are You?
Thighpaulsandra's theremin overwhelms the soundboard audio during the first climax of the song before Russell turns it down.
Blood from the Air
John: "Spectral electricity is passing through this room."
Best friends die
Worst enemies die
Pets die
Relations, friends, and places decay
Nothing stays the same
Everything changes and everyone dies
I Am the Green Child
John: "I am the Green Child. I am the Green Child."
Thighpaulsandra's visibly struggles to make noise with his theremin during the latter half of the song.
The machine started to flow into a vein
The machine's started to flow into a vein
Constant Shallowness Leads to Evil
John: "We've heard that some of you may have read that we eat human flesh. We only do this on religious holidays. We don't eat girls, and we don't eat gold. We only drink silver. We only drink silver liquids. We only drink silver liquids! We like mushrooms, we like drugs, and we like cheese! We are d-decadent and we are symmetrical. We are decadent and we are symmetrical! We are decadent and we are symmetrical." Apparently this was a reference/caustic joke to actual contemporaneous Russian news articles that erroneously claimed Coil were cannibals.
Cadaver dogs, cadaver dogs
Good little cadaver dogs
The gig ends without any closing words from John. He, Peter, and Thighpaulsandra all take a bow instead.
Soundcheck Notes & Transcription
Peter included vacation and soundcheck footage shot by Ivan Pavlov as a bonus feature on Colour Sound Oblivion DVD #4, marked as AMT #1 on this page. Here's a transcript of the soundcheck portion:
Peter: "Green Child?" Fuck that.
Thighpaulsandra: Sleaz? You've got two (?), here?
Peter: 2:20 or 2:40, I think?
TPS: It is 2:20.
(John eats sandwich, Thighpaulsandra smirks at him)
Ivan: Make it sexy!
TPS: Don't even wanna see this.
(All three laugh)
TPS: John Balance of Coil gets sexy with a sandwich! Haha.
John: It's fish. I can't do that.
TPS: You like snatch sandwich, don't you?
John: Snatch sandwich! Gag, what is that? Sorry, dag sandwich.
(Tom plays marimba)
TPS: What is this, this volume?
Ivan: Machine oil.
TPS: Huh?
John and Ivan: Machine oil.
TPS: What is it?
John: Yeah, I see, I see.
TPS (laughing): Oh, it's so industrial!
Ivan: That's the whole point. It's the box.
Ivan: Great black slammy.
TPS (to John): You've got breasts!
John: Yeah.
Ivan: She's growing some.
John: You like the breasts? You've got breasts.
TPS: Oh, disgusting breasts. I haven't got breasts. My stomach (lifts shirt), no breasts there.
(All three laughing)
(Peter goes to grab John's breasts)
TPS: Let's have a look, shall we? Let's have a look!
John: No, no! I'll break your fingers, then you won't play keyboards!
TPS: I'll fucking slap you up the arse!
John: Oh, what about my ear? I've lost again…
Ivan: Alright.
TPS: And who'd be sorry, then? You would!
Peter (to sound guy): Uh, the, uh, backing track mic will come out on line whatever will be on the other ones on the day.
(John vocalizes)
John: Backing, backing, backing, backing…
I Am the Green Child
I am…
I am the green child
England awakes
All hope evaporates
England awakes
England evaporates
All hope…
I am the green child
(Cut to pre-show backstage, John holding a blinking light in his mouth)
TPS: That looks brilliant, it does. If you walk out like that, it'll be brilliant.
John: Hm!
TPS: I'll try this before I put it down pants it doesn't work. [?]
Ivan (to John): Looks good.
Peter: Not ready.
Woman: You got a towel. John-
Announcements and Statements Made After This Gig
According to Jon Whitney on September 16, "As for the North American shows in 2002, the current plans are for a very short tour (5-6 dates) in the Spring – possibly including performances at Planetariums in Chicago and elsewhere – and a more extensive tour in the fall to coincide with the release of the long-delayed album on Nothing Records. As more information becomes known, it will be posted here [Brainwashed site]."
There were false rumors at the time that Coil would play at the Teatro Duse, Bologna, Italy on September 28th.
Interesting to note in late 2001, Coil planned three projects that sadly never came to be. The first was a studio album comprised of all the exclusively live material up to that point. Thighpaulsandra remembers they almost finished "What Kind of Animal Are You?" Chances are, the band simply grew bored  with the material before they could finish the album and wanted to move onto something else, although Thighpaulsandra leaving to tour with Spiritualized also likely contributed.
The second was a DVD (boxset) containing the Royal Festival Hall (2000-09-19), Amsterdam 2001, New York 2001, and Moscow 2001 shows. Coil issued this statement on September 23: "The NYC show was supposed to be filmed with multiple cameras for a full scale video release, but in the end the Irving Plaza wanted to charge us to film with more than one camera, so we decided against it. A single camera shot of the concert which does have some great moments was shot by Don Poe, and he has our permission to send out copies for a reasonable price (though not to advertise and distribute commercially). The package being sold by Don includes a video that features the full show plus footage from the soundcheck and backstage, as well as a professionally pressed and printed CD-R featuring a soundboard recording of the performance. More info can be found here. The Moscow concert WAS filmed professionally with multiple cameras and in that venue the layout, deranged lighting and smoke were all the way we like them (by comparison Irving Plaza was not really the 'full show'). FeeLee of Russia will be releasing the concert in full as a video – we will get copies for mail-order. We intend to release two DVDs (by Christmas if possible), one of which will include the full Moscow show plus the best bits of Irving Plaza, Amsterdam and Royal Festival Hall concerts, and one featuring a studio 'ideal' recording of all the songs we played live on that tour accompanied by the graphic animation projected during the performances. We are desperately seeking video and audio of the Antwerp concert, video and audio of Leipzig, video of the Barcelona concert, and any good quality audience tapes of any of our live shows."
The third project, mentioned as "still forthcoming" on the Coil news page on December 14, 2001, was a pair of DVD releases, although it wasn't clarified what material would be on them, possibly the aforementioned four shows and/or Royal Festival Hall (2000-04-02) and Barcelona 2000.
Don Poe eventually issued a semi-official VHS tape of New York 2001 and a CDr of the soundboard recording, while Feelee issued a VHS of Moscow 2001 as promised. Coil would not personally issue any video material until 2010's Colour Sound Oblivion boxset, containing 14 concerts and 2 DVDrs containing most of the backing audio tracks and video projections Coil used during their shows.
Line-up
John Balance – vocals, Alexis AirFX on "Amethyst Deceivers," Yamaha SPX 1000 pitch-shift effect on "I Am the Green Child," metal sheet percussion on "Constant Shallowness Leads to Evil"
Peter "Sleazy" Christopherson – backing audio sequence, video projections, Clavia Nord Modular Synthesizer
Thighpaulsandra – Clavia Nord Modular Synthesizer, Moog theremin
Tom Edwards – marimba
Russell Polden – live engineer
According to Danny McKernan, the only reason Ossian Brown didn't play at this show or the previous one in New York was because he had problems obtaining a visa.
Advertisements, Backstage or Related Promo Material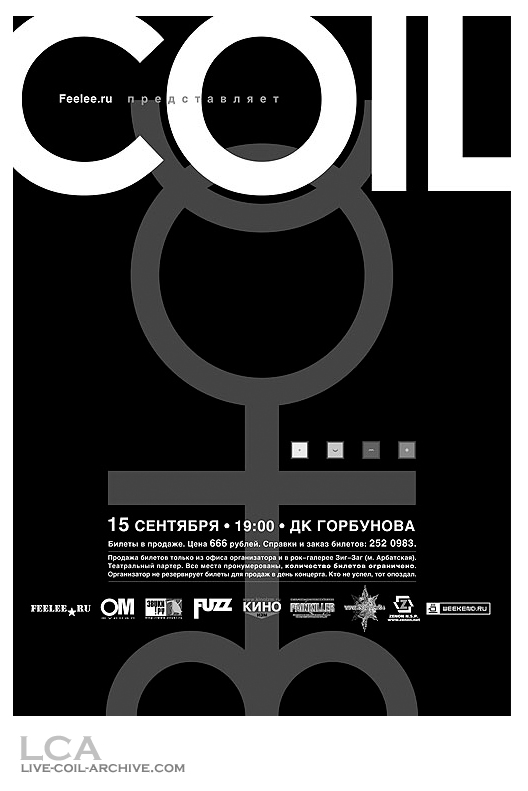 Gallery
AMT #1 – Vacation Footage + Soundcheck
EDIT #1 – "Interzone" and "Beata's Favorite Videos"
EDIT #2
EDIT #3
Gig Review(s)
The following is a review of the concert and interview on the band, translated from Russian to English that can be found here:
COIL CAN YOU HEAR ME, BANDERLOGY?
…Then, when those who visited this concert shared their opinions, they could not come to a single conclusion what really happened: either Gorbushka, having flied up and accelerating to supersonic speed, was imprinted with all foolishness into the surrounding landscape, then Whether it is in it bore the ignorance from where it took the "Boeing". Personally, I tend to the first option: the chair during the acceleration is vivid, and at the time of landing passengers experienced a familiar feeling of overload. This is our report from the concert COIL – and a small exclusive interview …
The first thing that struck the COIL concert is the rare "hit in the suit": the absolute match of the hall size, the composition of the audience and the quality of the sound that took place on the stage. There were no accidental people. The sound was perfectly built. The light (from a series of small lamps on long cords to a powerful backlight from the back, unmercifully invading a sound-cut brain) was, like sound, directed by a brilliant maniac.
The hall was filled exactly enough so that everyone could sit comfortably and had to cuddle when taking off. But there were no vacant seats. It seems that the recipe for the concert was calculated on very accurate (alchemical – alchemistic) scales.
All succeeded. It all began.
On the stage – people in robes, borrowed either from Orwell, or in a colony of strict regime. On their faces – a monstrous make-up: bruises, abrasions, bruises. On different parts of the body, sewn small, pulsating red lanterns.
Three strange people conjure, bending over the tables, on which there is a little electronic equipment. They are like surgeons. Doctors are murderers. Another person whispers, utters, screams, conjures, moving in an uneven epileptic rhythm, flapping a red flashlight on a leash.
The sound is sharp, then tender and resilient, like a huge ball, then dying out like an echo. Sound, then flowing like a liquefied gas, then beating like a hammer.
It's dangerous to look at the stage. On the stage is a screen. On the screen – hypnospiral. The insinuating voice and the swaying rhythm somehow slowly tightens, and after a few minutes you are already sitting, chained to the constantly changing contrast pattern.
Session started.
"Can you hear me, Banderlogi?"
"We hear you, O Kaa!"
The sound is getting tougher, looking away from the ever-changing spiral (lightning discharges, flashing glares, circles on the water, targets drawn right in your head) is no longer possible. You're caught.
"Come closer, Banderlogi."
Closer.
Closer.
Takeoff.
Interview with the group COIL , made after the concert:
Sounds : – Thank you! That was incredible! What did you do to us?
Christofferson : – We played you a little.
Sounds : – How did you like the audience and the concert in general?
Christofferson : – Very cool, we liked it. There was a great sound. We in Moscow will be delayed for another day, we hope to consider it better.
Sounds : – And how did you spend the previous day?
Balance : – In the shower. And a little walk.
Christopherson : – We are going to take a walk in the Red Square tomorrow morning.
Sounds : – You never play an encore? Today you have been summoned for so long, but you have not appeared …
Balance: – No, we never play an encore at all. Because we prefer to say everything in the program. Better we'll finish what we did not finish at the next concert.
Sounds : – Yeah, so you're planning to return?
Christofferson : – Yes, most likely. Next year.
Attendee Recollections
Сергей Некрасов attended this gig and remembers: "Two gigs COIL did in MOSCOW – at DK GORBUNOVA (well documented by now in different formats – from VHS to vinyl bootleg to official CD) and at TOCHKA clubs. I think both times the opening set was done by COH (well, first time for sure), and then COIL had their time.
The ticket to the first gig, I remember, had a price of 666 roubles, which raised some hell among localreligious bigots. Also, the first Russian edition of GOLDEN HAIR and VOICE OF SILVER were both released on CDs in commemoration of the first COIL visit to Russia and were officially sold there (at DK GORBUNOVA). Each CD had one exclusive (by that time) track – AYOR and COLD CELL.
AFTER the gig, when most of the public was already gone I had a privilege of substantial conversation with Jhonn (with the subject varying from GAY MAN GUIDE TO A SAFER SEX to the lyrics of COLD CELL and how great it was that Russian gay people were no longer outlawed by that time). Thighpaulsandra was also there, buthedod not participate much in that conversation, and was politely keeping silent mostly. As for the concert – it was the feast. Although the crowd was forcedto SIT during the concert. Yes, the auditorium was filled with the rows of chairs. Some fans were a bit unhappy that the concert was not Greatest Hits type – but, well, whatever."
Known Recordings
Tapes owners/taper:
All sources except AMT #1 – MTV Russia.
AMT #1 – Ivan Pavlov.
| | | | | | |
| --- | --- | --- | --- | --- | --- |
| Source | Quality | Complete | Length | Lowest Gen | Comments |
| SBD #1a | 9/10 | No | 55 min | M1, FLAC | There is possibly an internal cut on "What Kind of Animal Are You?" but it's hard to tell, given Thighpauslsandra's theremin overdrives the audio around then. Some audience applause after "Blood from the Air" is edited out. Officially released on Live Two and used on Colour Sound Oblivion DVD #4. |
| SBD #1b | 9-/10 | Yes | 55 min | M1 (?), 251kbps AAC | EDIT #2 audio. Has a different mix than SBD #1a, i.e. greater focus on the left channel and different stereo-balancing. On "I Am the Green Child," John's normal and affected vocals are mixed between each channel a little more. |
| AMT #1 | 8+/10 | No | 9 min | M1, MKV | Vacation footage of John and Peter in Moscow, plus soundcheck/pre-show backstage footage. Officially released as Colour Sound Oblivion DVD #4. |
| EDIT #1 | 6/10 | No | 86 min | M?, 768 x 576 MP4 | 2-cameras (professional). Uses SBD audio. Inter-cut with exclusive interviews with the band (overdubbed in Russian) onstage before the gig and footage from Beata's Favorite Videos, where she interviewed John and Peter about their favorite music videos and musical influences. Broadcast on MTV Russia in abridged, non-chronological form as two separate programs. |
| EDIT #2 | 9-/10 | Yes | 55 min | M1 (?), 718 x 574 M4V | 2-cameras (professional). Uses SBD #1b. Originally released on the Live in Moscow 2001 VHS tape, but rereleased on Itunes in high fidelity by Feelee Records in 2015. |
| EDIT #3 | 9/10 | Yes | 55 min | M1, MKV | 2-cameras (professional). Notable for its orange visual tone, distinguishing it from other video sources. Uses "Live Two" audio - where there are edits in the audio, the video is edited around them. Officially released as Colour Sound Oblivion DVD #4. |
Concert Recording Downloads